Leh celebrates Birth Anniversary of H.H The Gyalwang Drukpa and His Eminence Thuksey Rinpoche
By
Hajira Bano Balkhang
Shey, Mar 02, 2015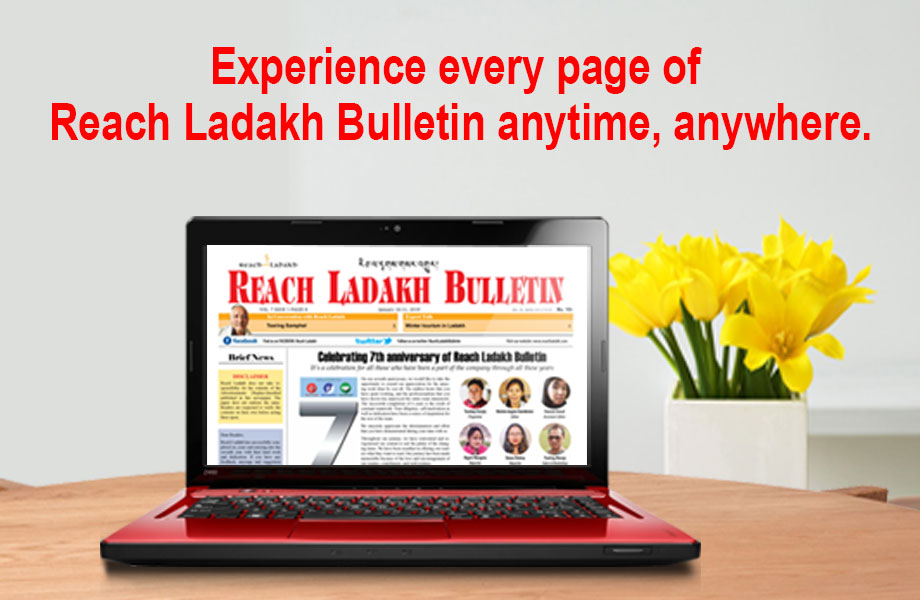 Shey :
Thousands of people gathered at Shey Naro Photang on 28 February to celebrate the 52nd birthday of His Holiness the Gyalwang Drukpa and 29th birthday of His Eminence Drukpa Thuksey Rinpoche.

The celebration began with Life Long prayer. During the cake cutting ceremony, birthday song was sung by students of Druk Padma Karpo School, Shey followed by guest speech. Scholar Kunzang Dorje read out the biography (dZatnam) of His Holiness Gyalwang Drukpa and His Eminence Drukpa Thuksey Rinpoche.

Speaking on the occasion His Eminence Thuksey Rinpoche expressed gratitude to Ladakhi people and Druk Padma Karpo School for celebrating this day. Feeling proud to be born in Ladakh, Thuksey Rinpoche said that he has always worked for the people of Ladakh and will continue to do so. He stressed on providing modern as well as religious education to the children. He further added that everyone needs to get unite for taking Ladakh to new heights of progress and development in all fields.

Chief Guest on the occasion, CEC LAHDC Rigzin Spalbar while speaking on the occasion said that Ladakh has always set an example of communal harmony since ages. Due to the blessings of venerable Rinpoches, people in Ladakh has flourished and sustained in such unfavorable and harsh climatic conditions. "With globalization and because of outer influence, our traditional values are getting extinct so it is necessary to adopt modernity but following our traditional norms and religion". He appealed each and every individual to contribute to keeping clean and preserving the environment of Ladakh which His Eminence Thuksey Rinpoche has been trying since the very beginning. He appreciated His Eminence Thuksey Rimpoche for his contribution to the Ladakhi society.

Hemis Chakzot Nawang Othsal, LBA General Secretary Tsewang Namgyal, LGA vice President and Scholar Kunzang Dorjey also spoke on the occasion.

The event was enthralled by cultural dance and songs by the students of Druk Padma Karpo School, different cultural groups and Ladakh Scout Jass Band.

Vice President, Young Drukpa Association Diskit Dolma presented the welcome speech and President ,YDA Padma Tashi gave the vote of thanks.

During the event life release ceremony called as 'Tsethar' was also held in which thousands of animals including calf, sheep, goats, and chicks were released.