Ladakh celebrates Gyalwang Drukpa's 54th birth anniversary
His Holiness tells followers to give up alcohol and meat consumption
By
Stanzin Dasal
SHEY, Feb 29, 2016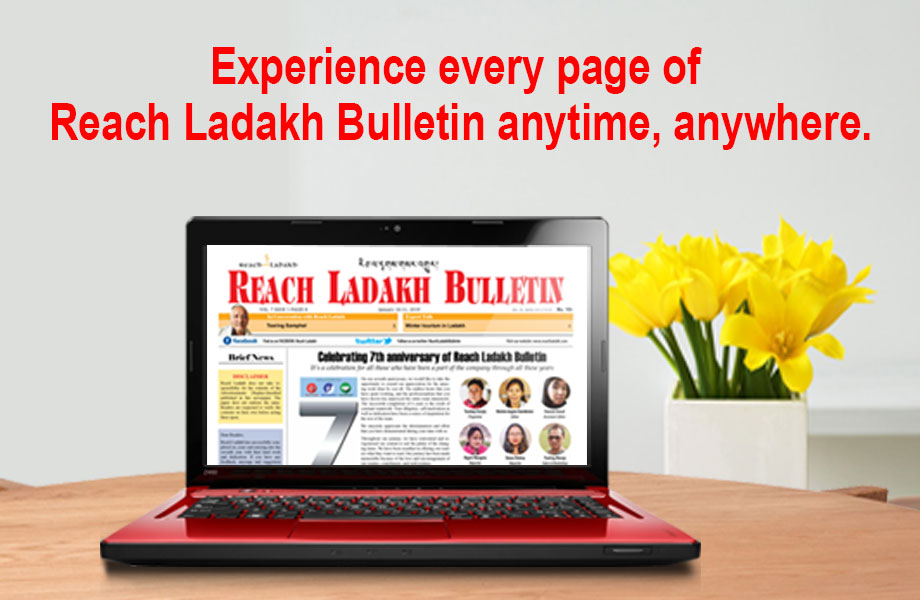 SHEY :
People of Ladakh celebrated the 54th birthday of His Holiness the Gyalwang Drukpa and 31st birthday of His Eminence Drukpa Thuksey Rinpoche on 17 February at Shey Naro Photang.
His Eminence Togden Rinpoche, Drukpa Yongdzin Rinpoche, Khamdrak Rinpoche and many other eminent masters were present on the occasion.
Dr Sonam Dawa, Chief Executive Councillor, SSP Tsering Gyalpo, LBA President Tsewang Thinles and many other dignitaries took part in the celebration.
His Holiness Gyalwang Drukpa extended his appreciation on celebrating his birthday. He emphasised on keeping the environment clean and healthy which will directly lead to a healthy society and which in turn results in developing a healthy mind. He stressed the council to initiate various activities to protect the nature and its environment.
Stating the consumption of alcohol and killing of animals for meat is the biggest sin in Buddhism, he urged all the devotees to avoid such evil practices.
Congratulating H. H Gyalwang Drukpa on his birthday, Dr. Sonam Dawa seeks blessing and guidance to carry out the council forward and to meet up the expectation of public with dedication and honesty.
Volunteers of Young Drukpa Association (YDA), Gya village, students of Druk Padma Karpo, singers of Ladakh, Dorjay Stakmo, Padma Dolker and many other presented colorful cultural extravaganza.
LBA President, Tsewang Thinles briefed the major activities carried out by the association, among which Healthy Ladakh Movement is one of the initiatives to make the society free from alcohol and tobacco. Around ninety villages vowed and gave letter to avoid using alcohol and meat in social gatherings.
He further added that the association is striving and putting every effort to make Ladakh a peaceful and a healthy region.
Hemis Chakzot, Nawang Otsal gave the welcome speech, His Eminence Khamtak Rinpoche and Druk Padma Karpo School, Principal, Stanzin Kunzang also spoke on the occasion.YDA President, Padma Tashi gave the vote of thanks.
Followed by the grand celebration, a religious sermon Prajna Paramita, and Sengey Tsewa was imparted to the devotees which concluded on 22 February, the 15th day of the first month of Tibetan calendar.A monthly newspaper 'Times of Ladakh' published by YDA was also launched on the last day.
Sengey Tsewa is a particular practice of Prajna Paramita (the practice of Wisdom). Dakini Machig Labdron offered the teaching of Sengey Tsewa (The Revelry with the Lion) to the Great Omniscient Kunkhyen Pema Karpo (the Fourth Gyalwang Drukpa 1527-1592) through his master Awa Dhutipa. Ever since then, it has been the main practice of many historical yogis of Vajrayana Buddhism.
A total of 1,520 animals of different kinds were released on Tsethar, an act of saving and preserving animal lives.
A large number of people also vowed to refrain from non-veg consumption, smoking and alcohol for the lifetime and some on holy days.
Alcohol
Non -Veg consumption
Smoking
Duration