Ladakh celebrates 2,559th Buddha Purnima; weatherman Sonam Lotus awarded
Buddha was born to dispel the darkness of ignorance & to show the world how to be free from sufferin
By
Rinchen Angmo Chumikchan
Leh, May 09, 2015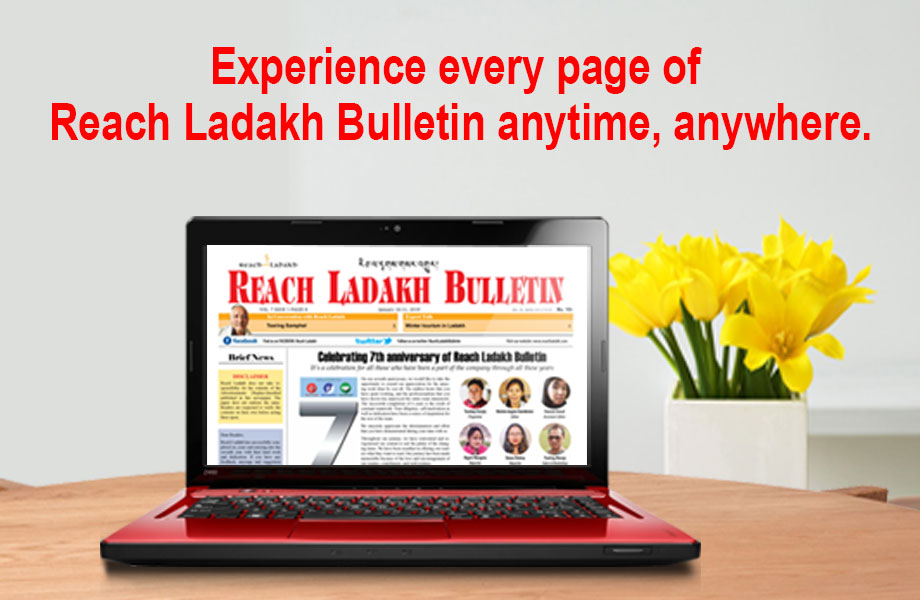 Leh :
Ladakh celebrated Buddha Purnima to commemorate the birth of the Buddha, his Enlightenment and Mahaparinirvana (death anniversary) on 4th May at Pologround, Leh. The Buddhist considers the day to be more auspicious than any other day of the year.
Twelve tableaus were displayed depicting the twelve enlightening deeds of Buddha by different schools of Leh. The main is the 'Bumskor' where holy Buddhist "sutras" (texts 108) usually only seen in monasteries are carried by the people to bless all. There are 108 sutras; the same number as beads in a string of Buddhist prayer beads (rosaries).  
Tashi Rabgias, renowned scholar was the chief guest on the occasion besides other guests including the J&K Cooperatives Minister Chhering Dorjay Lakrook, CEC, Rigzin Spalbar, Executive Councillor for Tourism Mohd Shafi Lassu, Councillors, Tibetan community CRO, Deputy Commissioner Saugat Biswas, SSP Dr. Sunil Gupta, Political and religious heads and District officers. 
Tashi Rabgais expressed his grief over the recent earthquake in Nepal. Sharing his precious knowledge, he said that today we are developing but without planning that causes disturbances to the five elements of nature & causes many disasters.The developments should be in coordination with nature.  He also talks about the Twelve Enlightening Deeds of Buddha and among them the teaching is the most important deed, said Rabgais. We still have the teachings of Buddha (Kangyur 108) if one reads it; it is like taking teaching practically from the Buddha. 
Tsewang Thinless, President LBA said that like us this day is celebrated all over the world.  Unfortunately, people, these days are not following the teachings of Buddha. There are some bad things happening in our society like increasing use of Alcohol and corruption. In Buddhist teachings," there is no caste system," said Thinless.
In Buddha's teaching, three bad things described as selling alcohol, murder and prostitution. Corruption is also bad for the society. We all should pledge to stop corruption to progress our society more. Showing his concern for Nepal, he said that we all should pray for Nepal. "In the same way remember in 2010 we were affected by flash flood and at that time many countries help us in restoration and due to that we were able to restore it in one year," he said.
Konchok Namgyal, LGA President talks about the life of Buddha, how Buddha got enlightened and how he shuns the worldly life. "Not only Ladakhis but many Korean, Japanese and foreigners all over the world come to pay homage at Bodh Gaya," he said.  The first sermon was taught at Varanasi and experts say that it was in Pali language. Second, was in 'Chargot phunpay Ri' in Bihar and was in Sanskrit and thirdly in Vaishali & other parts which were also taught in Sanskrit language. He said that we should implement the Panshsheel in our daily life. 
Prof. Lobzang Tsewang said that in the teachings of Buddha it has been written that all the living beings have the Buddha-nature and can become Buddhas.  He said that science and Buddhism are alike. He spoke about Newton's Relativity Theory. There is nothing in the world which is not dependent on each other. First we have to understand the teachings of the Lord Buddha & practice & then implement it in our daily life. 
Director Meteorological department, Sonam Lotus was awarded appreciation certificate in recognition for averting disaster and natural calamities through systematic and timely weather warnings. 
"Bodh Gaya, Lumbini, Kushinagar and Sarnath are the most important pilgrimage sites for the Buddhists as these places are deeply attached to the life of Gautama Buddha. Bodh Gaya is the place where Gautama Buddha obtained the Enlightenment after many years of meditation, Sarnath is the place where he first taught the Dharma, Lumbini is his birth place and Kushinagar is death place."
LBA, Youth organised a Bhoti essay writing competition on Ambedkar Jayanti and on 4th  May, the position holders from various schools were awarded certificates and cash awards.
Rinchen Namgyal, the LBA Youth President presented the vote of thanks and expressed his gratitude to Monks, LBA members, District Administration, Various Tsogspas and volunteers, school children, volunteers, media persons for making the event successful.
A Blood donation camp was also organized by LBA youth in collaboration with the Health Department, Leh. 
The Buddha said, "The kind of seed sown will produce that kind of fruit. Those who do good will reap good results. Those who do evil will reap evil results. If you carefully plant a good seed. You will joyfully gather good fruit." Dhammapada.