Jhado Rinpoche blesses the people of Lingshed
Imparts the great treatise on the stages to enlightenment and lifelong empowerment
By
Jigmet Dehdol
LINGSHED, Jul 14, 2018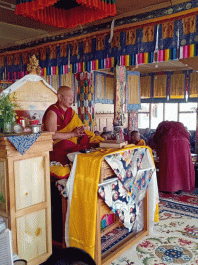 LINGSHED :
A teaching on 'Lam Rim Chenmo', the great treatise on the stages of the path to enlightenment along with lifelong empowerment was imparted by Jhado Rinpoche from June 6 to 21 at different villages of Lingshed.
Land purification 'Sabchog' for the establishment of 50 feet tall Buddha statue was also initiated.
A total of 150 cattle including Yaks, Goats, and Sheeps were set free (tsethar) by the villagers.
Jhado Rinpoche spoke about the importance of maintaining communal harmony and to respect the elders. He asked the villagers to live in harmony and take good care of the animals around and stressed on practicing the daily rituals and prayers. Rinpoche also spent a day with the school students.
Rinpoche also visited and preached in Dipling, Fotoksar, Hanupata, Youlchung, Neyraks, skumpata and other villages from June 21 to 26. After reaching back Leh on June 26, he imparted teaching at Tharpaling crematorium on July 1 and visited Lingshed hostel, Choglamsar on July 2.
Jhado Tulku Rinpoche is one of the most highly esteemed lamas in the Geluk lineage today. In addition to his excellent education in the Geluk monastic college system, over the years Rinpoche has also received many oral transmissions and empowerments from His Holiness the Dalai Lama and his two main tutors, as well as from many great teachers from other traditions.
Renowned for his keen intelligence and dynamic teaching style, Jhado Rinpoche is also highly acclaimed for his ability to engage Western students in ways that are interesting and personally relevant.