His Holiness inaugurated girls hostel at Jamyang School
By
Rinchen Angmo Chumikchan
Leh, Aug 01, 2015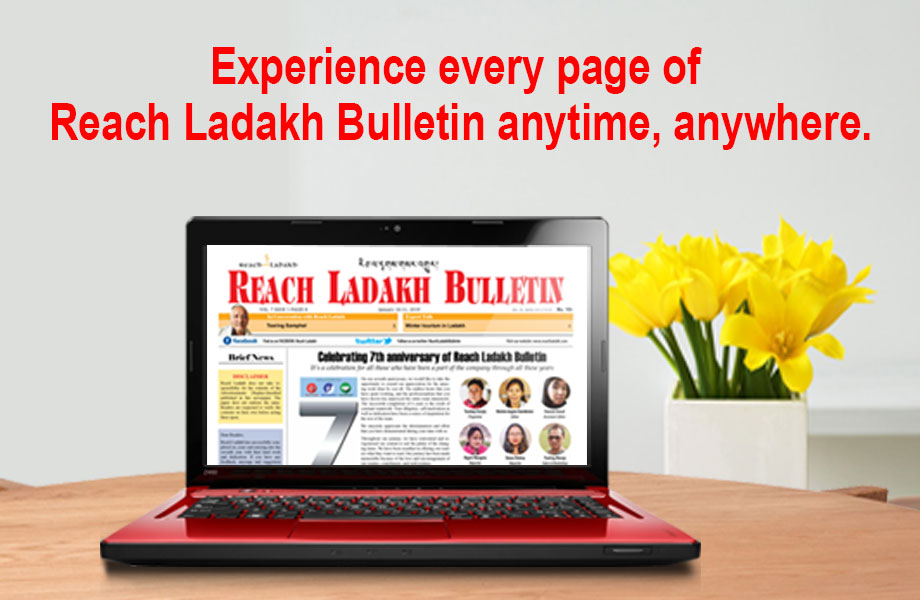 Leh :
On the second day His Holiness visited Jamyang School and inaugurated a new girl's hostel on 29th July.
Before the teaching Students of Jamyang School recited the prayer 'Limitless qualities' composed by His Holiness.
Presenting welcome speech Geshe Lobzang Samstan, School Principal expressed gratitude for His Holiness for coming & called this day as fortunate for all the Ladakhis.
"Whatever His Holiness teaches, we all should implement in our daily lives," he said. He requested people to maintain peace in the region. Later, he presented the annual report of the School accounts.
His Holiness said that he was invited by Galdan Thi Rinpoche to take part in the Spituk Monastery ceremony of Pegon Yarchos Chenmo.
Mentioning about the aim of founding Jamyang School he said that HH saw a women in Dha Hanu few years back and realised that they have faith but were ignorant about Buddhism. So he said they established this school particularly with their children in mind.
HH talked about the ongoing dialogue between Buddhist science and modern science. He said that he never promote Buddhism in non-Buddhist countries. He views all religious traditions as equal and having the message of love, compassion, tolerance and so on.
He explained about the theistic and Atheist traditions. Though their philosophical approaches differ, their purpose is the same: all religion teaches us the practice of love and compassion.
He said,"The main message of all religion is peace. All religions tell us to be good human beings."
His Holiness said that it's very disappointing to see clashes between Sunni and Shia Muslims in other parts. He expressed happiness over the good sense of community of the various faiths in Ladakh. The conflict between Buddhists and Muslims in Burma, however, is disheartening."
HH said that we should pray for all the sentient beings & 7 Billon people. Nothing will happen just by prayer you have to take action if you want to see a change in the world. There should be a sense of oneness and equality among all be it race, faith, status & so on. His Holiness said that if a genuine sense of oneness is there, and then all the problems will solve. "We should treat all equally be it rich or poor."
HH said that we pay our respects to the Buddha without paying proper attention to what he taught in the Kangyur and Tengyur. "Kangyur & Tengyur are to be studied, and not something sacred," he said. Now we must change the traditional way of thinking. HH said, "Blind Faith is not good. We have to change this custom."
HH said that we have to analyse first and then implement. As Buddha himself has said, "Do not follow my teachings blindly, first analyse my teaching and then implement it. He also talks about Quantum Physics.
His Holiness suggested there is a need to encourage greater warm-heartedness by including secular ethics in the curriculum of the Schools. What this means is learning to constrain our negative emotions while developing constructive ones. He also talked about the book recently published in Tibetan that compiles Buddhist science from the Kangyur and Tengyur.
In the end, questions answer session took place.