Hindus celebrate Vijayadashmi in Leh
By
Kunzang Chosdol
LEH, Oct 30, 2018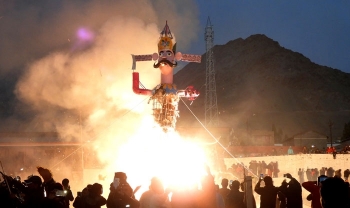 LEH :
Dussehra was celebrated with great religious fervor by burning the effigies of Ravana, his brother Kumbkaran and son Megnath on October 19 at Pologround in Leh.
The festival was organised by the Hindu Trust (Maha Sabha) wherein Avny Lavasa, DC Leh was the chief guest.
Balvir Singh, President, Hindu Mahasabha trust said, "With the celebration of such religious events, we must introspect to improve our behavior and attitude for the good cause."
He further said, "In Leh, the firecrackers are banned due to which we face difficulties in getting the permission. This time we have brought only 800 firecrackers and are trying our best to minimize it in the years to come."
District officers, Political leaders, and Members of Hindu Maha Sabha Trust were present during the occasion.