HH the Dalai Lama talks about hygiene of mind to overcome negative emotions
By
Reach Ladakh Correspondent
LEH, Jul 09, 2018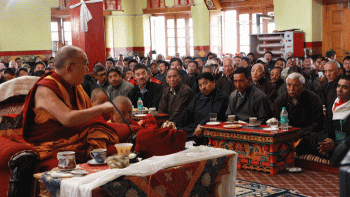 LEH :
The world is facing a serious emotional crisis leading to violence and unrest. Hygiene of emotions based on Buddhist psychology and logic can be practiced in bringing happiness and peace of mind was stated by His Holiness the Dalai Lama on July 4 at Chowkhang Vihara, Leh.
His Holiness said that Hygiene of Emotion based on the study of psychology still preserved and practiced in Tibetan Buddhism can potentially become an academic syllabus in educational institutions in India. The concept has already been taken with 150 vice-chancellors of different universities in India, besides 5000 government teachers in Delhi and principal of government college Dharamsala. He added that they all received the idea with a positive response with assurance to work on it.
Dalai Lama recommended that in Ladakh as well the effort should be made to revive ancient wisdom by introducing the study of psychology and logic in schools without associating it to the term Buddhism so that it can be taught to students of all religion.
He stressed on the hygiene of mind and emotions to overcome negative emotions like anger, hatred and extreme competitiveness especially keeping in consideration the increasing rate of suicides in Ladakh. He said that a meeting in this regard will soon be convened in Leh and urged the Khenpos to attend it.
He said that Indian tradition has a rich history of psychological study which has now gone extinct among Hinduism. He added that he advocates the need to revive those traditional methods of study at different platforms in India. In Buddhism, the concept of interdependence is exceptional that emphasis on benefiting and taking care of every sentient being. Thus, stressed on respecting all religion and the nonbelievers to ensure brotherhood, harmony and peace in the world.
Tsewang Thinles, President LBA expressed gratitude to His Holiness for his visit to Ladakh and blessing the people every year.
He said that his visit holds great significance and contribution in imparting Buddhists philosophy among Ladakhi Buddhists, especially among the younger generation. And informed that as advised by His Holiness, LBA has decided to turn Chowkhang Vihara into a learning centre and the process has already initiated.
He said that the sustainability of Buddhism depends on the younger generation and the best medium for cultural preservation is through the promotion of written and spoken language. LBA is conducting various training for youth in this regard and experts in language are sent to give training to students studying outside Ladakh.
Galdan Thizur Rinpoche, HE Thiksay Rinpoche and other venerable Rinpoches, monks and nuns, Thupstan Chhewang, MP Ladakh, Nawang Rigzin Jora, MLA Leh, Executive Councillors, LAHDC Leh, Ven. Shadup Chamba, President, Ladakh Gonpa Association and members, Councillors, senior personalities and representatives of social organisations were present on the occasion.