HH The 41st Sakya Trizin Rinpoche to bless Ladakh
By
Stanzin Desal
Leh, Jun 24, 2015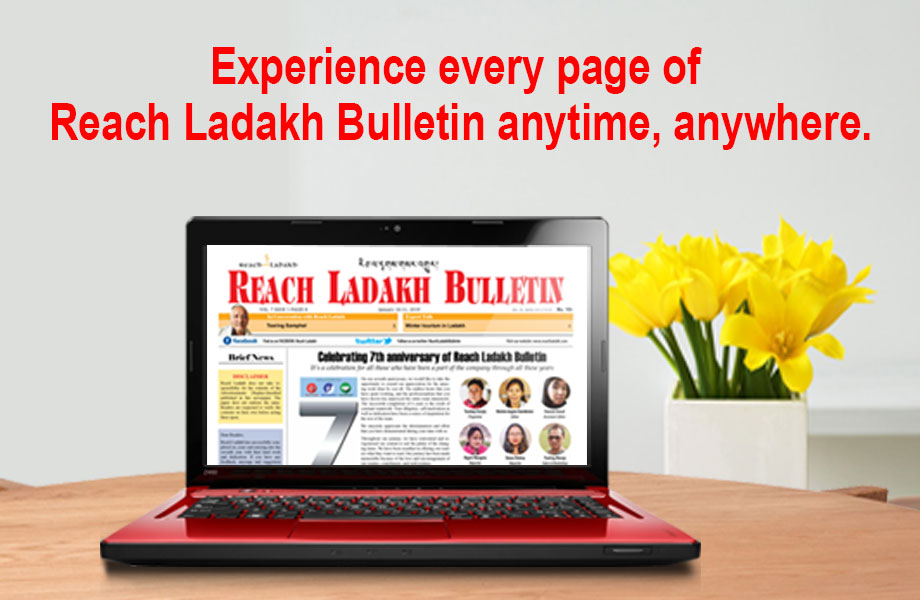 Leh :
His Holiness the 41st Sakya Trizin Rinpoche to visit Leh on 25th June. The trio associations hold a press conference on 18 June at LBA Office to brief about HH Sakya Rinpoche visit to Ladakh. The event is organized by Ladakh Buddhist Association, Ladakh Gonpa Association, and Matho Gonpa Culture & Welfare Society.
His Holiness the throne holder of the Sakya lineage will be preaching and visiting different parts of Ladakh in his 22 days long visit.
His holiness is going to bless the people of Ladakh after 16 years. His first visit was in the year 1976 and last in the year 1999. He will be preaching on Rigsum Chiyi Wangchen at Jeva Tsal, Shey.
The organizing committee appeal people to create a decorum /discipline during the sermon and use public facility wisely.
Participation of different societies and association voluntarily has been a backbone to make all the events successful. LBA President congratulates all the youths and volunteers for their active participation in all the events and urges them to participate more in the coming events.
The main motive is to organize religious congregations by Rinpoches of different school is to create unity and harmony among all the major sects of Buddhism.
Tsewang Thinless, President, Ladakh Buddhist Association said that the main reason behind inviting HH Sakya Rinpoche is to keep the religious harmony intact between the four main Schools of Buddhism. HH will offer teachings to make Buddhism understand to the people and how to implement it in daily lives. Giving priority to Ladakh he decided to spend 22 days in Ladakh. We are fortunate that we have teachings every year.
President Matho Gonpa Culture & Welfare Society, Gen. Jamyang Gyaltson, President LBA, Tsewang Thinless & Konchok Tashi, Secy of LGA briefed about the Schedule and objective of his visit.
Programme of His Holiness The 41st Sakya Trizin Rinpoche visit to Ladakh -2015
| | | | |
| --- | --- | --- | --- |
| Date | Time | Day | Programme |
| 25/6/2015 | 6:00 AM | Thursday | Arrival of H.H The Sakya Trizin Rinpoche from Delhi |
| 26/6/2015 | | | Rest |
| 27/6/2015 | | | Preliminary teaching of Rigsum Chewang at Jeva Tsal, Shey |
| 28/6/2015 | 9.15 | Sunday | Preliminary teaching of Rigsum Chewang at Jeva Tsal, Shey |
| | 3:00 PM | Sunday | Consecration of the Holy statue of Buddha &The Maitreya at Stok |
| | 3:30 PM | Sunday | Visit to Siddhartha School Stok |
| 29/6/2015 | 9:15 AM | Monday | Preliminary teaching of Rigsum Chewang at Jeva Tsal, Shey |
| 30/6/2015 | 9:15 AM | Tuesday | Preparation of Rigsum Chewang at Jeva Tsal, SheyPreliminary teaching of Rigsum Chewang at Jeva Tsal, Shey |
| 1/07/2015 | 9:15 AM | Wednesday | Main teaching of Rigsum Chewang at Jeva Tsal, Shey |
| 2/07/2015 | 9:13 AM | Thursday | Long life empowerment to the public and Tenshug to H.H at Jeva Tsal |
| 4/07/2015 | 11:12 AM | Saturday | Inaugration of Ngonpar Gawey Photang at Matho |
| 5/07/2015 | 9:30 AM | Sunday | Kunrig Nampar Nangzat ki Wang at Matho |
| 6/07/2015 | 9:30 AM | Monday | To attend H.H the Dalai Lama 's Birth Day at Choglamsar |
| 7/07/2015 | 9:30 AM | Tuesday | Visit to Skitmang to Leh by Helicopter |
| 8/07/2015 | 10:30 AM | Wednesday | Ta-chak Qungsum wang at Skitmang |
| 9/07/2015 | | | Rest |
| 10/07/2015 | 9:30 AM | Friday | Returns to Skitmang to Leh by Heli |
| 11/07/2015 | 11:00 AM | Saturday | CIBS Choglamsar School |
| | 2:00 PM | Saturday | Visit to Gyabuk and Egoo |
| 12/07/2015 | 9:00AM | Sunday | Visit to Nubra by Heli |
| 13/07/2015 | 9:30AM | Monday | Introduction to Buddhism and Ta-Chak Qungsum wang at Nubra |
| 14/07/2015 | 9:30AM | Tuesday | Returns from Nubra valley to Leh by Heli |
| | 9:30AM | Tuesday | Visit to new Tharpaling crematorium at Petrol Pump, Leh |
| 15/07/2015 | 10:00AM | Wednesday | Visit to Lamdon Model Senior Secondary School, Leh |
| 16/07/2015 | 9:30AM | Thursday | Visit to Sakya Nunnery School, Choglamsar |
| | 2.30 PM | Thursday | Special talk to Ladakhi Youth at Leh |
| 17/07/2015 | 9:30AM | Friday | Dam-tsik Dorjee Kawang at Zangdok Palri , Choglamsar |