Devotees celebrate Guru Padmasambhava's birth anniversary in Hemis
By
Reach Ladakh Correspondent
HEMIS, Jun 29, 2018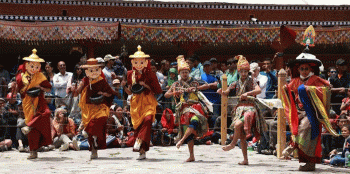 HEMIS :
The three-day long annual festival 'Hemis Tsechu' was observed with great enthusiasm and religious fervor on June 23, 24 and 25 at Hemis monastery, Leh.
HE Thuksey Rinpoche, consecrated the event and also prayed for the well being of worshippers and visitors.
A series of different mask dance was performed by the monks in the monastery courtyard.
On the first day, the 13 black hat dancers performed the first sacred dance. Followed by Sixteen brass mask dance, the eight manifestations of Guru Padmasambhava perform the dance displaying the principles that the guru spontaneously demonstrated as per different circumstances.
On the last day, the festival concluded with the sacred mask dance at the courtyard of the monastery.