Dechen Choskhor Urgyan Ling Monastery consecrated in Agling
By
Stanzin Dasal
AGLING, Jul 14, 2018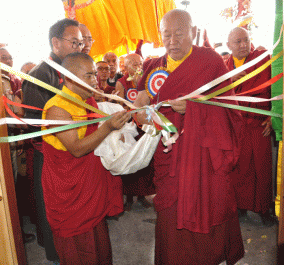 AGLING :
The newly built Agling Dechen Choskhor Urgyan Ling Monastery was consecrated and blessed by His Holiness Chetsang Rinpoche on July 13 at Agling.
Galaxy of prominent Rinpoches, political leaders, president and members of different associations, guest from the foreign countries, Ven. Monks, nuns and people joined the day.
Agling Dechen Choskhor Urgyan Ling Monastery was first initiated in the year 2015 by Drupon Rinpoche Konchog Tharchin. The monastery is completed with the help and support from Khandro Padma Dolma (Laurence), Secretary, France Himalaya- Drikung Rinchen Pal Dharma Centre and Guru Dorje Dadul (Marc Giraud), President, Lungta Centre, France.
Drupon Konchok Tharchin was born in Skindiyang village of Ladakh. He moved to France and delivers the teachings of Buddha Dharma. In 2005, Rinpoche started constructed a monastery at Mandoli in Himachal Pradesh and was inaugurated in 2014.
His Holiness Chetsang Rinpoche stated that the monastery will serve more as an institution for everyone to practice meditation and learn Dharma apart of all the ritual and religious practices are done in a monastery. With the infrastructural development and fast growing world, His Holiness suggested practicing meditation and yoga in order to cope with the challenges and complex life.
Chetsang Rinpoche stressed on spiritual and inner development to live a peaceful and happy life.
His Holiness expressed gratitude to all the sponsors and supporters who have made possible to complete the monastery.
Drupon Rinpoche Konchog Tharchin said, "Meditation is not necessarily to be practiced by the monks and nuns it is as much important to all the human beings living in the world of competition. Meditation will help in living in peace and happiness."
Khanpo Konchok Rigzin said that the monastery is built with an aim to serve as a learning centre to all the people about Buddha Dharma.
Khandro Padma Dolma expressed her gratitude to the Drupon Rinpoche Konchog Tharchin for preaching Buddha Dharma in France. She emphasized and encouraged people to practice Buddha Dharma in daily life without wasting on unnecessary things.
Highlighting the importance of Lungta Centre in France, Guru Dorje Dadul said that there are many students in the centre who are understanding and practicing the Buddha Dharma. He termed the monastery a good learning centre which will give ample of scope and opportunities to learn, understand and practice the Dharma.
Shedup Chamba, President, LGA, Ven. Tashi Dorje, PT Kunzang, Vice President LBA, Gyal P Wangyal, EC Health, Nawang Rigzin Jora, MLA, Leh, Khanpo Rangdol also spoke on the occasion.