Covering nearly 3000 km, 4th Eco-Cycle Yatra concludes in Leh
By
Stanzin Dasal
LEH, Sep 20, 2016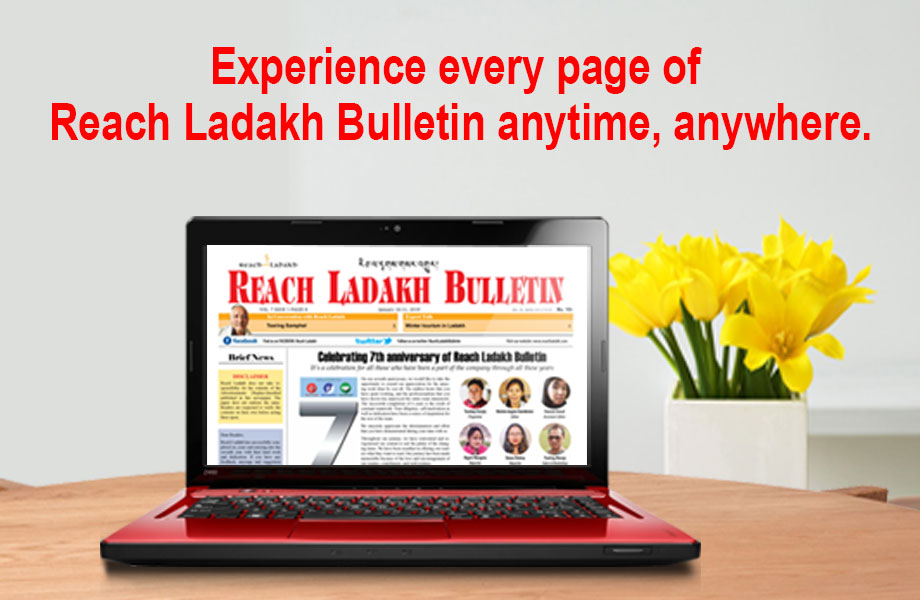 LEH :
To mark the successful completion of the 4th Eco-Cycle Yatra led by His Holiness the Gyalwang Drukpa, people of Ladakh gave a warm welcome on September 10 at NDS ground, Leh. The yatra was started on July 3 from Kathmandu Nepal by around 400 Buddhist nuns.
The aim was to spread awareness about the environmental crisis and to encourage the eco way of living, gender equality, and women empowerment.
The program was arranged by Ladakh Buddhist Association to felicitate the participants of Eco cycle yatra.
Expressing his gratitude for the warm welcome and hospitality, His Holiness Gyalwang Drukpa emphasized the importance of keeping the environment clean and safe for all sentient beings. Talking about the disaster and the fragile ecosystem he encouraged everyone for the eco-friendly way of living.
His Holiness said, "Eco cycle yatra, Pad yatra, trees plantation all these initiations should not be treated or limited with faith and devotion rather the prime importance is to imply practically in our daily life for a safe and clean environment and healthy lifestyle."
Talking about the women empowerment and gender equality, His Holiness stressed and urged to encourage women in every field not just limiting them to household work only. He also asked people to bring changes where in some monastery and temple women are barred from entering.
MP, Thupstan Chhewang said the women status in Ladakh is far better than rest of the states but yes the big difference is seen in politics. Talking about the importance of women participation in politics, he said, "I would be very happy and ensure full support if a woman stands for an MP election."
MLA, Nawang Rigzin Jora said, "We have 30 % women reservation in Panchayat but we still have to work for the women reservation and participation in Council, MP, and MLA."
He also stressed on people to ride cycle wherever it's possible to make the environment pollution free and healthy lifestyle.
CEC, Dr. Sonam Dawa assured to put every effort to ride cycle by the council once in a week and to encourage every department and citizen to ride cycle. He also assured to keep some fund provision in each department to buy 2 or 3 cycles.
LBA president, Tsewang Thinles appealed everyone to practically apply the teaching and message of His Holiness. He assured 30% women reservation in General Council Members of LBA and two nun's representative in Central working committee of LBA.
LBA presented a gold cycle to His Holiness Gyalwang Drukpa as a memento. The entire cyclists were felicitated with Khatags and mementos.