Centenary tribute to H.E the19th Gyalsras Bakula Rinpoche
By
Rinchen Angmo Chumikchan
LEH, Jun 14, 2017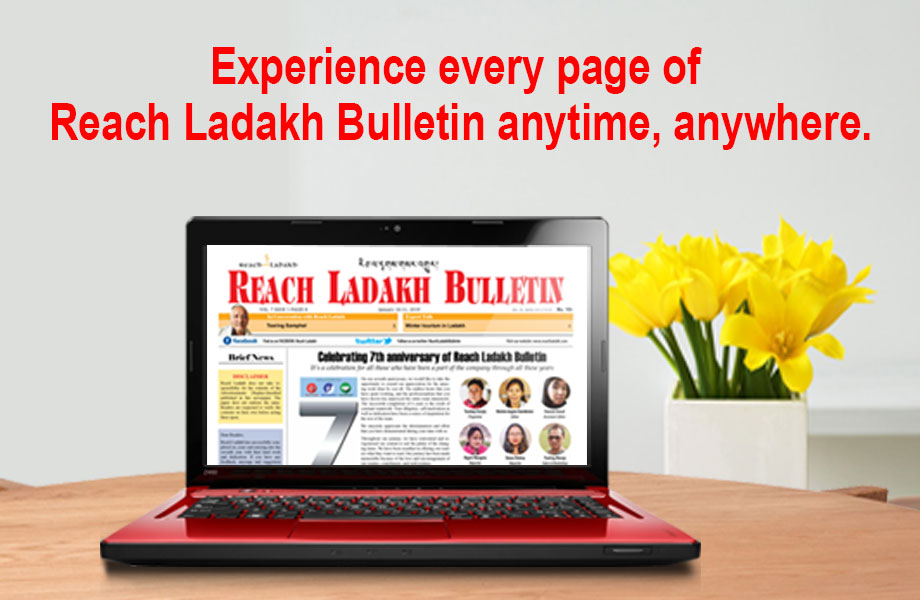 LEH :
The centenary celebration of the 19th Gyalsras Bakula Rinpoche, the architect of modern Ladakh and the first MP, in 1949, commenced here on May 19.
The Deputy CM, Dr Nirmal Singh, participated in the event and paid rich tributes to H.E Bakula Rinpoche.
The services rendered by the late leader for the uplift of the weaker sections were recalled. The aim of the year-long birth centenary celebration is to remember the contributions and selfless services rendered by him in different fields, not only in Ladakh and India but also in other countries, particularly in Mongolia.
Dr Nirmal Singh said the Ladakhi students who are studying outside in places like Delhi and Jammu have a very modern approach and outlook and this was due to the foundation laid by the late Bakula Rinpoche.
Talking about the dreams of Bakula Rinpoche, Chering Dorje, J&K Minister for Ladakh Cooperatives & Affairs, said that "we should continue demanding UT status for Ladakh as this was one of the main dreams of Bakula Rinpoche."
Thupstan Chhewang, MP, spoke about the 1959 Delhi Agreement. He said that the Rinpoche warned the govt that "if the discrimination against Ladakh continues, we might join Tibet."
Nawang Rigzin Jora, MLA, said, "Gyalsras Bakula raised the issues of Ladakh in the assembly of J&K. He had visited far-flung areas to sow the seeds of education. Whatever issue he took, he was successful in achieving it. Whatever we are today is because of the foundation laid by Bakula."
Dr. Sonam Dawa, CEC, said, "Gyalsras Bakula proved that "he is a good politician and a religious leader too. He was the first MLA from Ladakh. Kushok Bakula was not only a good legislator, parliamentarian, he was also a successful diplomat who rendered his services to the people of Ladakh. He is the architect of modern Ladakh."
Talking about the role of Bakula in politics, Sonam Wangchuk Shakspo said, "At first, he was reluctant to take the responsibility as a politician but Jawaharlal Nehru convinced him to join politics. But once he had accepted and made peace with it, he successfully played the role of a monk as well as a statesman. It was Rinpoche's moral integrity, his simplicity and his humanity as a monk which made him so effective in his public and political roles."
Wangchuk proposed to observe May 19 every year as day of unity to carry out the Rinpoche's legacy.
Many leaders of India have spoke about Gyalsras Bakula.
HH Dalai Lama described him as "The Gandhi of Ladakh".
In 2015, PM of India Narendra Modi said, "It (our relation) lives through the work of Kushok Bakula Rinpoche, India's ambassador here from 1990-2000. The Pethub Monastery he established here will be an enduring symbol of our links."
Atal Bihari Vajpayee, "In the passing away of most venerable Kushok Bakula, an eminent Buddhist Scholar, a saint, a guide and a source of inspiration for all, is lost. It is difficult to imagine Ladakh without Kushok Bakulaji."
In 2008, Dr Manmohan Singh, PM talking about the renaming of Leh Airport said, "In doing so we pay tribute to the memory of the most venerable Kushok Bakula Rinpoche, the architect of modern Ladakh. Venerable Kushok Bakula was a noble saint, a teacher, a patriot, a beloved leader, a true Buddhist and, above all, a great Indian. It is only appropriate that we name this airport, the link between the high Himalayas and the world below, after this son of Ladakh and this man of God."
Geshe Konchok Wangdu, Organizing Committee Chairman, said, "We are celebrating this occasion to remember his work, and I appeal to you all to follow the Rinpoche's path."
A Mongolian song, 'Garland of Mongolian music', was specially performed as a tribute to the Rinpoche.
Ven Karma Geleck said, "Besides being a highly decorated Padma Bhushan and an envoy, MP and an accomplished and learned master of the Buddha dharma, he was very helpful to the Tibetan people who are settled in Ladakh. I came to know that Kushok Bakula Rinpoche personally invited a group of Tibetan families just below his monastery for their settlement and livelihood."
He expressed his gratitude and said, "I can assure that the kindness and the generosity extended to the Tibetan people will never go in waste. It becomes our moral duty to repay your kindness and generosity in some form or the other. We pray that all the noble wishes of late Bakula Rinpoche be fulfilled. We also pray that he returns to this world in the form of reincarnation to continue his noble deeds and to liberate living beings from suffering."
Ven Khambo Lama Dambajav expressed his gratitude on behalf of Mongolian people. He said, "His teachings will be remembered by the Mongolians. We Mongolians have high esteem for Bakula Rinpoche. Mongolians highly appreciate the contributions of the great teacher on reviving and spreading Buddhism in the country since 1990 when he took the office as the Indian ambassador to Mongolia."
Recognising his work in the field of medicine and health services, Dr Tsering Nurboo, was conferred with the Ladakh Spalnam Momento by Dr Nirmal Singh.
Among others who spoke at the function were Galden Trizur Skabje Sras Rinpoche, Prof Samdhong Rinpoche, LBA President Tsewang Thinles, who listed the contributions of Bakula Rinpoche. Skyabje Tokdan Rinpoche and many other social, religious and political leaders were present.