After 12 years, Ladakh to celebrate Naro festival in Hemis
By
Stanzin Dasal
LEH, Sep 20, 2016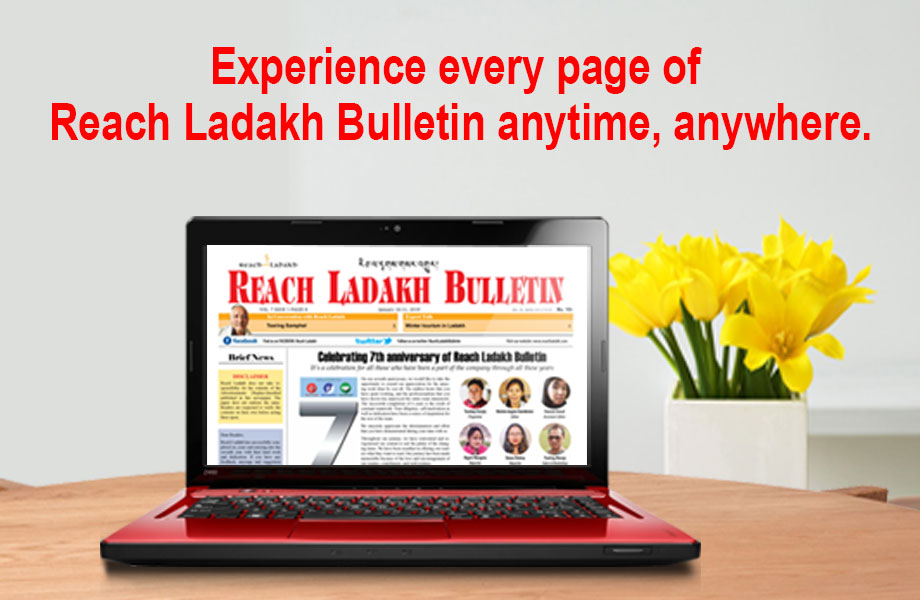 LEH :
Naropa Organizing Committee is all set to celebrate 1000 year anniversary of Naropa from September 16 to 22 at Naro Palace, Hemis. The devotees will be blessed by His Holiness Gyalwang Drukpa who will don the six bone ornaments of Naropa to grant the Grand Chakrasamvara Empowerment on 16 September, which happens once only after 12 years.
It is believed that receiving the Chakrasamvara Empowerment from His Holiness the Gyalwang Drukpa in the Six Bone Ornaments of Naropa will close the doors to the realms of animals, hungry ghosts and hell.
Naropa Organizing Committee Chairperson, His Eminence, Thuksey Rinpoche briefed about the Naro festival in a press conference on 8 September at Hemis Labrang Skara.
The festival is organized with the blend of a spiritual and modern world. Along with the blessings and teaching, the festival will be showcasing many events such as fashion show, archery competition, essay competition, musical performances by many famous personalities.
Talking about the festival, His Eminence Thuksey Rinpoche said, the spiritual and modern world blend in this year Naropa Festival is to promote Ladakh on a wider scale to give an economic boon for the people of Ladakh. "We are expecting around 1 lakh devotees from all over the world", he added.
The largest thanka of the Himalayas of Buddha Amitabha will be unveiled on September 19.
To promote the eco-friendly way of living, the 8th Eco Pad Yatra will be conducted from Chemdey to Igoo Lake.
Programme schedule for the Naro festival:
September 13-15
The 7th Annual Drukpa Council
A guided meditation and a short explanation on How to Receive Blessings of Naropa six bone ornaments
September 16
Naro Gyantuk, The six bone ornament festival
Drum beating skills and Dharma dance by Drukpa Kung Fu Nuns.
September 17
Public display of ornaments teaching and dialogue.
September 18
Public display of ornaments , Traditional Archery competition and tribute to Naropa, dance by Terence lewis
September 19
Public display of ornaments
Unveiling of the largest Thanka of Buddha Amitabha
Bhutanese Archery Competition
Theatrical Performance on the Life story of the Lama Staktsang Raspa.
Performance by Shankar Ehsaan Loy with artist from Ladakh and Himalayas
September 20
Teaching on 50 Stanzas of Guru devotion.
Inter-school Essay writing and quiz competition on Naropa
Performance by different singers and Magic show
September 21
Continual teaching on 50 Stanzas of Guru devotion.
Dance performance by different artist and students of Druk Padma Karpo school
September 22
Closing Ceremony with 100,000 Ganachakra Offering and presentation of certificates and prizes.
Performance by Shreya Ghoshal.
September 23
The 8th Eco Pad Yatra
Naropa was born in a noble family endowed with special qualities. His wisdom and sense of loving, kindness and compassion at a very small age made everyone agreed to befit him among the Dharma practitioner rather than in the materialistic world.
He was then sent to Nalanda University for education and became one of the renowned scholar.it was the custom at that time for the different tradition to debate with each other and the winner was declared as Supreme. Naropa participated in the debate and proved as one of the most learned among all the scholars who participated. At that time, Nalanda had four gates at each of the directions and at each gate, there were 500 scholars known as gatekeepers. Naropa became one of the scholars at the northern gate.
The six bone ornaments were offered by Dakinis to Naropa which has become the most valued and honoured relics of Buddhism. Every 12 years, His Holiness Gyalwang Drukpa dons the six bone ornament and blesses the devotees.