2000 monks, nun participates in Sanghadana in Leh
By
Kunzang Chosdol
CHOGLAMSAR, Sep 20, 2018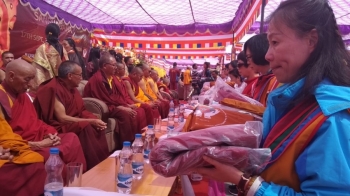 CHOGLAMSAR :
More than 2000 monks and nuns from different part of the world and country joined the Sanghadana 2018 (Charity to the community of monks) organised by Mahabodhi International Meditation Centre in collaboration with Chung-Hwa International Merits Society of Buddha-Puja and the Buddhist from Taiwan on September 17 at MIMC, Choglamsar.
Chief guest, Venerable Shatup Chamba, President Ladakh Gonpa Association, thanked the donors, and the organising committee for organising this Sanghadana in Ladakh.
He said, "It is very fortunate that monks from different parts of India and outside gathered under one roof for Sanghadana in Ladakh and perform prayers for the world peace."
Venerable Sanghasena, Director MIMC said, "It is the historic event that is taking place in Ladakh. More than 2000 monks and nuns of Ladakh, including many Buddhist countries, as Sri Lanka, Thailand, Taiwan, Bhutan, Burma, Nepal, Bangladesh joined this Sanghadana. It earns lots of merits by offering to the sangha and to pray for world peace. As we all know that this world is facing lots of violence, disturbance, and aggression, so the prayer for world peace is much needed. We are very happy that we could successfully organise this event where holy sangha member including rinpoche has participated. It is truly an important for all people to seek peace, happiness, and harmony in the society, country and the world."
Venerable Nagasaki, "After 17 years, all the sangha members could able to gather at Mahabodhi campus, we are very much glad that 45 Taiwanese Buddhist devotees came all the way to offer Sanghadana. We are fortunate to get this opportunity in a lifetime."
Madam Wang Shue Yu, CEO and General Secretary of Chung-Hwa International Merits Society said, "Our society was established in 2003 and we have been organising Sanghadana for the past fifteen years. We have more than three thousands participants of coming from the lakhs of monks, nuns and lay devotees inclusive of 6 thousand sangha member every year. The main aim of the society is to provide support to the sangha member for their spiritual enrichment regardless of nationality covering monastery, nunnery, retreat centre and Buddhist colleges in many countries. Today we have a special opportunity on this auspicious blessing to be here in Ladakh for Sanghadana."
She further said that in the near future they will be back to Ladakh to organise the same and informed that on 25th of August next year, they are going to organise Sanghadana at Taipei and invited all the sangha of Ladakh for it.
Venerable Ming Yu, President Young, One of our venerable from Taiwan has been coming to Ladakh in 1996, 1997, and 1999 to perform. It is with auspicious opportunity that we are able to perform sanghadana here in Ladakh once again after 19 years, which is a miracle of its own. Sanghadana is extremely good and the merit occurred from this act knows no limits, hence we would like to share this merits to all sentient being.
At the end, Bikkhu Sanghasena honored those who have contributed in organising the Sanghadana 2018.