The Lotus fails again to bloom in Temisgam 
Strong election campaign by MP and CEC fails to create any impact on ground
By
Reach Ladakh Correspondent
Leh, Sep 18, 2022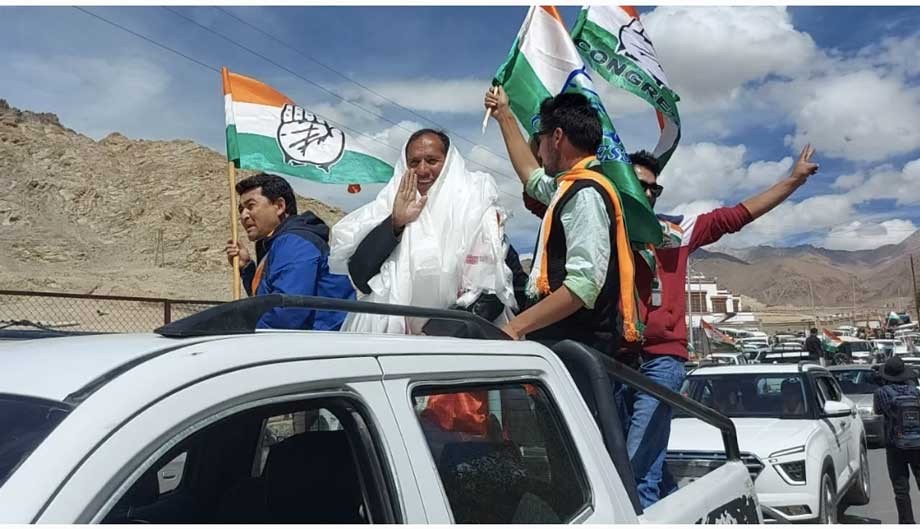 Leh :
The Congress retained theTemisgam seat in a by-election held recently for the Ladakh Autonomous Hill Council, Leh, defeating the BJP with a margin of 273 votes. Of the total 1467 votes cast, the Congress secured 861 votes, and the BJP 588. There were 14 NOTAs and 4 votes were rejected. 
It is felt that the Congress victory in a by-election is a great setback for the BJP which is in power. The BJP did put up a spirited fight but failed to outwit the Congress strategy. 
How could Congress get victorious? Though the party workers, senior and charismatic leaders of both the BJP and the Congress enthusiastically engaged themselves in the election campaign, it seems the BJP missed having the right candidate. Had their candidate been a young, new face, the game could have turned around. 
Another speculation is that voters are not just only concerned about the development of their area or constituency; they were concerned more about regional demands like the Sixth Schedule. Growing unemployment and safeguard of land, culture, and traditions were their hearty concerns. It is true that the Congress victory with a good margin in a small constituency was something unexpected. The BJP, despite having a list of achievements, plans, and projects, failed to bag the seat. The by-election was held following the death of the sitting Congress Councilor, Sonam Dorjey, recently.
Though the winning of one seat by the Congress won't bring about any change in the setup of the Hill Council run by the BJP, but a win could have been a matter of pride and prestige for the BJP at the local and the national levels. Meanwhile, the Congress, which is facing a hard time at the national level, feels that this by-election has sent across the message to the ruling party that the Congress is a strong opposition party in Leh and is bringing winds of change. It seems that the strong election campaign by MP Jamyang Tsering Namgyal and CEC Tashi Gyalson failed to create any impact on the ground. 
The Congress candidate, Tashi Tundup, gave credit to the people of Temisgam and Tia for his success. "I deeply express my gratitude to the people of Temisgam and Tia for having faith in me and electing me as their representative. I never expected that I would win with such a huge margin. I will try my best to finish the plans and projects of the former Councilor, and work sincerely without any discrimination", he said soon after the poll results.