Ram Madhav meets representatives of Ladakh
By
Stanzin Dasal
Leh, Jul 05, 2020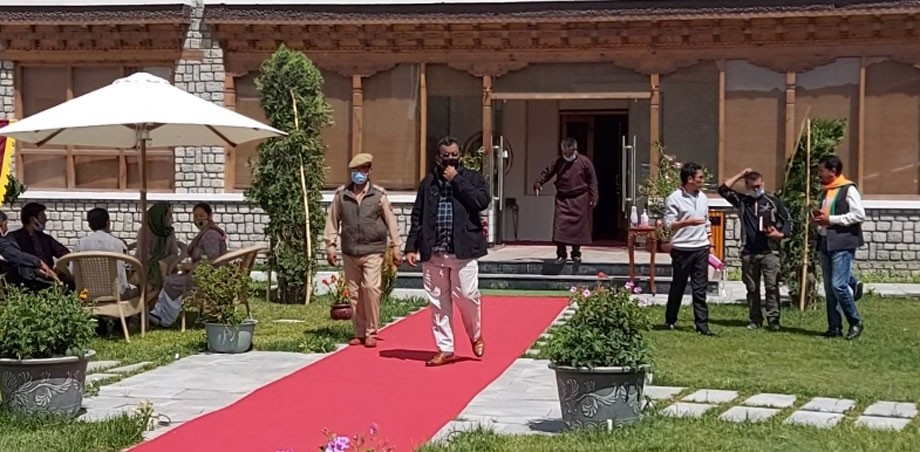 Leh :
Bharatiya Janata Party, National General Secretary, Ram Madhav reached Leh on July 5 to take stock of the party activities in the region.
The national general secretary convened a closed-door meeting with the members of Hill Council, Leh, representatives of Block Development council's, Mandal presidents, and District Executives.
Discussion on various issues including Hill Council empowerment, developmental activities carried out in Ladakh after UT status, party activities, and to review the coordination of UT administration and Hill Council was carried out. 
Members of Hill Council, Leh demanded empowerment and strengthening of Hill Council which has achieved the autonomous status after lots of struggle and sacrifice. 
As per the sources, discussion was also held to convince Chering Dorjay Lakruk, Former BJP Ladakh, President back in the party who resigned from his political position and party membership in May. The resignation letter of Chering Dorjay accused UT administration of rendering the autonomous Hill Council of both Leh and Kargil ineffective. Also, the allegation was made on UT administration insensitivity and callous attitude to evacuate stranded passengers, pilgrims, and students of Ladakh in different other states amidst COVID-19 pandemic.
After the grant of UT status, a gap in the relation between Hill Council and UT administration lead to the protest of Hill Council members in front of Raj Niwas on May 4 over the lack of, comprehensive roadmap by the UT administration for the evacuation of stranded people outside Ladakh and evacuation of patient and old age people by air. Earlier, an audio clip of BJP local leaders accusing UT administration headed by Lt. Governor R K Mathur for taking decisions without taking Hill Council into confidence also got viral.  
It was reported that during the meeting, Councilors of Hill Council, Leh raised the issue faced because of the lack of coordination between the Hill Council and UT administration.
Chairmen of the Block Development Council requested Ram Madhav to get their office established soon to carry out their work efficiently and effectively. Also, they asked  for the funds of  BDC sanctioned. 
Ram Madhav is scheduled to be part of His Holiness Dalai Lama and Dr. Shyama Prasad Mukherjee's birthday celebration on July 6 at the BJP party office.