Prime Minister Narendra Modi visits Leh
Launches several developmental projects to improve connectivity, tourism, employment, higher education and power supply
By
Reach Ladakh Correspondence
Leh, Feb 06, 2019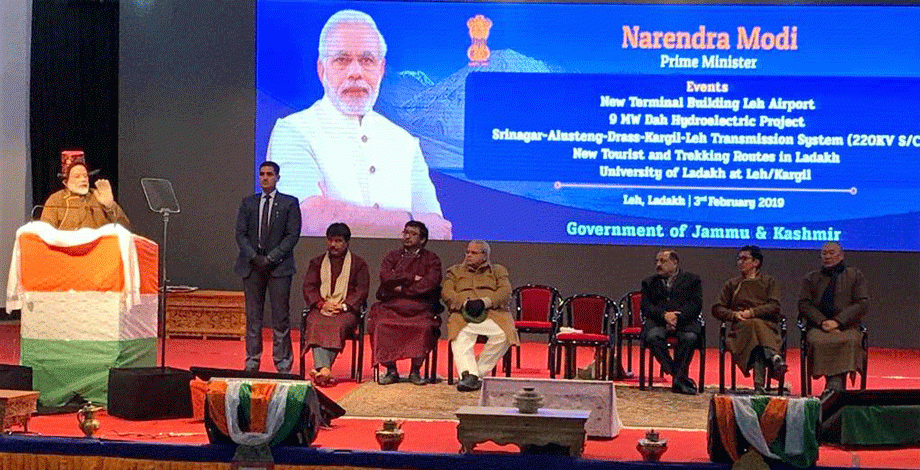 Leh :
Prime Minister Narendra Modi inaugurated development projects including 220 KV Single Circuit, Srinagar-Alusteng-Drass-Kargil-Khaltse-Leh transmission system, cluster University for Ladakh, new trekking routes and laid the foundation stone of New Terminal Building of Kushok Bakula Rinpoche Airport on February 3 at Nagarjuna Auditorium, CIBS.
Jamyang Tsering Namgyal, CEC in his welcome speech thanked Narendra Modi for visiting Leh and briefed about the developmental projects. He also appealed for the divisional status, UT status and the inclusion of Bhoti Language in the 8th schedule of the constitution. 
Satya Pal Malik, Governor, J&K welcomed Prime Minister by presenting traditional Thanka (wall banner of deities) and shawl. 
Narendra Modi said, "The culture of delaying the developmental works needs to be stopped and should focus on timely completion. I feel happy to lay the foundation stone and inaugurate the completed same projects."
Recalling Kushok Bakula Rinpoche and the dream to connect Ladakh with mainstream India, he expressed government's commitment to the development of Ladakh region.
He said that the mega projects which are launched today in Ladakh aim to improve the connectivity, growth in tourism, employment opportunities, higher education facility, and power connectivity.
Narendra Modi laid the foundation stone of New Terminal Building of Kushok Bakula Rinpoche Airport at Leh. Spread across 18, 985 sq mtr area, the new Terminal Building of Kushok Bakula Rinpoche Airport worth ₹ 480 crores will have 18 check-in-counters, 3 aerobridges, and peak hour handling capacity of 800 passengers. 
Also, all essential passenger-friendly amenities and conveniences like elevators, escalators, public address system, fire alarm system, flight information display system and passenger boarding bridges along with a spacious car parking space will be made available.  The project is expected to complete by September 2021. 
The 220 KV Single Circuit, Srinagar-Alusteng-Drass-Kargil-Khaltse-Leh transmission system completed by the Power Grid Corporation of India Ltd. was also inaugurated. The system will provide grid connectivity and reliable round-the-clock power supply to Ladakh region. 
The transmission system project worth ₹ 2300 crore foundation stone was first laid by Prime Minister in August 2014.
Also, 9 MW Dha Hydro-electric project was also launched. 
The long-pending demand of university for Ladakh was also addressed with the commencement of University of Ladakh Act 2018. The Cluster University will include Degree Colleges of both Kargil and Leh district.  The administrative offices of Cluster University will be set up in both the district. 
Tourism being the key source of income in Ladakh, the government of India officially declared 4 new trekking routes and 5 tourist routes. The Protected Area Permit validity has been extended from 7 to 15 days in the region. 
Rigzin Spalbar, Former CEC expressed dissatisfaction for being silent on the core issues and demand of the people of Ladakh.
He said that the expectation of people on Modi's visit to address on UT status, Divisional status, Bhoti language, the opening of Kargil-Skardu road, Damchok road, status of Zojila tunnel, opening of medical college, funding for a cultural university were all ignored.
 
He said, "It is high time that the people of Ladakh should not fall under the trap of Modi fake promises and stay united to stop their evil design of divide and rule policy."
Dr. Jitendra Singh, Minister of State in PMO, Haji Anayat Ali, Chairman Legislative Council Feroz Ahmad Khan, Chairman/CEC, LAHDC Kargil Feroz Ahmad Khan, Chering Dorjey, MLC, Leh, BVR Subrahmanyam, Chief Secretary, His Eminence Togdan Rinpoche, Former Minister Union Secretaries, Administrative Secretaries, and senior officers from civil, police administration and the army were also present on the occasion.