MP Ladakh safeguard demand in the Parliament is misleading: Apex Body
By
Reach Ladakh Correspondent
Leh, Dec 18, 2021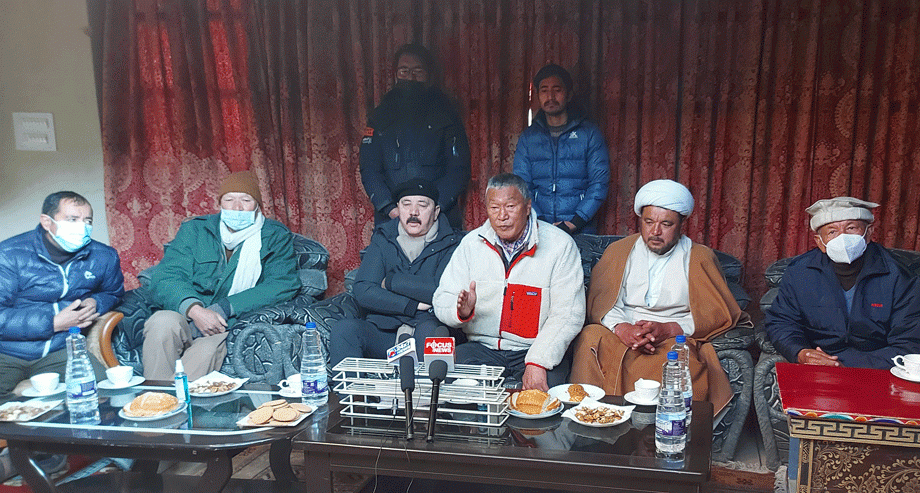 Leh :
Apex body of the People's Movement for 6th Schedule for Ladakh termed statement made by MP Ladakh, Jamyang Tsering Namgyal on safeguard for Ladakh in the Parliament as misleading. 
MP Ladakh demanded constitutional safeguard for Ladakh through amendment of LAHDC Act 1997 on the lines of 6th schedule of the Indian constitution.
During a press conference, Apex body Member, Chhering Dorjay said that the statement falls outside the purview of the demand made by the people of Ladakh through Apex Body and KDA. 
Apex body said that the amendment of the LAHDC Act, a statutory provision, cannot be a substitute for a robust constitutional provision like the 6th schedule. The Constitutional bodies derive their powers from the constitution whereas statutory bodies are established through Acts of Parliament or Assemblies and hence subject to changes and modifications. The 6th schedule has the flexibility to adopt constitutional provisions and laws as per the need of a scheduled area. 
A press statement released by the Apex body reads as, "LAHDC Act itself was drawn on the lines of 6th schedule but it lacks the essence, powers and the constitutional provisions of the 6th schedule. MP Ladakh should also have known that a scheduled area with 6th schedule provisions, being a very powerful constitutional provision, is called a mini-state within a state, having powers to make laws on all important subjects, and this schedule cannot be equated with the provisions of the strongest of all the Acts of Assemblies and the Parliament. The 6th schedule for Ladakh was on the top of BJP's manifesto at the time of the elections to LAHDC Leh in 2020. He should desist from showing undue and unconditional support to the party at the cost of the aspirations and the dreams of the people of Ladakh he claims to represent. The Member of Parliament cannot make such a statement with scope for far-reaching consequences without consulting the people of Ladakh. His statement is also a huge deviation from his own earlier statements and stands on the issue of the 6th schedule which is central to all our demands. We demand the 6th schedule for Ladakh without any dilution or modification which is possible only if Ladakh is given the status of statehood. Anything short of a proper constitutional safeguard shall not be acceptable to our people and shall be seen as deception and deceit from the BJP party high command".
Apex body said that the statement of Jamyang Tsering Namgyal is scripted, made to satisfy the wishes of BJP high command. They  further requested MP, Ladakh to show resilience, wisdom, and statesmanship at a time when Ladakh is faced with the most critical issue in its history.