Leh observes National Voters Day
Voter's pledge to uphold the democratic traditions and dignity of the country through free, fair and peaceful elections
By
Reach Ladakh Correspondent
Leh, Jan 30, 2019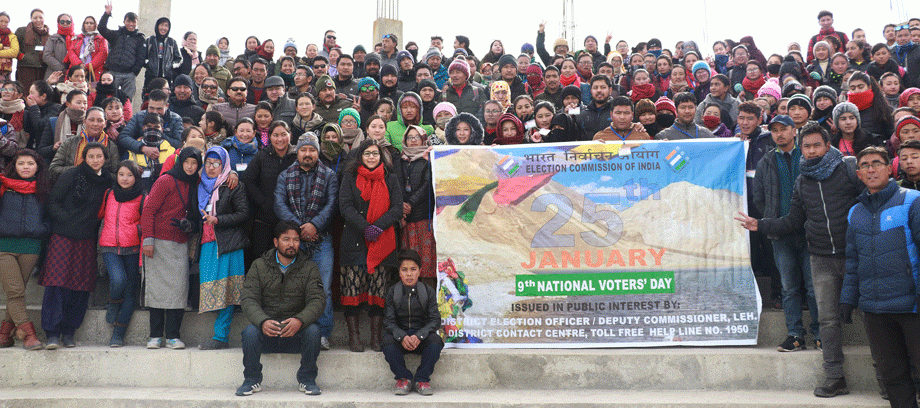 Leh :
 The 9th National Voters Day was observed with huge participation of young enthusiastic voters on January 25 at New Ice Hockey Stadium.
Highlighting the importance of the day, Avny Lavasa, DC/ District Election Officer, Leh said that the main objective is to encourage voters to take part enthusiastically in the democratic process. She appealed the voters to use their voting rights and also become ambassadors to mobilize their family members, relatives and neighbors to become an important part of our democratic system.
Aimed at facilitating the voters, the Election Commission of India has taken several initiatives including a helpline no. 1950. The voters can get any kind of information and clarification related to the election.
Talking about the Voter-verifiable paper audit trail (VVPAT), Avny Lavasa said that VV PAT is a new device attached to the EVM which will introduce during the upcoming Lok Sabha election. She emphasised upon the voters to make them fully educated in operating the voting machines.
She further added that every single vote is important to further strengthen the foundation of our democratic system and therefore everyone must exercise their voting franchise.
A demonstration on voter's pledge ceremony to uphold the democratic traditions and dignity of the country through free, fair and peaceful elections was also carried out.
Meanwhile, the programmes of National Voters' Day also conducted at Khaltsi, Nyoma, and Nubra Sub Divisions.