Leh LAHDC councillors to boycott Independence Day function over status issue
By
Stanzin Dasal
Leh, Aug 03, 2022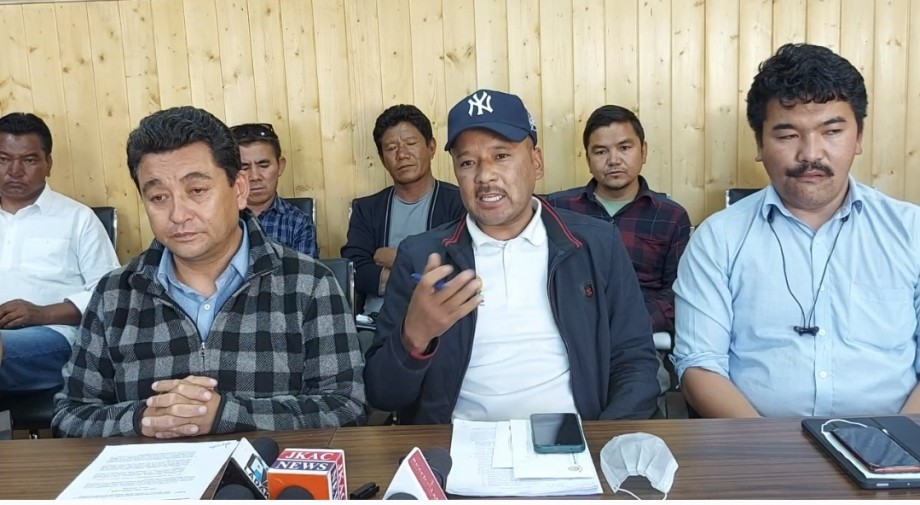 Leh :
Councilors of Hill Council, Leh decided to boycott the Independence Day celebration organised by the UT administration and to celebrate the day separately at the Hill Council level if the administration fails to issue the Warrant of Precedence before 5th August, 2022.
This was stated during a press conference called by Councillors of Hill Council, Leh on August 3 at the Council Secretariat.
The conference was called in reaction to order no. 230-LA (GAD) of 2022 'Observance of the proper protocol with the public representatives in Union Territory of Ladakh during ceremonial functions/ Occasions' issued by the General Administration Department, Administration of the Union Territory of Ladakh on August 2, 2022.
The Councilors highlighted the 3rd point from the order which reads, "As far as possible, their seating shall be arranged in the same enclosure where the VVIP and other elected representatives (HCEC/HMP/ HEC'S) have been seated.  In case of space constraints and other security-related requirements of the VVIP, they may be seated in a different enclosure which should be arranged/ located as near as possible to the VVIP area and should be earmark specially."
Tsering Namgyal, Councilor, Lower Leh said, "The order got nothing except seat designation to the councillors which is not the real issue. Councillors represent the people, and they should be valued. The council needs to be empowered as promised and the official status/ protocol of the councillors must be defined and announced as ensured by the Lieutenant Governor of UT Ladakh.
The councillors reiterated the January 26, 2022, incident when the councillors of the Ladakh Autonomous Hill Development Council (LAHDC)-Leh boycotted the Republic Day function for getting denied entering the event's venue through the VIP gate.
"After the incident, we had sent representation to LG Ladakh through Hill Council Chairman who assured to issue a warrant of precedence before 5th August 2022. Since there is no development, we decided to boycott the Independence Day function organised by the UT Administration and celebrate it separately if the administration fails to issue the Warrant of Precedence on August 5 on the occasion of 'Ladakh dPal rNgam Duston 2022', said Lobzang Sherab, Councillor, Khaltse constituency.
The councillors said that it's not just about the seat but upholding the dignity of the Constitution and its implementation on the ground.
Coming heavily on the UT administration's bureaucratic set-up, Independent Chushul constituency Councilor Konchok Stanzin said that the UT administration did nothing except issue orders sitting in the infrastructure set up by Hill Council.
The councillors said that the warrant of precedence needs to be set and strengthen the LAHDC Act which the Union Home Minister assured in the Parliament when UT status to Ladakh was announced.