Ladakh Parliamentary Constituency records 71.10% turnout for LS Election
Anley Phu in Changthang being the highest altitude (15000ft) polling station in India
By
Reach Ladakh Correspondent
Leh, May 08, 2019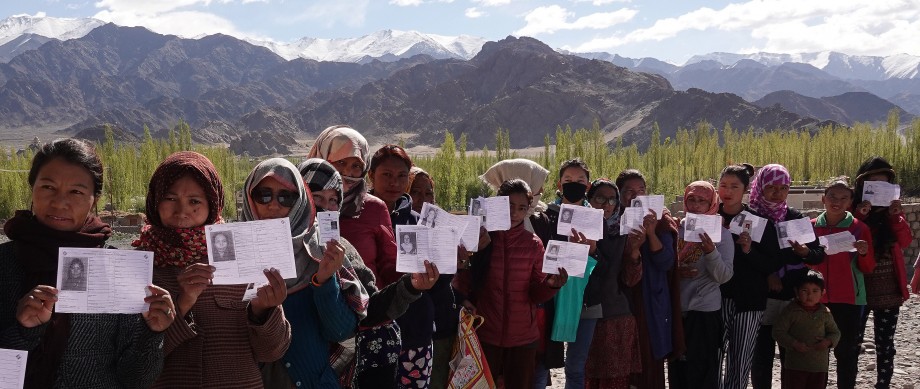 Leh :
In the fifth phase of Lok Sabha Elections, 71.10% voter turnout in Ladakh Parliamentary Constituency including both Leh and Kargil.
According to the District Election Office, Leh district has recorded 62.76% polling with Leh assembly segment getting 61.84% votes cast and Nubra assembly segment with a higher turnout of polling percentage of 67.49%. On the other hand, Kargil district has recorded a total turnout of 79.49% polling with Kargil recoding78.62% and Zanskar 81.98%. 
DEO, Leh Avny Lavasa also used her voting right and cast a vote in Leh at 81- Polling Station, Chanspa on May 6. She informed that polling in Leh district has been conducted in a free and fair manner with no reports of any kind of inconvenient incidents and any technical fault with the voting equipment including EVM and VVPAT. 
She said that there were 49 polling stations in Leh district with all women polling staff and appreciated them for contributing smooth and efficient conduct of the election. She also added that women lack nowhere in terms of capability and it's all about giving them the opportunity. Due to cold weather condition, some batteries of voting machines had to be changed as per the procedure without disturbing the voting process. 
            Lok Sabha Election 2019–Ladakh polling details
Ladakh Parliamentary Constituency

Total voters = 1,74,618

 

Male voters = 86,752

Female voters = 85,064

Service voters = 2,799

Voter turnout is calculated by dividing the number of valid votes by the number of electors registered to vote.

 

54699 electorates in Leh

68890 electorates in Kargil

Total electorates = 1,23,589

Highest voters

Shenam, Leh  = 1301

 

Lowest voters

Gaik,48- Leh assembly = 7

Washi, 47-Nubra assembly = 7