Gyal P Wangyal elected as new Chairman/CEC of LAHDC, Leh
By
Reach Ladakh Correspondent
Leh, Jul 04, 2019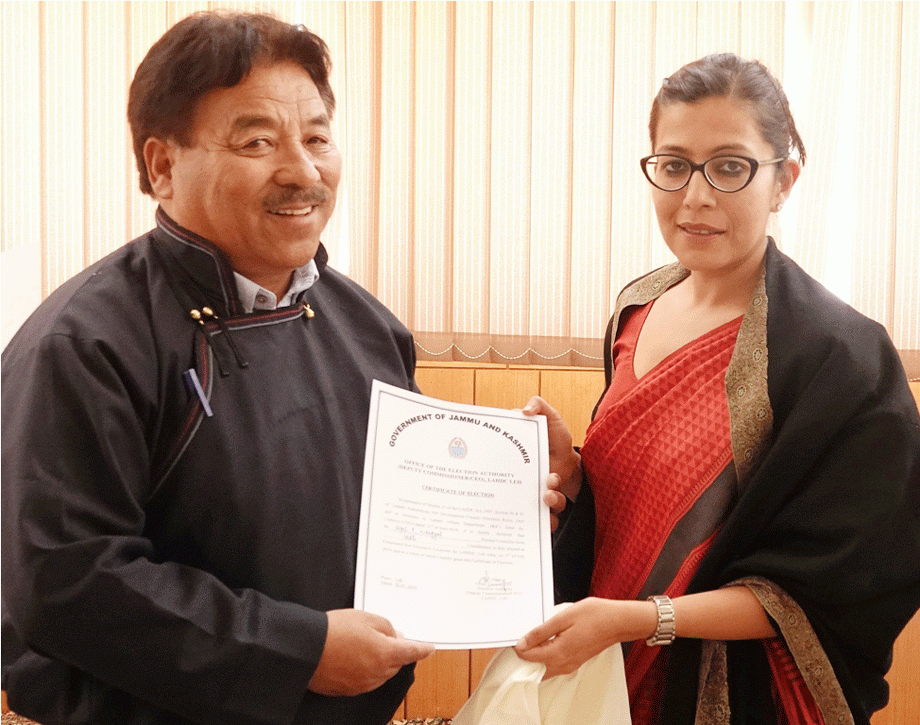 Leh :
Deputy  Chairman, Hill Council, Leh Gyal P. Wangyal was elected uncontested as the 4th Chief Executive Councilor/Chairman LAHDC, Leh in the General Council Assembly held at Council Secretariat on 2 July.  
Avny Lavasa, DC/CEO, LAHDC, Leh convened the proceedings of the election of new CEC, Hill Council, Leh.
Stanzin Phuntsog, Councilor Skurbuchan proposed the name of Gyal P Wangyal for the vacant post of Chairman /CEC LAHDC, Leh and seconded by Ven. Lobzang Nyantak, Councilor Upper Leh which was supported by all the councillors of BJP. Not having a proposal for the second name to contest the election, DC declared Gyal P. Wangyal elected unanimously and uncontested to fill the vacant post of CEC/Chairman LAHDC, Leh.
After taking the seat of CEC, Gyal P Wangyal in his address to the house expressed his gratitude to BJP senior leader Thupstan Chhewang for the guidance provided to him in shaping his political career. 
Gyal stressed on ensuring a cordial work atmosphere with a common goal towards achieving development targets well on time. He urged all the councillors of both ruling and opposition parties to work in a united manner with the intention to serve the people of their region. He asserted that Deputy Commissioner is like the bridge between Hill Council and Administration and urged DC, Leh to ensure better coordination, support and cordial relationship between the Councillors and District Officers in the coming days too for the smooth functioning of developmental works in the district. He urged upon all to uphold the dignity of Hill Council. 
 
After taking over the chair, CEC visited Chowkhang vihara, Jama Masjid and Imam Bargha and took blessings. Later,  he visited the memorial stupa of his father Late Sonam Wangyal ( former state minister ) at Housing Colony to pay homage to the departed leader.
On this occasion, MP Ladakh, Jamyang Tsering Namgyal, MLC, Leh Chering Dorjey, General Secretary Organization BJP J&K, Ashok Kaul, State Gen. Secretary BJP, Dr. Narendra Singh, and BJP workers headed by District President Dorjey Wangchuk were present.
After the election of CEC, a two-minute silence was also observed to pay homage to those who were died recently in Leh district in the wake of road accidents.