Govt. lacks clarity on LAC issue, need to speak in unified voice: Nawang Rigzin Jora
By
Stanzin Dasal
Leh, Jun 27, 2020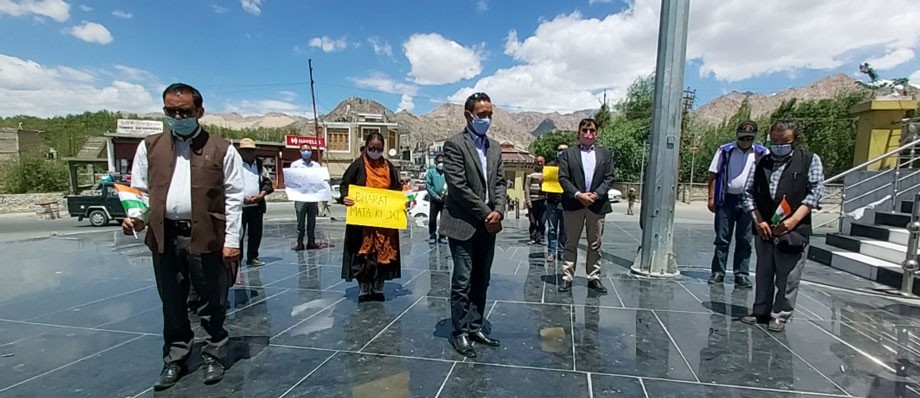 Leh :
Ladakh Territorial Congress Committee, President, Nawang Rigzin Jora in a brief address on June 26 said that the government needs to speak in one voice regarding the LAC issue. 
Reiterating the Prime Minister address after the all-party meeting held in New Delhi on June 19, Jora said "On one hand the Prime Minister Narendra Modi clarifies that no one has entered inside India's territory and not even an inch of land is under Chinese. While the Defence and External Affairs minister speaks just the opposite. The statement of the officials within the same government contradicts each other".
"We all know that the story of Chinese incursion is true but the denial of the government at the topmost level is not very satisfying. We want the government to take people of the nation under confidence and take a concrete step on LAC standoff."
He further added that whatever decision or action the government will take to solve the LAC issue by taking the nation into confidence, the congress party will welcome and support it. 
"Congress party is firmly committed to stand for the Nation safety, security and integrity", he added. 
Emphasis was made on the need to make the nomads of the border areas move freely with their livestock to ancestral pasture or grazing lands. Nomads of the border areas who are dependent on livestock rearing are finding it hard to access their pasture lands. The authorities barred their accessibility and many have lost their lands. Also, he stressed the importance of infrastructural development in the border areas.
Earlier, Members of the District Congress Committee, Leh and Ladakh Territorial Congress Committee paid rich tribute to the twenty Indian army soldiers, who were martyred during the violent faceoff with the Chinese troops in Galwan valley.