District Congress Committee, Leh demand safeguards for UT Ladakh
By
Stanzin Dasal
Leh, Dec 05, 2019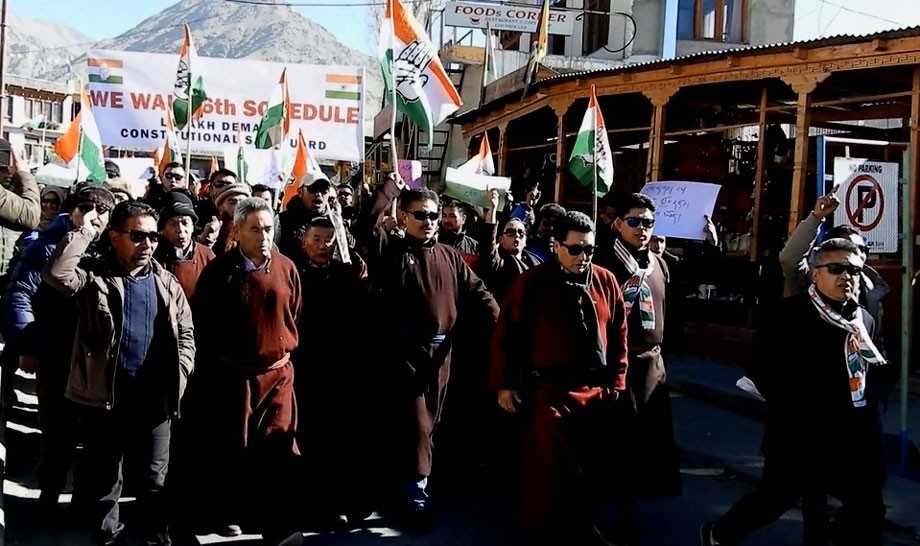 Leh :
Demanding sixth schedule for Ladakh region District Congress Committee, Leh organised a protest rally on December 4 from Leh gate till Main market. 
The leaders of the opposition party expressed the importance and need of constitutional safeguards for the region after declaring UT without legislature. They said that the UT Ladakh will be meaningless in terms of safeguarding the land rights, economic interest, job reservation for local youths, preservation of culture and languages and other local interest issues. They stressed empowering both the Hill Council under the 6th schedule.
Rigzin Spalbar, Former CEC LAHDC, Leh said that the grant of UT status is indeed a positive move from the government but without any safeguards for land, job, environment, culture of the region it has created confusion and fear among the people. He stressed on the unity of the leaders, religious heads and people in demanding the constitutional safeguards for the region for a better future. 
He further extended support from the Congress party to the BJP leaders who hold a bigger responsibility in raising the voice of the people. "If we fight in the name of party and power of the seats now, the whole region and the future generation will suffer. It is high time we have to stand united for the greater cause of Ladakh", he added.
The speakers questioned BJP local leaders for not raising the demand of the sixth schedule for Ladakh. 
Clearing the doubts, Tsering Samphel, Former, Member, National Commission for Scheduled Tribes said, "In many of the states there is an issue of sixth schedule functioning because of the lack of coordination between the district council and state government, but in case of Ladakh we are not under state government thus, will have no issue in proper functioning."
He said that the sixth schedule safeguards the tribal population and it is a must for the Ladakh.
Deldan Namgyal, Former MLA Nubra questioned MP Ladakh for not raising the demand in parliament while Asaduddin Owaisi MP of other region has sought the answer on the tribal area status to Ladakh.
All the speakers urged religious organisation, political parties, and social organisation to jointly raise the demand of the sixth schedule for Ladakh.