BJP not in favour of sixth schedule for Ladakh, says Congress
By
Stanzin Dasal
Leh, Nov 25, 2022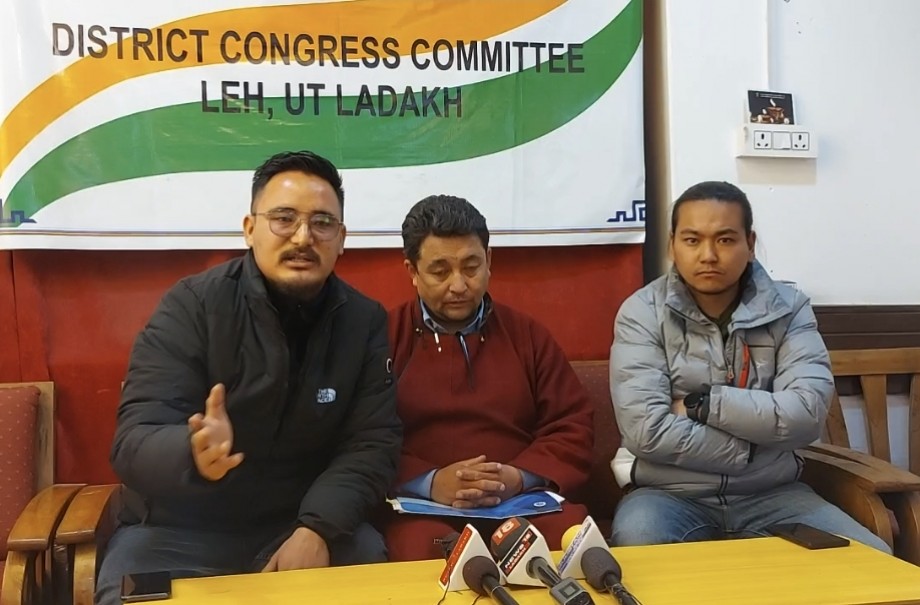 Leh :
Congress party, Leh condemned the resolution passed by Hill Council, Leh seeking constitutional safeguard for Ladakh.
Addressing the press conference on November 25 at the party office, the leader of opposition also the Councillor, Lower Leh, Tsering Namgyal said, "When every people of Ladakh demands sixth schedule, the council with BJP majority passes its resolution and chooses to go just opposite way. I must say that they are elected by the people and they should act according to people's aspirations".
"Under which article of the Indian constitution, the BJP is seeking constitutional safeguard? Just passing a resolution saying constitutional safeguard doesn't serve the purpose. There needs to be clarity, people shouldn't be misled by just saying constitutional safeguard", he added.
On November 22, a delegation headed by Chairman/CEC, LAHDC Leh, Adv. Tashi Gyalson and MP Ladakh, Jamyang Tsering Namgyal met LG Ladakh, R.K Mathur, and submitted a copy of the resolution passed by the house seeking constitutional safeguards to Ladakh for the protection of land, employment, culture, environment, and trade. The resolution was passed on November 9 during the special session of the General Council meeting of LAHDC, Leh.
During the meeting, CEC, Leh, and MP, Ladakh requested LG Mathur to communicate further to the Ministry of Home Affairs, Govt. of India regarding the resolution passed by LAHDC Leh. 
Councilor, Upper Leh, Stanzin Tsepag said, "With this move and decision BJP has clearly stated that they are not in favor of sixth schedule demand."
He said that BJP is seeking constitutional safeguards for Ladakh for the protection of land, employment, culture, environment, and trade; the same provision is already under the 6th schedule which they don't want to ask for. The ruling itself is not clear about safeguarding.
A special session of General Council meeting of LAHDC, Leh for safeguard was not called to understand or discuss sixth schedule, it was more intended to counter the topic, Tsepag added.
He further added that the BJP changed its stand according to their convenience and need, during election time they mentioned the sixth schedule in their election manifesto, and after winning they talk about something else. The onus lies on BJP to stand and support the demand of every Ladakhi and forget all the differences and self-interest.
Tundup Nurboo Cheetah, President, District Youth Congress also Councillor Phyang Constituency said that the demand for sixth schedule is not just about safeguarding land, culture, environment, and trade, most importantly the Sixth Schedule has provisions for the creation of Autonomous District Councils, and Regional Councils endowed with certain legislative, executive, judicial and financial powers. One of the most important features of the Sixth Schedule is the empowerment of District Councils to make laws. 
Congress appealed people of Ladakh to stand united and strive for their rights.