BJP gets 10 BDC seats; two independent candidates join in
By
Stanzin Dasal
Leh, Oct 28, 2019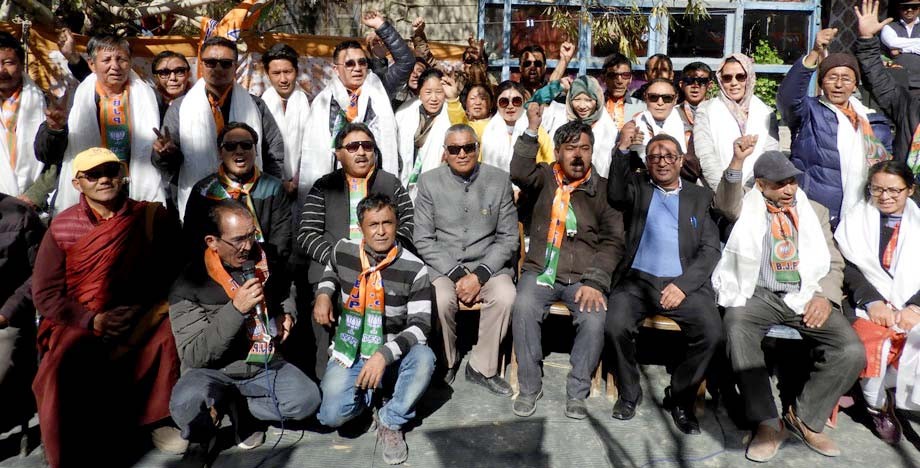 Leh :
Newly elected Block Development Council chairpersons of Durbuk, Konchok Phuntsog and Jigmet Yontan of Rong joined BJP on October 25. With this move, out of the 16 BDC seats, the party got 10 seats.
A press conference was convened in the party office by Dorjay Angchuk, President, BJP Leh.
Dorjay Angchuk said that the abrogation of Article 370 and the declaration of Union Territory status for Ladakh will open up the road to the development of the region. He said the Block Development Council election is held in the state for the first time which will further strengthen and empower the Panchayati Raj system. 
Welcoming the newly joined independent candidates in the party, Dorjay Angchuk said that they have decided to join along with their panches and sarpanches of the block for the overall development of their respective blocks. He hoped that all other Independent BDC Chairpersons too will join BJP for the development as both the Hill Council and Centre Government are run by the BJP.
He criticized Congress party Leh for claiming the win of the independent candidate in the BDC election on their support. He further alleged that the party got no candidates to fight the election on Congress ticket except Saspol which also lose the election. 
All the elected BDC chairperson were felicitated on the same day.