BJP candidate Jamyang Tsering Namgyal sweeps Ladakh parliamentary election
Wins with a huge margin of 10, 930 votes
By
Stanzin Dasal
Leh, May 24, 2019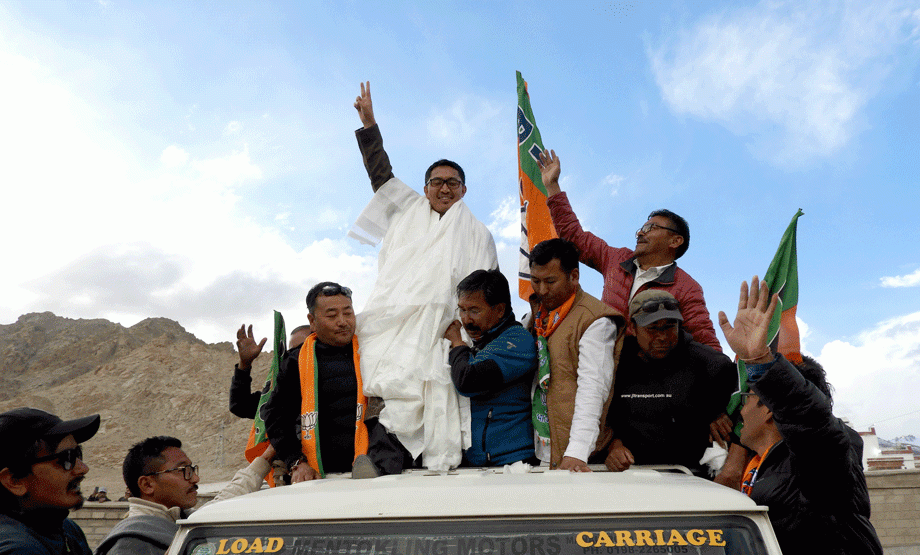 Leh :
Making a historic move on May 23, BJP candidate Jamyang Tsering Namgyal sweeps Ladakh parliamentary election by securing 42, 914 votes out of 1, 26,513 total votes cast.
With a huge margin of 10, 930 votes, Jamyang defeated Sajjad Hussain, Independent candidate from Kargil who secured 31,984 votes. 
While Congress candidate Rigzin Spalbar secured 21,241 votes and Haji Asgar Ali Karbalai, Independent candidate from Kargil managed 29,365 vote shares.  As many as 910 voters preferred NOTA and 87 postal votes were turned invalid.
Ladakh Parliamentary Constituency records 71.10 percent polling for the Lok Sabha Election. Leh recorded a voter turnout of 62.76 percent while Kargil recorded a voter turnout of 79.49 percent. 
Expressing his gratitude to the people for all the support, Jamyang Tsering Namgyal said that the people believed in the party and voted for the development of the region.
"The election is between the parties who are for and against the UT demand. And the result speaks for itself that maximum people support UT demand and believes that Bhartiya Janata Party is the only party who supports and stand for the demand", he added.
Talking about his win Jamyang said, "We were confident enough to win this parliamentary election as this election was a one-way traffic. The Congress was divided in the region by making two candidates contest the election one each from Leh and Kargil while the other Independent candidate influence was limited to only a few belts of the Kargil district. So, there was no doubt."
Sajjad Hussain congratulated Jamyang Tsering Namgyal for the historic win and said, "Jamyang is a young and dynamic leader and I believe that he will work for the development of whole Ladakh region."
Also, he extended his gratitude to all the people of Ladakh who voted for him despite being a new face. He said that it is indeed a very good sign to see that the majority of people are opting young and new leaders. 
Talking about the proxy candidate Sajjad said, "Congress has played a very hypocrite role by making one candidate officially and other unofficially to fight the election. Such things not only affect the election process but create a gap between each other."
Supporters from different parts of the region congratulated the new MP Jamyang Tsering Namgyal.
In 2014, Lok Sabha elections, the seat was won by Thupstan Chhewang of the BJP by a margin of 36 votes where he defeated IND candidate Ghulam Raza.