Aksai Chin integral part of Ladakh: Ram Madhav
By
Stanzin Dasal
Leh, Jul 06, 2020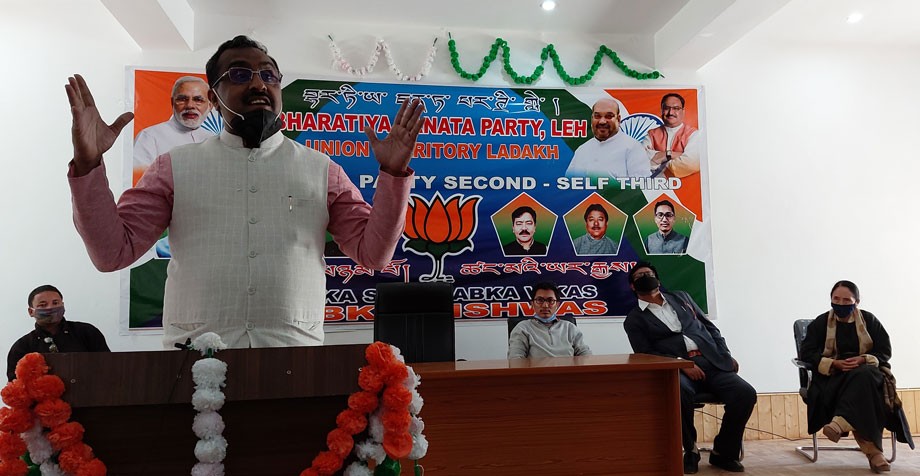 Leh :
Bharatiya Janata Party, Leh celebrated His Holiness Dalai Lama and Late Dr. Shyama Prasad Mukherjee's birth anniversary at party office on July 6.
Ram Madhav, BJP, National General Secretary congratulated His Holiness on his 85th birth anniversary and wished for the long life. He said that His Holiness is not just a spiritual leader of the Tibetan community but an epitome of peace and compassion. 
He also paid tribute to the Dr. Shyama Prasad Mukherjee, founder of Bharatiya Jana Sangh, the predecessor of BJP on his 119th birth anniversary. He said that Dr. Shyama Prasad Mukherjee was the first leader who inspired and sacrificed his life for India's unity and integrity. 
He reiterated the struggle of Dr. Prasad to develop Jammu and Kashmir and make India one. He said that he was the leader who inspired the abrogation of Article 370.
Talking about one nation, he said that all the land which has been occupied by the neighbouring countries will be brought back and the BJP government is striving hard to achieve the aim. He talked about India's claim to Aksai chin as its own which has been illegally occupied by China. 
"Chinese have been intruding in our land for years and nomads residing in border areas are losing their grazing lands. Modi Government has changed its strategy to safeguard the land and we will not lose any more lands but instead put our all effort to get back all the lands we lost ", he added.
Ram Madhav said that India does not want war but will defend its land.
Talking about the recent visit of Prime Minister, Narendra Modi to Ladakh, Ram Madhav said that amidst growing tension in the border area, Narendra Modi's visit has motivated the soldiers who are guarding the territory. The visit has spread across the message that Prime Minister of India is standing along with the soldiers to guard the land. 
He also assured to further strengthen and empower Hill Council and infrastructural development of border areas. 
Along with wishing His Holiness Dalai Lama on his birthday, Jamyang Tsering Namgyal, MP Ladakh also commemorated Dr. Shyama Prasad Mukherjee.
Reiterating the slogan of Dr, Shyama Prasad Mukherjee, "Ek desh mein do vidhaan, do nishaan, do pradhaan nahin chalega" he said, " Abrogation of Article 370 fulfilled the dream of leader and today Ladakh is connected full-fledged with the nation and is on the road to development."
Gyal P Wangyal, CEC, Hill Council, Leh, Haji Anayat Ali, District President's of Leh and Kargil also spoke on the occasion.