Advocate Tashi Gyalson elected as new Chairman/CEC of 6th LAHDC, Leh
By
Stanzin Dasal
Leh, Nov 02, 2020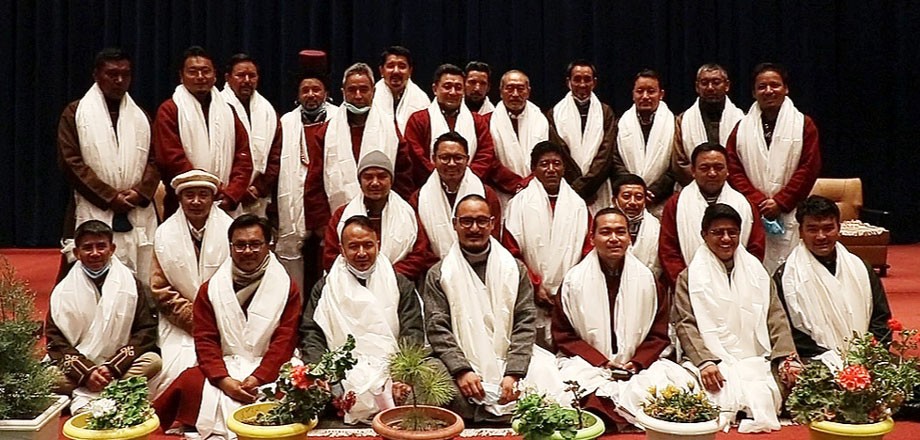 Leh :
Advocate Tashi Gyalson was elected uncontested as the 6th Chief Executive Councilor/Chairman LAHDC, Leh in the General Council Assembly held at Council Secretariat on 31 October.   
 
Sachin Kumar Vaishya, DC/CEO, LAHDC, Leh convened the proceedings of the election of new CEC, Hill Council, Leh.
 
In the first electoral process after becoming Union Territory, Bharatiya Janata Party (BJP) capture 15 out of 26 seats in the 6th Ladakh Autonomous Hill Development Council, Leh election. Compared to 5th LAHDC, Leh result of 2015, BJP's number of seats holding has been shrunk from18 to 15 but still manages to form the government. While Congress who got 5 seats earlier bagged 9 seats this time.  Two independent candidates from Chushul constituency and Nyoma respectively also won the seat. Later, Independent candidate of Nyoma constituency Ishey Spalzang who earlier resigned from the BJP party over mandate issue rejoined the  party on October 30  prior to oath ceremony. 
 
The oath ceremony of the new councillors of 6th LAHDC, Leh was administered by Principal & District Session Judge, R S Jasrotia at Sindhu Sanskriti Hall, Leh. 
 
New CEC 6th LAHDC, Leh promised to work for the welfare of the people and development of the Leh district. He expressed his gratitude to the people of Singay Lalok and all the members of BJP for giving him an opportunity to hold the Chairman seat. 
 
He further emphasised on working in unity as a team to overcome the challenge in Ladakh on priority and to usher developmental progress in all sectors. He further assured to work tirelessly to build a healthy & prosperous Ladakh.
 
The new council comprised of Tsering Angchuk, Councillor Diskit as Deputy Chairman; Tashi Namgyal Yakzee, Councillor Tangtse; Ghulam Mehdi, Councillor Turtuk and Advocate Stanzin Chosphel, Councillor Marstelang as Executive Councillors.
 
The striking factor in this year election result is that the BJP has won most of the seats away from Leh town. The reason behind the political shift was uncertain, many senior leaders who were in power for last so many years in the Council such as Former CEC of the Hill Council, Gyal P Wangyal was defeated by Congress candidate Rigzin Tsering from Sakti constituency. Similarly, Congress candidate Gurmet Dorjay who was in power for last many years in the Council was defeated by BJP candidate Skarma Namdak from Korzok constituency.  The defeat of the senior leaders is definitely a major setback for the parties but seems the picture is clearer that the people are voting for a change. 
 
However, the 6th Hill Council, Leh has a perfect blend of new young and educated faces along with experienced one giving a facelift to the politics of Leh district. Along with it, hopes and expectation of people have also increased to see some changes. However, the hopes and concern of people regarding constitutional safeguard under the sixth schedule is intact and cannot be overlooked.