Aam Aadmi Party formally launch in Leh, Ladakh
Set eyes on Hill Council, 2020 election
By
Stanzin Dasal
Leh, Jul 23, 2020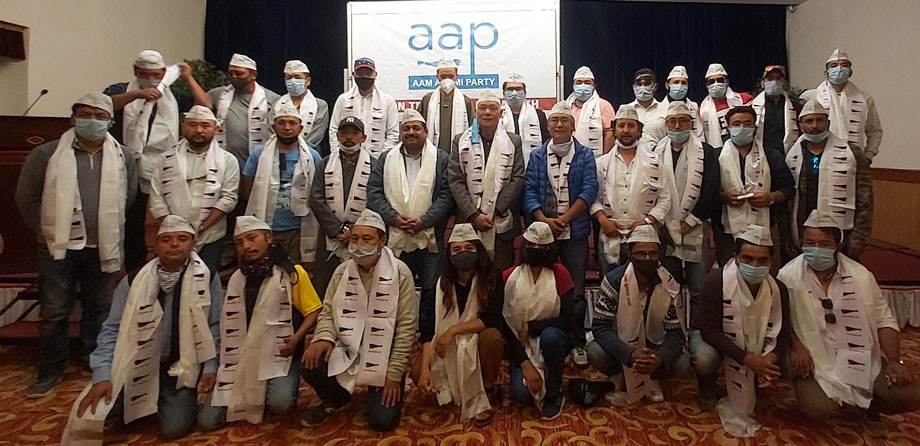 Leh :
Expanding the footprints, Aam Aadmi Party (AAP) formally launched in Leh, Ladakh on July 22 in presence of Rajesh Sharma, Co-incharge AAP, J&K, Ladakh.
AAP leader Durgesh Pathak also interacted with the new members and welcomed them through video conferencing.
Former Police IG, Tsering Phuntsog; Former President, ALTOA Rinchen Namgyal; Skarma Tokdan, Iftikar Hussian, and Tashi Angchuk with many other youths joined the party.
Welcoming the members in the party, Rajesh Sharma said that the party will work for the welfare of the public following the developmental model like in Delhi. He said that the prime focus is to understand the demands and aspirations of the people of Ladakh and to work on it.
He expressed the need for safeguards in Ladakh region because of its strategic importance, unique cultural identity, and scattered population. He assured to raise the demand of people.
Setting its eye to fight upcoming Hill Council, Leh election, Rajesh Sharma said that the AAP is looking forward to contesting from all the constituencies.
Retired I G Tsering Phuntsog stated that the launch of AAP in the region gives new hope and change in the political scenario. He said that both the BJP and Congress party have not been able to live with people's expectations. Slamming the present ruling government BJP for the poor state of the economy, he said that various initiative such as demonetization, GST imposition has created more chaos in the country. 
AAP Spokesperson Rinchen Namgyal and Coordinator Skarma Tokdan also spoke on the occasion.