Peoples Voice: How Ladakh is shaping up post UT? 
By
Tenzin Dajon & Tsering Chosdon (Chhozee)
Leh, Apr 30, 2021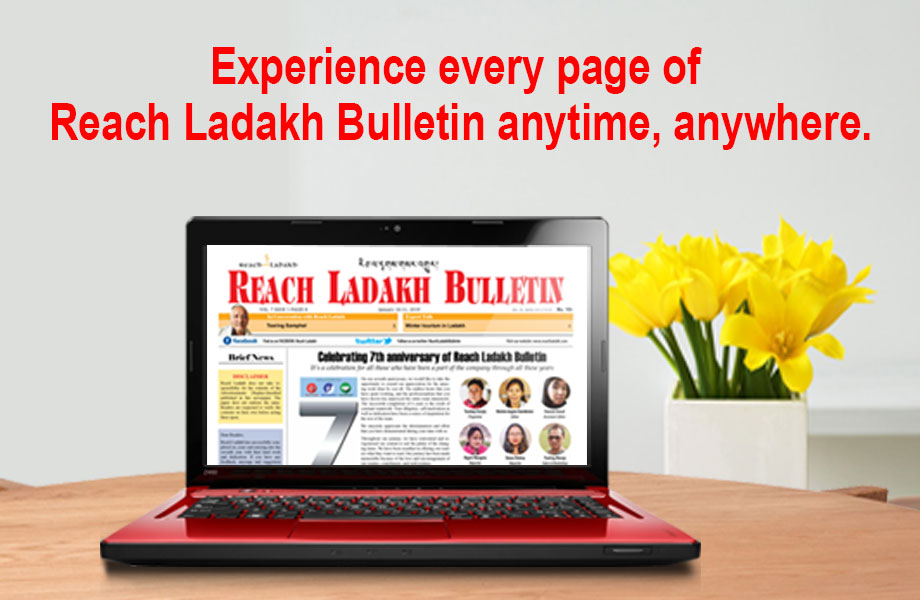 Leh :
Tsering Nordon, Student Activist: The transition period from district to UT Ladakh has not been smooth. There has been turmoil regarding so many issues. The biggest issue that concerns me is the protection of our land, traditions, and culture to have the overall development that we want. This kind of protection does not mean that we want to be disintegrated with India. Post UT I expected that there would be something substantial, a kind of domicile coming in the form of the 6th schedule. It has almost been a year and a half now. The kind of development we want should be at par with the local needs of the people and the environment. One of the major concerns that we are facing post UT status is unemployment. Before UT status we had a commission for recruitment and all the students used to apply in JKPSC. As of now, we don't have any commission board for recruitment and the jobs are contractual. All the recruitment now is been taken by UPSC and I fear that the students from far-flung areas who are not as privileged and as economically stable like the students in the plains might suffer. There is no equal level playing field.
 I think I am still confused about how I feel post-UT and am more dissatisfied than satisfied because this is not the UT we asked for. We asked for a UT where we could be ruled by someone who would understand our needs. Being in a democratic India people of Ladakh should be asked what they want. There is much to do about all these issues. Firstly, they should form a commission for recruitment because the youth are frustrated regarding unemployment. Secondly, we need a very strong and vocal apex body for protection. Thirdly, as a woman, I'd like to say that there should be a reservation in LAHDC for women like there is a 33% reservation in the parliament. Last but not the least, there should be a dialogue negotiation between Leh and Kargil. They have always been locking their horns over issues. So, the step forward should be the integration policy for Leh and Kargil. 
Stanzin Chosphel, President, Student Union Nubra: We had been demanding UT status for quite a long time and there were great expectations. Subsequently, the expectations that we had and what we got are not satisfactory. Our environment, culture, and jobs are not secured because we have got this status without any safeguard. The apex body and the student leaders are still soliciting some form of security. I expected that a lot of jobless students would get a chance to apply for the vacancies. But the development is cynically directing more. 
Initially, we celebrated the UT status without knowing the consequences but now we all are aware that it is not something we wanted. In 2020 student presidents visited places like Bodoland and Meghalaya to study and research the 6th schedule on the ground where we acknowledged how effective it is.
In the form of education, there are hardly any changes or development. Everybody has an idea about the Khelo India scheme which was introduced post-UT to villages like Nubra. This scheme focuses on excelling in sports so there were inter-village sports competitions. The word 'Khelo' means 'play' but I feel that it is more about playing with the future of the children.
Lieutenant Governor R.K. Mathur stated to be self-dependent and asked not to rely on Government jobs. He emphasized entrepreneurship and also held a Skill Development workshop. 
I still have a year to graduate and I might prepare myself to be self-reliant but what about the people who graduated and are done with their Ph.D. in the specific fields? They have been hoping for job recruitments for almost two years now. MP Ladakh informed us about 6000+ job recruitments that might happen for Ladakh and if it does then we would highly appreciate and be grateful to the government. Initiatives like skill development workshops are in a way for the betterment of Ladakh and such strategies are most welcome.
One of the leading issues is that our land and people need a safeguard and it is distressing to see that we are not in safe hands. For now, the only key to shield Ladakh is some kind of a law like Permanent Resident Certificate (PRC) which is null and void after bifurcation but we need something through which we can prove to be the residents of our land. 
Lobzang Spaldan, Ex-President AZSAJ: After bifurcation, like all, I also expected that core issues like unemployment and fund shortages would be solved. But unfortunately, the result is the opposite. It's been two years now, neither they could provide safeguards nor create a recruitment policy in Ladakh. MP Ladakh promised more than 6000 jobs, which seems to build a castle in the air now. So far UT Administration has done nothing to solve the crisis, instead, they did recruitment through outsourcing.
 
We are still in confusion as far as a safeguard is a concern, I have been gone through few articles of the Constitution, and therefore in my opinion Sixth Schedule is the best for Ladakh's safeguards. There may be some flaws that can be amended later. It is the job of the ruling party to solve the issue because they have been elected by the people. If they can't solve the crisis then they must resign.
 
Strengthening of LAHDC is the need of the hour. There should be open debate and discussion among Hill Council, UT Administration, and the expert from Ladakh to get the best solution. In my opinion, both CEC must come together to draft a recruitment policy by forming a committee at the Council level.
 
Stanzin Thardoth, Former President, LSWSD: After bifurcation, the people of Ladakh expected an era of overall development of Ladakh along with safeguard but unfortunately, the ground reality is very different. One and a half years after Union Territory status, unemployment and safeguard have become burning issues. Ladakh is a region of unique culture, tradition, fragile environment and further 97% population are tribal safeguard becomes a necessity. Although the area of Ladakh is huge but being a fragile land and ecosystem it cannot tolerate a huge population like other cities. Therefore without safeguards, the environment and indigenous population are at threat of vanishing. So unless we protect our culture, land, and jobs, what will we do with this so-called development?
 
The only good thing that I am noticing after UT status is that the youths of Ladakh are getting more opportunities to represent at the national and international levels.
 
Safeguard under Sixth Schedule, and empowerment of LAHDC is must strengthen the voice of the people.