In Conversation with Dr. Ishey Namgyal, President, Municipal Committee, Leh
By
Stanzin Dasal
Leh, Feb 20, 2019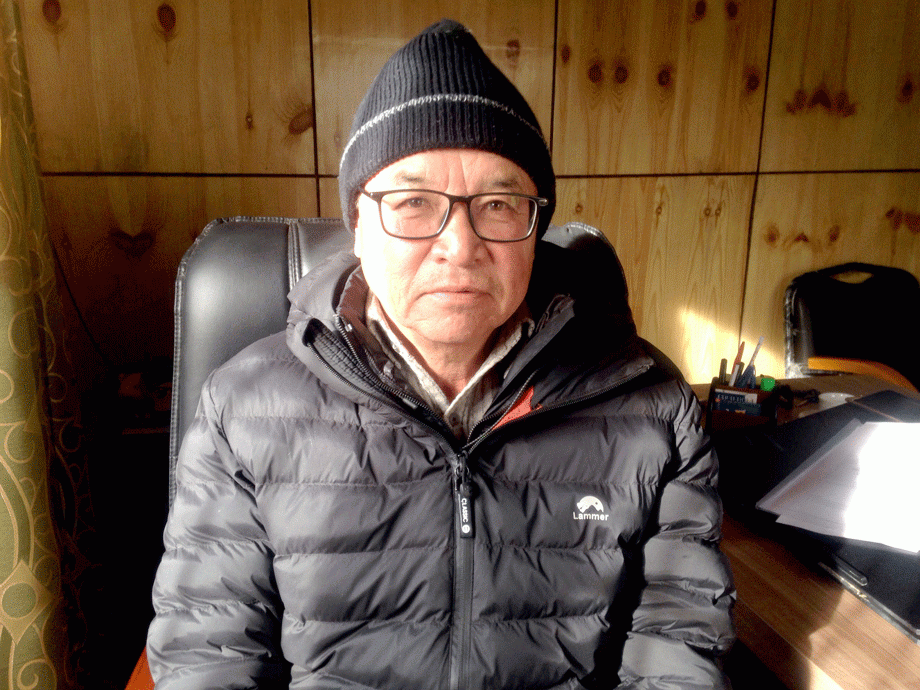 Leh :
Q. Tell us about Municipal Committee, Leh. What are the role and responsibilities?
Municipal Committee is a grass root governance structure which aims to look after the area falling under its jurisdiction. MC Leh has 13 wards from Gangles to Dambuchan and Kartse to Teyarirong.
As per the Municipal Act 2000, MC prepares plans for economic development and social justice. We are entrusted to work on 16 subjects including:
1.      Urban Planning including town planning
2.      Regulation of land use and construction of buildings
3.      Public Health, Sanitation, Conservancy, and Solid Waste Management
4.      Provisions of Urban amenities and facilities such as parks, playgrounds, and gardens
5.      Regulation of amenities including street lighting, parking lots, bus stops, and public convenience
6.      Vital statistics including registration of Births and  Deaths
7.      Urban Forestry, Protection of Environment and promotion of ecological aspects
8.      Burials and cremation grounds
9.      Regulation of slaughter houses and tanneries
10.  Cattle ponds and prevention of cruelty to animals
11.  Safeguarding interests of weaker sections of the society
12.  Slum improvement and up-gradation
13.  Promotion of cultural, educational and aesthetic aspects
14.  Urban poverty alleviation
15.  Planning for economic and social development
16.  Implementation of Food Adulteration Act
The committee comes under the Ministry of Housing and Urban Affairs. The committee plans and utilises funds in various projects, generate income from the local sources such as parking fees, rents, and further use it for public welfare.
 Q. What are your short and long-term plans? Any priority set.
The work already in progress is the Faecal Sludge Treatment Plant near Bombgarh which collects and treat faecal sludge generated from hotels. Solarised public convenience conjoined with cafes in Zangsti and Bus-stand area established with the support of NGOs.
The work of multi-tier parking space under AMRUT scheme will start from April. We are also working to revive the old traditional system of Churpon (elected water officials who ensure equitable water distribution) and Lorapa (appointed to protect crops). The restoration of headworks and training of the nallah is also in the plan.
Due to rapid urbanization, the newly settled areas need proper drainage system, roads, and footpath.  Because of the incomplete Sewerage Treatment Plant (STP) in Agling, the sewerage and drinking water system will take time to get fully functional. The work on STP will start from this year.
A concrete plan and regulation are also needed for water with the increase in consumption because of the growing tourist influx, local population and changing lifestyle.
Along with all plans, our priority is to work on waste management.
Q.  What you will say about the waste management system in Leh?
For Solid waste management, we have procured a machine from Tesla company in Bombgarh to clean the garbage piled up. Also, we are trying to procure a machine which will turn the non-biodegradable waste into ceramic ash without causing any pollution. The ashes can be used for building roads which can be mixed while blacktopping the roads. Another waste management plant project is in progress and with all these the issue will somehow be sought.
Q.  What is the aim of establishing the Society for Prevention of Cruelty to Animals?
SPCA is a registered body who works for animal welfare. The aim is to ensure the safety of the animals against any cruelty, rehabilitate and find shelter for its wellbeing. It is needed in Leh because many people leave animals such as donkeys and bulls homeless when not in use and injures or kill because of rash driving. 
Any animal lover can become a member of SPCA by paying ₹1200 annually. At present we have around 40 members. More members will help in effective functioning.Any person who is found harming the animals will be fined and even imprisoned as per law.
Q. How MC is going to curb the stray dog menace in Leh?
Stray dogs are becoming a threat to human and wildlife and the foremost solution is to reduce the population.  A team of MC, animal husbandry and NGO, Live to Rescue is carrying out the sterilization project from the past many years. In a day, around 7 to 10 dogs are sterilized. There is a need of mass sterilization for an effective result and for this, we are outsourcing a team in the coming days.  Also, we need to sensitize people for adoption. If one house adopts one dog, the menace will get curb.
Q.Tell us about the need of having a scientific abattoir house in Leh.
The rules and regulations laid down for a disciplined functioning of the abattoirs are not being followed in Leh. Animals are slaughtered openly ignoring public health safeguards thus, the meat which we consume are not stamped and approved by the Animal husbandry.  Scientific abattoir house is much needed; the project is ready but needs some further discussion as the administration is looking for land to construct it.
Message to the readers:
Follow rules and regulation and keep your town neat and clean.