Winter Tourism in Ladakh
By
Stanzin Dasal
Leh, Jan 26, 2019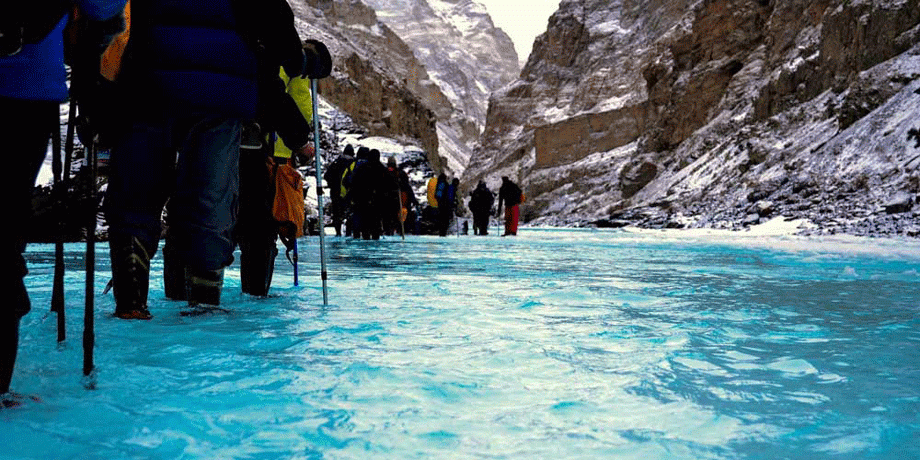 Leh :
Tsetan Angchuk, President, All Ladakh Tour Operator Association (ALTOA):  Winter tourism in Ladakh was started in the late 80s with a major attraction of foreign tourists. During those times, tourists visited to witness monastic festivals like Stok Guru Tsechu and Matho Nagrang. 
The trend has changed and today more than to experience and witness winter monastic festivals, tourists come for Chadar trek.  From the year 2008-09, Chadar trek became more famous among the domestic tourists. The tourist influx in winters is increasing every year which definitely increases the economic growth of the region but also has a negative impact.  Chadar trek has a limited carrying capacity and is not at all meant for mass tourism. Tourist intake for the trek with no regulation and measures causes casualties and also endangers the fragile eco-system.
 
Thus, to make the chadar trek sustainable, this year District Administration Leh in collaboration with ALTOA formed regulations and standard operating procedures focusing on safety and environmental protection.  Only 100 people will be allowed per day for Chadar trek. 
The regulations and standard operating procedures include:
• All the foreign and domestic tourists must have medical insurance when they apply for Chadar Trek.
• 3 nights stay in Leh on arrival for rest and acclimatization is mandatory
• Day 3–Get a pre-medical checkup, Insurance, Wildlife Permit, and ALTOA NOC 
• Persons found medically unfit will not be issued clearance 
A single window system facility is provided at Tourist Information Centre, Leh where the tourist can get their pre-medical checkup done, registration for insurance and rescue, permit from the Wildlife department and NOC from ALTOA will be obtained. 
Chadar trek shall be allowed to do only through registered travel companies based in Leh or through experienced and trained porters registered with ALTOA.  The porters will have I-Cards issued by ALTOA.  This year, insurance of ₹50,000 to 1 Lakh for the local porters by ALTOA will be provided.  Adventure Sports Cover 360 will provide medical assistance and insurance cover of ₹ 4 to 5 Lakh in case of casualties. 
To keep the Chadar route clean, Wildlife Department will provide green bags to each group for garbage collection. At the checkpoint, the trek guide of the group has to deposit ₹ 500 as a security amount which will be reimbursed after getting all the garbage back.
These regulations and efforts are meant to promote safe and environment-friendly Chadar trek and also we are emphasizing on quality tourism. 
Because of the extreme climatic condition, Ladakh has become a tourist destination in winters for the adventure seeker. And along with Chadar trek, Snow leopard spotting is also very famous in the region starting from December end till early March.  The ratio of a domestic and foreign tourist is almost equal and for this, permit from the wildlife department is a must. 
We do have scope for winter sports like Snow ski specially in Zanskar. With the opening of Chilling-Padum road, Ski can also be promoted in future.
The tourism industry in Ladakh is definitely a major source of economy in summer but with the promotion of winter tourism, it has engaged many unemployed youths, commercial vehicles, restaurant, hotels, home stays, guesthouses. The supporting staff such as guides porters, cooks and helpers from far-flung rural areas such as Lingshed and Zanskar will also be benefited.
Ladakh is a most sorted destination for tourist; the fragile ecosystem does not have a carrying capacity for mass tourism. We ought to have a concrete tourism policy for promoting quality tourism and to make the industry sustainable.
Solution
Tourism policy needs to be framed and implemented for making the industry sustainable.
Need both state and center government help for the promotion and marketing at the international arena.
Promotion of responsible tourism.
The safety measures and regulation needs to be taken seriously by both the locals and tourist.
Tsering Angmo, AD, Tourism Department, Leh: Winter tourism in Ladakh specially for Chadar trek is becoming a trend. Every year the tourist influx for the trek is increasing with the rise in domestic tourist. Monastic festivals, ice hockey, snow leopard spotting are other famous activities which attract tourists in winters from all over the world. 
The growing influx of tourists in winters for Chadar trek is mostly a major concern for the protection of a fragile ecosystem and safety. Mass tourism deteriorates the environment. Earlier there was no regulation and restriction for the Chadar trek. Due to less carrying capacity and facilities, environment issues and casualties were witnessed.
From the year 2019 strict regulation and measures have been taken by the administration in collaboration with All Ladakh Tour Operator Association to ensure safety and environment protection. 
Only 100 people will be allowed for Chadar trek per day after all the pre-medical checkup, registration for rescue and insurance, permit from wildlife and NOC from ALTOA. No trekkers will be allowed without completing all the procedures.  The guides are also trained by the District Administration.  Groups are allowed between 8 AM and 5 PM.
Our effort is to make the Chadar trek sustainable by regulating the tourist inflow, ensuring safety and protection of the environment.  
Apart from the chadar trek, we have a plan to promote birding in Ladakh which also have a huge scope.  In collaboration with Wildlife Conservation and Birds Club of Ladakh (WCBCL) Leh, we will be giving 15 days training for bird guiding and we are planning to engage the youth in it.   
The stress is made to promote quality tourism which is seen declining over the years. We need to ensure and promote the rich culture, tradition and the scenic beauty of the region. 
Tourism policy is definitely very important for sustainability, considering the fragile ecosystem and limited resources, we should work to promote quality tourism. A draft for the tourism policy has been sent but due to the fall of the government, it has been put on hold.
Solution
Promotion of quality tourism is a must
Tourism policy needs to be implemented
Table showing the number of domestic and foreign tourist visited in winter months 2017-18
2017

Tourist

 

Month

Foreign

Domestic

Total

November

382

1622

2004

December

243

1063

1306

January

382

2200

2582

February

330

573

903

2018

Tourist

 

Month

Foreign

Domestic

Total

November

286

2130

2416

December

262

1095

1357

January

421

5244

5665

February

476

660

1136