Expert Talk: Wildlife
By
Kunzang Chosdol
Feb 02, 2018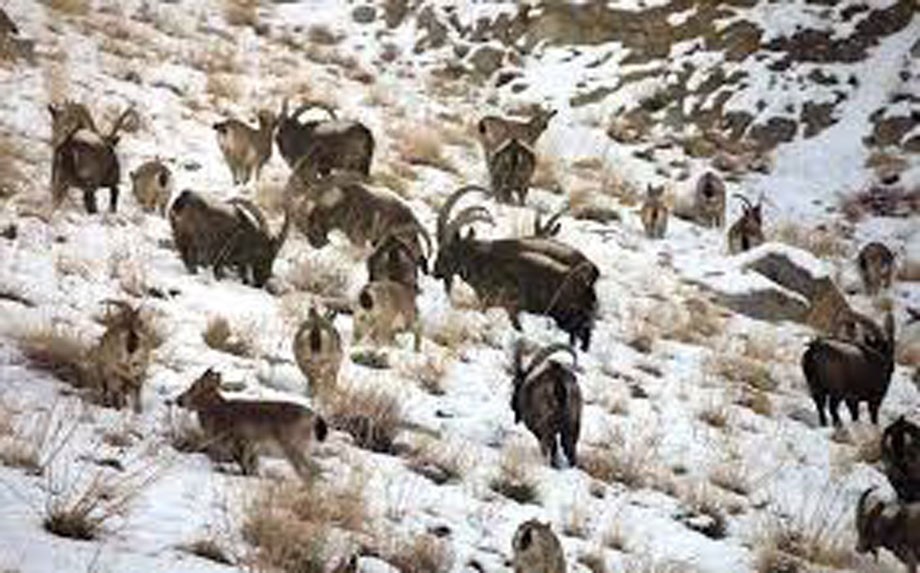 Pankaj Raina, Wildlife Warden, Leh: Ladakh is home to a number of exotic wild animals as well as various species of birds including the state bird of J&K Black-necked Crane. The region is located at a high altitude and has a unique ecosystem where many species are found that cannot be found in any other parts. The key species of Ladakh is snow leopards which are found in some limited region of Himachal Pradesh, Uttrakhand, Sikkim and Arunachal Pradesh and the good part is that the highest populations of snow leopard are in Leh itself.
There are eight ungulate species including yaks, Tibetan Antelope, Tibetan Argali, Wild Ass, Urial, Tibetan gazelle, blue sheep etc. whereas there are numerous mammals and if I name some they are as the snow leopard, wolves, red fox, Lynx etc in Ladakh. However, till today the departments have not carried out any research on the species of bird but according to the outside researchers, we came to know that there are 315 species of birds in Ladakh.
In Leh district, we have three main protected areas that are Hemis National Park, Cold Desert Wildlife Sanctuary Changthang, Nubra Karakoram Wildlife Sanctuary. According to the notification of 1987, there are less area covered as there are 5000 sq km for Nubra sanctuary, 4000sq km for Changthang Cold desert, 3,500sq km for Hemis National park, whereas the actual area is 20,000sq for Changthang, more than 20,000sq Km for Nubra, and 5,500 sq km for Hemis National park. We are going to re-notify it and hope to get it proper area. At present, I think 60 to 70 per cent of Ladakh is a protected area for wildlife.
If we talk about the impact of tourism in Ladakh, in every activity, the positive and negative thing goes hand in hand so is the case of Tourism. Tourism is an emerging threat to the wildlife, it is good at one angle but the supporting infrastructure to cater them needs to be accomplished earlier before it becomes uncontrollable. In the past, there was very less tourism in Ladakh but with time, the tourist influx has been abruptly increased which can cause an impact on the local resources. There can be harassment for wildlife in some cases, disturbance, damage the ecology, and raising several issues like feral dogs due to which the impact is seen on wildlife indirectly as a whole.
There is a need to make people more aware of the importance of wildlife and birds in Ladakh. If we want to bring change in the perception among the people it can only be done through education. So here education and awareness should be targeted to the age group of 6 to 10 children as it will be easy to inculcate and change the perception.  However, on the other side, it can be more difficult to change the perception of adults as they are adapted to their own perception and thinking towards the wildlife.
In Leh, there is a decrease in the cases of poaching.  In Ladakh, wildlife is more visible and can be seen everywhere which is a good thing and it clearly indicates that there are less poaching and hunting taking place in Ladakh. People naturally share the land with wild animals from the beginning. In many cases, I have seen that despite causing loss by predators people are socially ready to accept them as their part of daily life. 
Whenever there is a situation they inform us for rescue and ensure to release in the same location, which clearly shows that there is a good relationship between the wildlife and the people.
We are trying our best to educate the general public about the importance and conservation of wildlife in Ladakh. We conduct training, workshop among the students and conducts training for our staffs as well.
Keeping in mind to avoid the disturbance and impact of tourism for the wildlife, we conduct training for the tour guides, homestays. We educate them on how to handle the tourist in far-flung rural areas where there is exposure to wildlife. Meanwhile, we also help the women self-help group to uplift their livelihood through skill development.
There is no extinction case of wildlife till today but yes there is a reduction in the range of species for example in the past, we used to have Tibetan gazelle spreading in 30,000 sq km of Changthang but today we found it in limited areas of Ladakh.
Ladakh has a very positive culture towards wildlife as compared to other parts. We have carried out various activities at social aspect at the community level and now our main focus is to improve the scientific documentation about the wildlife. 
Another main issue is a feral dog, there are many cases of chick mortality due to dogs, destroy their eggs, habitats. We also conducted a census on the population of feral dogs within the Changthang region with the help of the NGOs. We carried out a four-day survey within the villages, along the road, and army camps where we found 1,600 dogs. There will be double or triple of these numbers as we conducted a rapid survey in limited areas and days. In the near future with the support of all the concern department and stakeholder, we are striving to solve this issue.
Solutions:
Proper documentation is necessary to know how much wildlife and species we have in which parts.
Collecting baseline data and information to make a robust network is very important.
We should work and carry out activities collaborate with NGOs, Stakeholders, Departments, Media, and communities.
Education awareness is the most important among the public especially the children.
Lobzang Visuddha, Chairman WCBCL:  When we talk about heritage, it can never be completed without the flora and fauna. The onus is on us to make it more sustainable for the coming generation as it has been descended from our ancestors.
If we look at the topography of Ladakh we can say that the biodiversity is scarce, but it is actually not, Ladakh is known for rich biodiversity hotspot all over the world and is endowed with different types of flora and fauna. Keeping in mind the need for conservation and value what we have in Ladakh to carry forward for the next generation, some of the committed wildlife enthusiasts of Ladakh formed a trust known as WCBCL.
Our main purpose is to sensitize the people about the importance and conservation of wildlife in Ladakh. WCBCL print a magazine called 'Jungwa' that is wholly solely dedicated to wildlife. We target the general population, highlight the need for conservation, encouraging the protection of wildlife and spelling out penalties for the poaching.
There are different types of wild animals, lizards, reptiles, flies, butterflies etc, the name of some are not known to anyone, and the need of an hour is to know them and to make people aware about. The society is striving to know all these unidentified types of species and inculcate awareness among the people through experts. While on the other hand, we came to know that there are thousands of medicinal value plants which are found only in Ladakh. 
One of the unique things is that our state bird, Black neck crane which is one of the only alpine species that is endemic to Asia has its habitat in Ladakh. They came for breeding during the season and migrated to other part but due to the interference of human into their habitat, it is posing a big threat to their existence. The maximum and minimum population of black-necked crane remain vary from 85 to 115 in Ladakh. They always built their nest in the marshy areas of Changthang but people carry out developmental activities within their habitat due to which the marshy land become dry and also the feral dogs damage their nest. This time we get to know that out of 25 nests we see only three to four nests while the rest are damaged by dogs. So for the long term, conservation of this unique species of Ladakh, protection of their nesting site is very important.
If we look back 50 years ago, the hunting and gaming of wildlife are conducted as a normal thing and even the concern department allows doing that. But today, due to changing nature we are thinking towards its importance and preservation. There is a strict amendment in wildlife act due to which there is a strong restriction in hunting, poaching and gaming of wild animals. So there is a big change that came in this field in terms of exposure, more educated and awareness among the people.
We are planning to organise a bird festival in Leh to boost the interest in conservation and awareness among the general public. The festival can be participated by everyone. In the past years, we also conducted several activities related to conservation and awareness about wildlife and birds among the students and people. The program such as waterbird counting, clean bird habitat campaign, Anti Poaching slogan, photo exhibition, painting competition, Bird Census, wildlife predation compensation is such activities which we conducted and are keen to uphold in future also. 
We are also trying to involve youths through social media, a page Wildlife of Ladakh is created which have around 300 members including many youths of Ladakh.
New species found
We have recorded eleven new birds in Ladakh which are not in the checklist of birds that was conducted by Otto Pfister in his book birds and mammals of Ladakh. 
New birds species recorded are:
1.    Common Chaffinch
2.    Spotted Red Shank
3.    Spotted Dove 
4.    Yellow-breasted Green
5.    Purple Swamphen
6.    Pied Kingfisher
7.    Baer's Pochard 
8.    Lesser White-fronted Goose
9.    Spotted Forktail 
10.    Rufous-bellied Niltava
11.    Wood Warbler
12.    Plumbeous Water Redstart
13.    Red Fronted Thrush
There are 35 mammals and 315 birds recorded in Ladakh. Another good thing is that last year one of a wildlife researcher witnessed Himalayan goral in Ladakh but is yet to be confirmed.  if we get to know the GPS location of this species, we will add another mammal in Ladakh.
The Himalayan goral (Naemorhedus goral) is a bovid species found across the Himalayas. The Himalayan goral is 95 to 130 cm (37 to 51m) in length and weighs 35–42 kg (77–93 lb). It has a grey or grey-brown coat with tan legs, lighter patches on its throat, and a single dark stripe along its spine. Males have short manes on their necks. Both males and females have backwards-curving horns which can grow up to 18 cm (7.1m) in length.
Another incredible record is that on 21 February 2016, we spotted the most elusive mammals of Ladakh Eurasian Otter (Lutra lutra) which is called Chu-rsham in Ladakh.
Threat and Challenges
The unmanageable threat is the feral dog all over India for wildlife. In Ladakh, feral dogs population has been increasing day by day leading to the death of not only animals and wildlife but also human lives. Dog's causes a great threat to the wildlife particularly to the species that live and make their habitat underground.
It was estimated by Animal husbandry that there are around 6000 dogs in Leh but I think there are more than 6000. Recently, we in collaboration with Wildlife conducted a survey in the Changthang area and found a huge population of dogs. 
The proper decision in maintaining the population of dog should be made on time by concern department, political, religious leaders and public as a whole. Mass sterilisation can be one of the solutions which if can conduct weekly or monthly. In addition, another threat to the wildlife is the human interferences in their habitat. 
Solutions: 
 Proactive conservation is the need of the hour.  If we start educating and creating awareness about the importance and existence of wildlife then it will be enough for next coming decades.
Volunteer organisation and concern department should discuss, share experience about guarding, protection and conserving the types in order to sustain all types of wildlife in Ladakh. 
Role of individual in the different field to highlight and awareness will add more glory to its sustainable. The younger generation should be aware of the wildlife in Ladakh.