Cultural loss will be a great setback for us all
Apart from tangible things, traditional Ladakhi culture has decency, kindness and generosity
By
Rigzin Wangmo & Jigmet Dehdol
Leh, Sep 18, 2018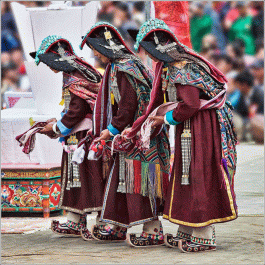 Leh :
The lifestyle of the people of Ladakh is changing with time, inclining more towards western culture. With this trend, our society is neither being able to live with our own traditional age-old culture nor with western values.  The question is why can't we embrace our own culture fully? Why do we need to adopt a culture of some other place while having a rich culture of our own? With such influences, the rich tradition and culture of Ladakh are on the verge of dying. And we don't seem to care a bit!
Ladakh has a unique culture and losing it will be the greatest loss. The invasion of western culture has a huge contribution in making the place look similar to any other place in the world.
Abdul Ghani Sheikh, writer, says, "Ladakhi culture over the years has seen many changes. Our culture is a mix of different cultural heritage with both positive and negative traits. It would be unrealistic to say that Ladakh has its own culture. It is a blend of other cultural influences. It seems that the culture we are witnessing today will be known as the real culture of Ladakh."
Change is inevitable and knowing how to balance between developmental change and traditional values is important. We can modernise our traditional aspects according to the contemporary needs which makes it more desirable and practical.
Mipam Otsal, Director, Ladakh Theatre Organisation, says, "Transformation in a society is natural.  But we must ensure that the change does not affect our rich culture and tradition. We can accept what is right and filter the wrongs out. Such awareness and discussion need to be carried out among the people."
People have changed and so are their interests.  Today, no one prefers to wear the traditional attire 'Goncha' or eat 'Paba'. But if we modify the same attire and food, then there may be acceptance.  Rather than adopting and copying western culture, we can make the traditional attire modern, and add a new taste to traditional cuisine.
Elijah Gergan, retired principal, Moravian Mission School, says, "We have failed to promote our own local food. We can give a new taste to 'Thukpa' and other food items. More local restaurants serving local food are needed. Wearing traditional attire on a particular day or occasion is often on instructions. It seems that people are imposed to wear the dress. Nothing works by imposition. The younger generation is not going to listen to the imposed culture."
Earlier boys and girls used to wear 'Phogos' which showed gender equality and later 'Chuba', a Tibetan dress was preferred by unmarried girls as it was more feminine.
Language is the root of our culture and identity and we cannot compromise with it. We demand the inclusion of Bhoti language in the 8th Schedule of the Indian Constitution but do most of us even speak in our own mother tongue? And, changing classical Bhoti into colloquial Ladakhi is also being opposed by some section of the society.
Smanla Dorje Nurboo, Planner, LEDeG, says, " Colloquial ( Phal skat ) was criticised by the scholars saying that it would dilute or degrade the traditional writing ,'Tibetan classical'. This led to the shutdown of the magazine 'Ladags Melong' which was very unfortunate. I don't think this has contributed in preservation."
Rigin Chodon, Research Associate, LAMO, wants more contemporary literary works by the Ladakhi people. So, in the school curriculum, instead of reading classical texts, students could read colloquial texts as well.
Ladakh has become one of the most sorted destinations for tourist all over the world because of its unique identity. But with the kind of development that has taken place over the years has contributed immensely to the loss of our culture and identity. More or less, the resemblance of our culture is equal to the western culture. We should not blindly give space to everything that comes from western culture.
Tsewang Paljor, Special Officer, Cultural Academy, Leh, says, "This booming tourism industry has corrupted the minds of people. They are earning money but at the cost of the moral values passed on by our ancestors. They have become materialistic."
Mipham Otsal says that tradition is treated as a 'product for sale' and the result is quite  chaotic. People don't think beyond 'now' and the environment is exploited massively as if the next generation wouldn't need these resources.
Otsal says that the leaders and the elders should impart the correct values so that the young generation look up to them and follow them.
"The younger generation is not the one to be blamed. They follow what they learn from their elders and environment. Our young people, especially the teenagers, being naïve, are easy to be convinced. Hence they pick up the good as well as the bad influences easily and spontaneously."
There's no doubt that globalisation has managed to connect the world, but unfortunately, it is also a reason behind weakening of culture which leads to the loss of cultural identity. Our land has become a blend of many foreign influences.
Today the definition of culture is limited to wearing the traditional dress or speaking in our mother tongue. Is it only the physical appearance that seems to be defining the real Ladakhi culture! If so, what about the moral values inherited from our ancestors? The people of Ladakh are known for good values, innocence, kindness and love. The values taught by our forefathers are nowhere to be seen today.   
Are we too ignorant and not realising the importance of our rich culture and tradition?