Complete mismanagement of healthcare system in Ladakh
By
Tashi Wangchuk
Leh, Dec 02, 2017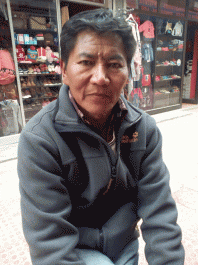 Leh :
I am neither a trained health personnel nor a health policy maker, but I have been involved in patient-care for more than 35 years now. I have been closely observing the evolving history of the healthcare system of Ladakh all these years. I have reasons to feel proud and appreciate that an infrastructure of such standards has come up in Leh, which we can rely on. Yet, I have certain observations which need immediate attention and follow-up.
Much emphasis has been laid on the development of peripheral health institutions in recent times. Many of these institutions are understaffed, under-equipped or unutilised.  There has been a tremendous mismatch between SNM Hospital and the peripheral health units in terms of medical supplies and the number of patients visiting there. Peripheral units are supplied with surplus consumables while SNM hospital has a chronic shortage of basic supplies like IV fluid gloves, adhesives, antiseptics and other basic medicines. As a result, there is a discrepancy in the utilisation of resources in the peripheral units. 
One of the reasons for underutilisation of medical supplies in peripheral institutions is because people want to go to SNM hospital directly. While institutions like SDH Nubra have functioned well as we all know that sometimes it remains secluded due to the blockage of Khardungla.  Hence, as far as the choice of the people are concerned, they want to go directly to the central institution as much as possible, rendering the PHCs and Sub-district hospitals redundant and it remains relevant only for acute and immediate care and referrals only. Thus, the size of investment and manpower in these centers has been hugely disproportionate, to say the least. As a concerned citizen, I would like to put up this question before the policy makers: For the smooth functioning of any institution, shouldn't there be a balance in workload and manpower/supplies?
One of the most important chapters of health services is ongoing training and up-to-date exposure to modern health sciences. There is an acute deficiency of continued medical education and training. The efficiency of personnel at all levels can always be improved with training. 
Management of manpower is one of the most important aspects of health management. The motivation of health personnel by all possible means is needed to keep their morale up. Unfortunately, as the charm of government services has been losing its luster during the last few decades, government services are no longer lucrative or rewarding and efficient people will not opt for such jobs. And the government health services are bound to suffer. The current health personnel crisis will be one among many other reasons which will spell doom for the infrastructure.
One reason for health personnel crisis is the anomalies in incentives. While one earns more salary in Srinagar in the form of city allowances etc, nobody would like to go to a far-flung difficult place and lose the allowance also. Similarly, employees serving in distant and difficult places have inadequate incentives. The credibility of health department stands tarnished in the eyes of their own staff as postings which were promised for one year in places like Chushul, Turtuk, Bogdang were not followed up with a timely transfer back, which has backfired now, as no one wants to go to these places. In some cases, citing reasons of non-availability of relievers, transfers were prolonged for four years as in a case at Chumur a few years ago.
Some doctors have been working in remote areas on contractual basis with salaries as little as ₹14,000 pm. And hence the saying goes: You pretend to pay, we pretend to work. People lose interest in the work and deliver little. There are many qualified NRHM and Ayush doctors who can handle peripheral institutions. They also must be trained and refreshed in order to deliver the services effectively. 
The issue of favouritism, like elsewhere, has been one of the biggest problems here too. As a result, transfer policies have gone haywire. Erratic transfers have happened during the last two years in the health department. Gynecologists were posted to Nyoma, Tangtse, Khalsi, Skurbuchan, creating an acute crisis at SNM hospital. 
When a gynecologist was needed to be transferred to SDH Deskit, there was none available. A physician is posted at Skurbuchan, dermatologist at Digar, psychiatrist at Tangtse and so on. A gynecologist and very recently an orthopedic specialist opted for transfer to Jammu. As a result, many doctors prefer to work outside, adding to the problem. 
Certainly, there is no hope of any fairness in postings in future, let alone introspective analysis of such cases. As a result, it has become a routine that doctors go to courts, challenging the transfers. Several such cases surfaced during recent years. This is happening in-spite of direct handling of these cases by the Chief Executive Councillor, LAHDC. It is well-known that there is a chronic misunderstanding between the Chief Executive Councillor and the Chief Medical Officer which is taking the toll on the management of the department. 
Now that the Hill Council has indulged in micromanagement of the department, its original mandate of making effective policies remain ignored or forgotten. I believe that the Council has no plans or policies regarding crucial health issues like referrals, health insurance, home care services, disaster management, and preventive healthcare of diseases like cancer, heart disease, and future disease trends. Our policymakers have no time to think on these issues.
The state admits the shortage of 1000 doctors. Every year more than 1000 doctors pass out from the medical colleges of the state and many more from colleges outside the state. Around the country and the world, prominent doctors belonging to the state are found, but they don't find a place in our own state. Certainly, they'll serve the state with zeal if suitable infrastructure and perks are provided. 
More unfortunate is the situation of "artificial shortage". A number of doctors and nurses are posted in peripheral institutions which could be handled by much fewer numbers. While the SNM hospital is reeling under the excess burden of work and resource crunch, the rationale of utilisation of resources must be considered from time to time.
The writer is a social activist and has been involved in care of patients for the last 35 years.