Campus Diary: Central Institute of Buddhist Studies (CIBS)
By
Kunzang Chosdol & Urgen Lhamo
Leh, Sep 18, 2018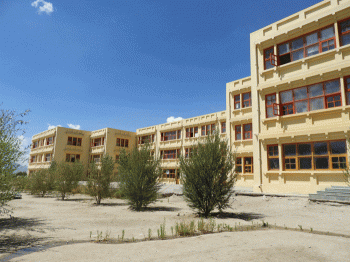 Leh :
Central Institute of Buddhist Studies (CIBS) is among the four special institutes in India which are totally based on Buddhist studies. The need to establish a Buddhist Institute in India was felt because scholars, novices, and monks of Ladakh used to go to Tibet in pursuit of higher monastic Buddhist education. CIBS was established in 1959 in Leh by Ladakh Gonpa Association. In the year 1962, the institute was taken over by the Ministry of Culture, Government of India. The aim was to sharpen the multi-faceted personality of the students through the inculcation of the wisdom in Buddhist Philosophy, Literature and arts as well as to familiarise the students with modern subjects. In 2015, CIBS was given the status of Deemed to be University on probation basis.
CIBS has two campuses, the new and the old one. The old campus has classes for the junior wing from class 6th to 8th and the new for the higher studies. 
There are 701 students, 51 Teaching staffs and 46 non-teaching staffs including Junior & Senior wing.  Despite that, there are a total of 50 feeder school in different parts of Ladakh and Himachal Pradesh.
Faculties and Departments: The faculties and departments of the Institute are established on the basis of Panch Mahavidyas of Monastic tradition, which is further divided into different departments.
• Faculty of Philosophy and Logic, Department of Bhot, Baudh Darshan Sanskrit, Baudh Darshan Sampradaya Shastra)
• Faculty of Literature and Languages (Department of Bhot Literature, Classical Languages, Modern Languages)
• Faculty of Baudh Medical Science and Arts (Department of Sowa Rigpa and Astrology, Himalayan Arts and Craft including Fresco Painting, traditional sculpture, woodblock carving)
• Faculty of Modern Studies (Department of Ancient Buddhist History, Comparative Philosophy, Social Sciences)
Activities: 
• Organised Bharat Darshan educational tour for the period of 36 days.
• Oral check-up camp was organised by Lion's Club, Leh in collaboration with Global dental relief for three days from August 20 to 23 at Main hall CIBS, Leh.
• National Seminar held on Abhi-dharma Kosha on July 7 to 10.
• Department related Parliamentary standing committee on transport, tourism and culture visited the campus on July 10.
• Rochester University, USA, research and interaction session with the students.
Initiatives and programs:
• A total of 50 teachers from various gompa schools were trained in the first batch which was held from August 7 to 11 and the second batch from August 17 to 21.
• Philosophy class every Sunday.
• Gyalsras Bakula Rinpoche Memorial lecture series was organised.
• Interaction session with foreign students
• Projects for translation of Buddhist philosophical text works on translating Buddhist Philosophical texts into Hindi.
• Project of the compilation of an encyclopedia of Himalayan Buddhist culture. Two volumes of the encyclopedia covering the Ladakh region had already been published.
• Under manuscripts resource and conservation centre, around 35,416 manuscripts from Ladakh were documented.
Future Plan: 
• Proposal to make the students participate in 150th Gandhi Jayanti celebration in Delhi organized by Ministry of Culture.
• On 24 September 2014, the institute was accredited 'A' grade by National Assessment and Accreditation Council (NAAC). The UGC gave a proposal to give the Central University status. According to them, there should be more subjects which need to be introduced.  We are looking forward to introducing the same accordingly in a phased manner.
Challenges:
• Less student enrollment every year with the growing importance and interest in modern education.
• Students are facing difficulties during the winter due to lack of heating facilities in the Library.
Faculty speaks: 
Konchok Wangdus, Director CIBS said, "Traditional subject provides complete education which is difficult to achieve from modern subjects. In today's time, people consider modern subjects very important and I feel that parents should guide their children and focus on traditional values and culture along with modern subjects".
"The education policy driven by Gyalsras Bakula Rinpoche was immensely effective. Today we are facing difficulty because we are not rooted with our culture and are striving for the preservation. The world is facing the problem of stress, anxiety, impatience, and depression. The only solution lies in the moral values which are in our culture, mother language, text, and tradition. External development and internal development should go hand in hand." 
Tsering Mutup, Administrative Consultant, CIBS said, "The institution was established for the purpose of development and preservation of Buddhist culture. If we introduce another modern subject, the value and objectives of the institute will get diluted. There are different institute which offers modern subject but this institute is a very special one in terms of everything." 
Student Speaks:
Lobzang Thokmet, President, Student Welfare Committee, CIBS said, "The students studying in this institute has been enjoying all kind of facilities including, food, hostel, library, health and education to its best. The student welfare committee is working towards maintaining the rules and regulation, health, and moral values in the campus."