Tuberculosis: A global Epidemic
By
Rinchen Angmo Chumikchan
Leh, Apr 07, 2014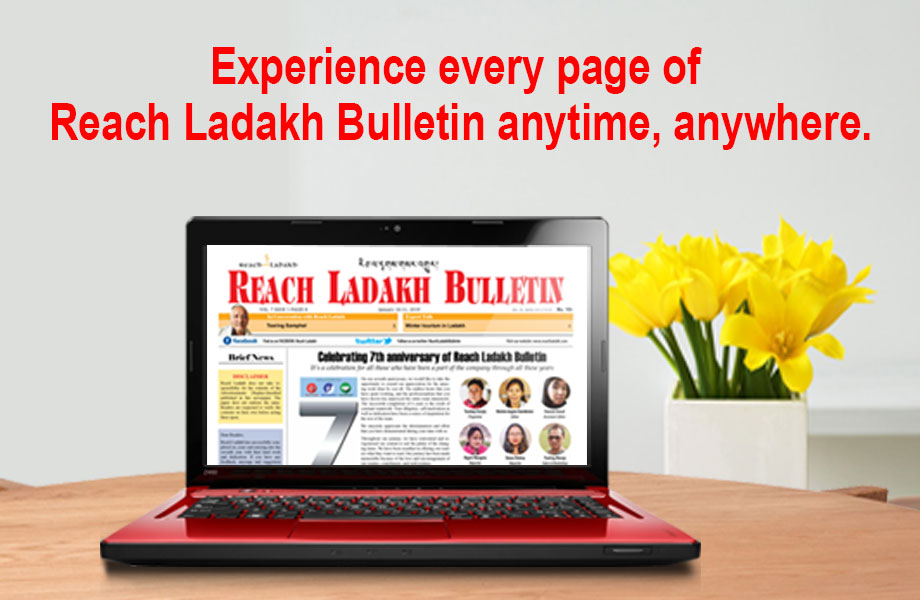 Leh :
Every year 24th March is observed as World Tuberculosis Day, an important reminder for people everywhere about the killer disease. The theme of the world Tuberculosis Day, 2014 is 'Reach the 3 million' but the point is, are we reaching 3 million?
No wonder Ladakh has made a lot of progress in every field but challenges to fight against some deadly diseases like TB and HIV/ AIDS remained overlooked and neglected. There is still a very long way to go for Ladakh to rid itself of tuberculosis, a curable but deadly disease. TB cases have sparked off one of the biggest medical debates all over the world.

According to the World Health Organization, 8.6 million people fell ill with tuberculosis in 2012 and 1.3 million died from it, mostly in low- and middle-income countries. Around 3 million people (equal to 1 in 3 people falling ill with TB) are currently being 'missed' by health systems.

One of the main problems is reaching all those infected and getting these people to undergo the right treatment is a daunting task. Moreover, the social stigma attached to the disease makes many shun medical help. TB is curable, but current efforts to find, treat and cure everyone who gets ill with the disease are not sufficient.

Many countries around the world are now strengthening their TB strategic plans and setting new targets to drive down the numbers of deaths and cases of TB while identifying priorities, best use of domestic resources, and funding gaps for controlling TB. Ladakh is no exception; Leh district has five DMC (Designated Microscopy Centre) one is SNM, Hospital which has the most workload, Diskit Nubra, Khalatse, Nyoma and Tangste.

No doubt those patients with TB are getting the best treatment in Ladakh. Despite people's access to treatment, it is shocking to learn that 170 TB cases are reported in 2013 in Ladakh. And in the year 2011, 212 TB cases were reported. In 2012, 165 TB cases were reported at DTC Leh. Though, no death cases have been reported in 2013. 
 
This data shows that urgent, coordinated action is needed to fight against TB.

When asked about the reason of the prevalence of this disease Dr. Mutup Dorjey, District Tuberculosis Officer Leh says, "Socioeconomic factor is very much related to this Disease. Most of the cases of TB patients are from low income families. The diet of such patients is not good so the immune system weakens and they are vulnerable to the disease and catch up the disease quickly."

The disease is highly contagious and easily spread even by sneezing, and each TB patient can infect an average of 10 people. Overcrowding and poor ventilation provide the ideal environment for spreading TB, said Dr Motup.

Looking to the future, population movements will increasingly contribute to a resurgence of TB. Most of the Ladakh's population now are shifted to Leh. Today half does, and that proportion is predicted to rise in the coming future.
 
Moreover, in winter people in Ladakh remain closed in a house with plastic on the windows and very poor ventilation to come and go.

As Poonam Khetrapal Singh, the WHO director for Southeast Asia, says: "Drugs alone cannot beat tuberculosis in the community. The disease is a condition strongly influenced by low nutrition, poverty, social stigma, environment, rapid urbanization, and large population displacement."

In 2013-14, Eleven new patients are diagnosed, among them, 6 are from Kargil district and 6 are from Leh district. The reason for the number of new TB cases is the lack of awareness about the programme which has made the task of detecting the disease quite difficult.

To mark the occasion, the District Tuberculosis Centre (DTC) has said that DOT treatment is very successful all over the world including Ladakh, who is believed to be not receiving the treatment and care they needed. Finding these missed cases is one of the priorities as World Tuberculosis Day is observed.

"The DOTS (direct observed treatment short-course) has become a very dependable method to see to it that the TB patients do not skip their prescribed medication.
 Moreover, if a patient does not take the medicines as prescribed, there is the probability of the person developing TB strains that become multi-drug resistant which is even more threatening. That is to say that once TB is detected, the regime must be taken without fail for the whole duration as has been prescribed," said Jigmet Samstan, Senior Treatment Supervisor, DTC Leh.

The government too is doing the needful as it has put TB prevention and control under Priority 1 programme. Since 1996, DOTS strategy has been implemented through district hospitals' primary health care centres' health posts' sub-health posts and other DOTS clinics. Though the efforts are commendable to prevent and control the disease, the high number of new TB patients is alarming. 'When a patient is diagnosed with TB first important thing is to get the HIV and sugar test', rued Jigmet.

The DOT dates are fixed as in Leh, as Monday, Wednesday and Friday and it can vary in different places. Like in some parts it is also Tuesday, Thursday and Saturday, said Jigmet.

All this shows that undetected cases are a big problem because the patients who have acquired TB could pass it onto others through sputum and other medium if immediate treatment is not sought. That makes the detection of new TB cases more urgent.

Progress in the fight against TB has been made, but it is essential to address the socio-economic conditions that make a TB-infected person hide his or her physical condition from others—even the health personnel. What we needed to do is keep a healthy and hygienic lifestyle and avoid overcrowding places.

To successfully battle TB, the public and private sector need to work together. For that, the government needs to provide support in the form of training, quality diagnosis, quality drugs and follow-ups for patients who may not be able to afford these services.