TRIBUTE TO THE SAVIOUR OF LADAKH
By
Nordan Otzer
Leh, Jun 30, 2014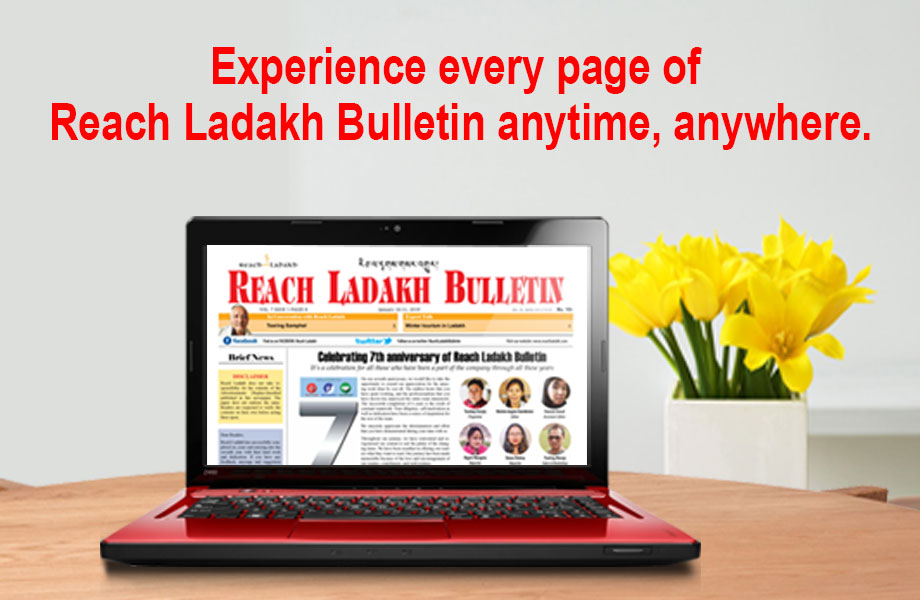 Leh :
In a war that involves thousands of fighting men, there were bound to be hundreds of act of gallantry performed by amazing individual that went un-noticed. Volumn has been written and spoken about Col.Rinchen but People of Ladakh have long forgotten the other "The Savior of Ladakh".

But not today, so grab your bottle of whiskey and shot glass – you'll want to raise many a toast to the men who has saved us.

Ask any Elderly person in Ladakh: "Who saved us from Pakistani army invading us?" They will unanimously answer 'it was Col. Prithvi Chand, Subedar Bhim Chand, Sher Jung Thapa, Dakota and of Course, Col Rinchen". Unfortunately, they seem to be fading away from the mind of people of Ladakh. Let us pay tribute to them and let every Ladakhi speak about them with joy, honor and pride.

It was in 1947-48, Soon after the independence, Karachi decided to invade Ladakh while the raiders from Pakistan were already in Kashmir valley. They named it as "Operation Sledge" the main objectives of this operation was the treasures of the Buddhist Gonpas (monasteries), which were a great lure for finance-starved Pakistan.
Col.Sher Jung Thapa:

A company of 6th J&K Inj Battalion which was then located at leh, was sent to defend Skardu under the command on Maj.Sher Jung Thapa. They reached skardu in the first week of December 1947 inspite of heavy snowfall. Sher Jung set up his camp in Kharpoche Fort. He knew that Pakistan was gearing up to launch a fierce attack soon after the chilly winter, so he stocked up enough of ration to last for few months.

In the 1st  week of February 1948, Skardu was attacked with 600 strong forces. In spite of, heavy strength of enemy, Pakistan force could not penetrated the defence of Sher jung unit. Battle went on for many weeks and multiple attempts were made to capture the fort but it failed. So Pakistan sent most of their man to capture Zojila via Kargil and few were stationed to defend Sher Jung.

Tenacious Sher Jung Thapa managed to halt the enemy from advancing for 6 months until 13th of august 1948 with his handful man. Finally, Pakistan force launched a massive multi-directional attack and captured all his officers and men. They killed all of them except Sher Jung Thapa. But those 6 months were the most crucial periods for India. During those 6 months, we managed to built airstrips, more reinforcement were reached to Leh and local were trained to fight or else we had been annexed with Gilgit by Pakistan raiders forever.

Today, he is revered as "Hero of Skardu" in the History of India.

Col.Prithvi Chand:

At that time, when Pakistan army launched attack on Sher Jung in skardu, News reached Srinagar and they wanted to send additional battalion to reinforce Sher jung. Unfortunately, the formidable Zoji-la pass was an uncrossable barrier between the valley and Ladakh and there was no airfield in Ladakh.

It was then that Captain Prithvi Chand, of 2 Dogra Regiment, a young Buddhist officer from Lahaul, the Himalayan region beyond Manali and the Rotang Pass, offered his services, he told the brigadier he was ready to cross Zoji-la in winter with a small caravan of men and mules carrying arms and ammunitions. Though Buddhists and believers in ahimsa, these men were ready to risk their lives and fight their way through the weather, the altitude and the raiders to defend their co-religionists in Ladakh. Nobody thought the mission feasible, but there was no other solution.

So without the knowledge of army headquarters -- which was reluctant to permit such a risky operation -- the young captain crossed the pass with about 60 volunteers and reached safely Leh on 13 March 1948 to prepare a surprise for the raiders.

Soon after that, in May 1948, the battalion of army who failed to penetrated Sher jung defense at Skardu reached zojila and captured it and soon the raiders and enemy army started advancing toward Leh and they have managed to reach up to Nimmo Village.

On 24th of May 1948, the first aircraft, Dakota landed at Leh on a temporary airstrip with troop to reinforce with Air commodore Meher Singh and Maj.General Thimmaya on board. The first wheeled transport that some of Ladakhis have seen. Soon, the raiders in Nimmo started fleeing.

Nubra Guard & Subedar Bhim Chand:

Those six months, which the Sher Jung defended at Skardu was very crucial, it was then Prithvi Chand met young Rinchen ( at then he was just 17 years old young boy) and became his Mentors. He underwent 12 days Military training under Subedar Bhim Chand, ( Second in command of Prithvi chand).

Rinchen then recruited 28 of his friends from the Nubra Valley and thus the Nubra Volunteer Force (later, Nubra Guards) came into being.

In august 1948, after capturing Sher Jung army, intruders started advancing toward Nubra Valley they finally managed to reach upto Skuru Village in Nubra Valley, The 17-year-old Jemadar immediately left Leh with his men, and after a 10-day walk, which involved crossing the treacherous Khardung-la, the volunteers reached the banks of the Shyok river.

Once there, the Nunnus, (as the jawans recruited in Nubra Valley were to be known) were put under the command of Rinchen`s trainer Subedar Bhim Chand. Soon after reaching their destination, they began repelling the intruders.They had 28 rifles and a Sten-gun . He was hardly using his own ammunition. Instead, he used hand grenades and bayonets to attack the enemy, often collecting not only rifles and bullets from the fleeing Pakistani troops, but also the food necessary to sustain his Nunnus.

In 1984, a book published in Pakistan entitled Baltistan Par Ek Nazar mentioned: "If Commander Chewang Rinchen & Bhim Chand had not foiled these attacks, we would have overrun the whole of Nubra and then, crossing Khardung-la and occupying the airfield of Leh, we would have been the masters of the entire region of Ladakh."

Rinchen had, however, earned his first MVC, which he received in September 1952 from Sheikh Abdullah, the then Prime Minister of Kashmir.

Battle went on till, January 1, 1949, when a ceasefire was ordered by the Indian Government.

That's how Ladakh was saved. Had it not, Ladakh would have been annexed with Gilgit by Pakistan forever.

It was the first of a long saga of heroic acts by many of the region's young officers who have since then bravely defended Indian territory.

My dear Fellow Ladakhspa, let us remember them and spread the words. We are in debt to brave people like them and my heartfelt salute to Col.Prithvi Cand, Subedhar.Bhim Chand and Col. Sher Jung Thapa for saving us. People of Ladakh will never forget you and you people are engraved in the heart and mind of Ladakhis. You all will be remembered forever.

The writer Nordan Otzer is currently working as ENT Surgeon in Institute of Post Graduation Education & Medical Research, Kolkata.