The Idea of 'Ladakh Rangyul' (Fatherland)
By
P. Stobdan
Leh, Apr 20, 2015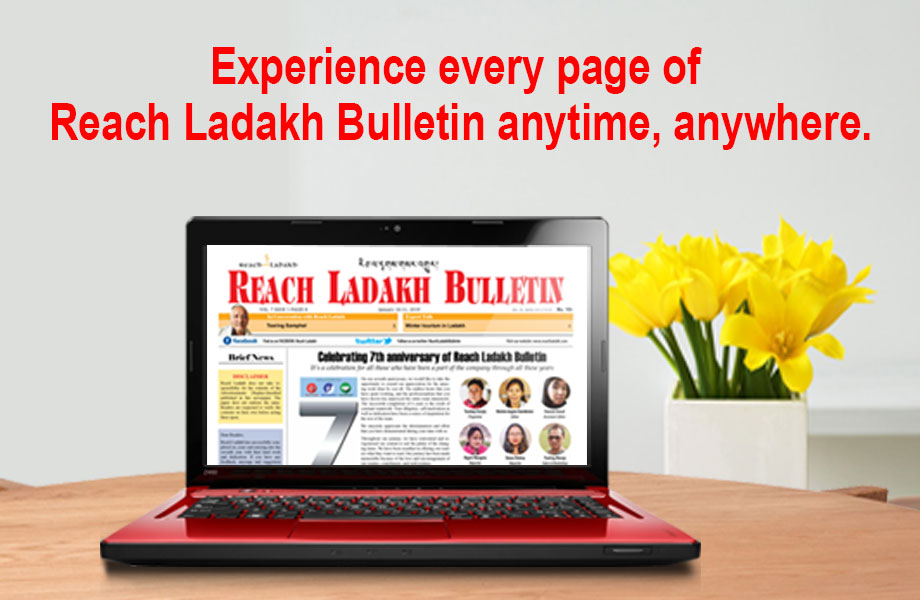 Leh :
The 2014 J&K assembly election has brought to the fore a sharp political polarization of electoral mandates along the regional lines. The mandates in both Kashmir and Jammu have largely reflected their regional sectarian identities and possibly their aspirations, albeit through PDP and BJP respectively, the mandates in Ladakh perhaps had a different story to tell.
Clearly, a political party has won the majority seats in Ladakh that by implication has posed several key questions. First, does it mean that the Congress Party has become synonymous with Ladakh and its identity politics? In fact, the pattern has seen continuity, irrespective of political changes affecting elsewhere in the State and the country. Second, do the people of Ladakh prefer to take comfort in the existing political cushion and are loath to venturing into new prospects? This would mean that people are either not sufficiently prepared or they find no compelling reasons to seek a different political course. Third, does it plainly expose the depth of political bankruptcy of Ladakh that otherwise enjoys comparatively a distinct regional identity?
Adequate answers are hard to come by, nevertheless, we still need to recognize and believe that Ladakh had an unambiguous socio-historical personality of its own, which had survived and flourished for centuries against all odds, especially against the hostile physical, as well as cruel geopolitical environment. It still enjoys a rich heritage that continues to draw a high degree of global attention; scientists and explorers describe Ladakh to be a microscopic world in itself in every epistemological sense. Surely, it has much to offer to the world as more things seemingly start to unravel in the future. However, such cruel irony is not lost on Ladakh. The current political status commensurate to neither the glorious history nor does it corresponds to the geopolitical reality of Ladakh. This is despite the fact that the role of Ladakh and contribution of its people to India's defense and national security, especially their standing up against all the hostility and threats posed by adversaries, has been unequivocal. Yet it had to endure prolonged political marginalization, neglect and apathy in the country. This amounts to political injustice. Is it not time to escape the strange paradoxical identity crisis of cherishing a strong sense of pride for the past and unease with the present status? The time has come to strive for overcoming this contradiction.
The reasons though may have been numerous, but essentially the lack of awareness, the relative backwardness, isolation and disconnect with the world outside possibly impeded our indigenous political growth. However, the most convenient alibi cited for denying justice for Ladakh was its demographic deficiency. This extremely flawed mindset and the contestable argument has led to diminishing role for Ladakh even in J&K despite its accounting for almost 60 percent of State's territorial size. The neglect of territory, in fact, led to our borderland areas vulnerable to encroachment by external adversaries. On the contrary, the vast span of territory and its geostrategic importance is the biggest asset of Ladakh. Unfortunately, this has not adequately factored into our political approach so far. Is it not the time to bring the primacy of territoriality to the forefront of national thinking and decision-making process? Is it not time to articulate this in our demand for justice? 
Clearly, the external masters sold such arguments to the innocent to induce them to remain steadfastly under their tight political patronage. They did not hesitate to either ruthlessly crush or skillfully outmaneuver intermittent attempts by people at voicing local aspirations. They took our lives by bullets. More often than not, they succeeded in exploiting the simplicity, fragility of the region and played on local fault-lines to keep Ladakh under their thumb. In fact, such proclivities had encouraged others (outsiders) to find space for playing mischief, manipulate and bring frictions in the social fabric of Ladakh. The divisive elements are already creeping in; traditional social cohesion is weaning, and confusion among people is palpable. If, not restrained, fear is that Ladakh too will regress into needless disorder, social upheaval and chaos. Is it not the time to stop them from practicing the politics of divisiveness for their short-term gains? 
Consequently and what hampered Ladakh identity was the complete embrace or over-identification by our political class with the larger trend. The pattern of juxtaposing Ladakh's distinct problems onto the wider political spectrum or vice versa may have certainly served the vested interests, but the practice has adversely impacted Ladakh's interests.
These are among numerous shortcomings that continue to exist but not without detrimental to Ladakh's future destiny. Of course, the most critical of all is the absence of a direction and a clear sense of future. However, this is not to suggest that people remained oblivious to this hopeless situation. Quest for an alternative political thinking that would truly reflect the aspiration of Ladakh has been festering among a large section of people. The simmering desire among people with sufficient intellectual base in the early 1990s resulted in gaining some semblance of dignity and justice in the form of Hill Council status. However, the 'Movement' fervently steered then was not to have ended in itself (Council) but meant to be a means for catalyzing into a broader change. 
The situation, especially in the past two decades, has changed rapidly. Without going into merits and demerits of experience of the past, people are definitely in search for a new political discourse to cast their aspirations and issues. Today, craving for change is visibly greater among the younger generation wanting to seek fresh perspectives; willing to stand ground, prefer to think and act locally of than to dance on others' tune in perpetuity. Their craving for being noticed and counted on the national stage is glaring from the spurt of anxious comments, views, and write-ups appearing in both print and social media. When the world and India with it - are in the midst of an unprecedented social and economic change, such aspiration among people of Ladakh is not only inevitable but also imperative. It is time to consider and encourage this enthusiasm.
Without doubt, this moment of truth has come for the people who have waited long enough. It's time for Ladakh to regain its place on the national scene by working to think politics differently, and by adopting new changes that would truly ensure revival of identity and new opportunities for the people. To achieve this, as also in the longer-term interests of Ladakh, they will have to start standing on their own political footing. This is possible only when they identify and articulate issues that concern them, which are finally, exuded through their independent political voice. The people urgently require a local plank to think about their future - what it should be, and how it can be. It is only then they could possibly assert and get due justice.
The idea of creating a local platform around the concept of Rangyul might fill the void. It may initiate the process of establishing a framework for addressing the core issues in a way that is sound, native, cohesive, and based on demonstrated Ladakh-ness approaches. It may help people explore their political potentials by working on their own indigenous thoughts;
a) to recover the lost identity of Ladakh; b) to maximise their political and economic stakes; c) to secure greater advantage and flexibility for political bargaining at the State and Centre level.
Much time had already been lost and it needs to recover what is been lost. To be sure, many would question the feasibility of Rangyul idea. It may not find easy acceptance. However, there can never be a short-term solution to the cause of Ladakh. We must sow the seed before we can reap the harvest. Let our youth aspire to a transformational change and hence throwing the idea of Rangyul open for public debate.
The author is a former Ambassador and a security expert. Currently, he is working as the President of Ladakh International Centre.