The Frozen Ladakh: Tough gets tougher when thing get going tough
By
Morup Stanzin Lharjay
Leh, Mar 20, 2014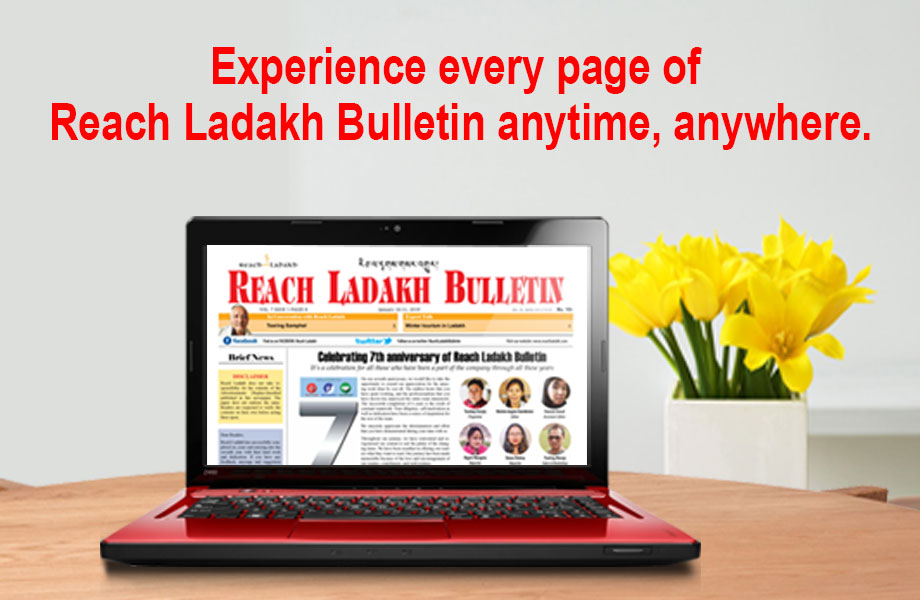 Leh :
As they say the tough gets tougher when thing get going tough and the words aptly fit to the people of Ladakh who stand face to face with the harsh winters in the place popularly known as the Cold Desert when chilly winds and snow halts the usual life of Ladakhis.
Blended with spirituality and nature's beauty including rugged high Mountain, breathtaking panoramic landscapes, beautiful snow covered valley and ancient monasteries on the hill top and monks chanting prayers which echo through the entire valley, indeed Ladakh presents an absolute and ultimate unique culture and destiny to its visitors. But as other transitory wordily things this uniqueness also sublimes within natures' lap and all this vanishes for during winters as things become harsh for the locals.
And to a sharp contrast of life like 'dawn and dusk' the Ladakh region witnesses dusk during winters when the life becomes tough due to dullness and void of everything expect the 'white out' i.e. snow all over.  With snow everywhere life really turns tough during winter yet there is no escaping but to survive at minus 30 to 40 degrees which literally makes one to freeze and that hardly any outsider believes. However at times in dark clouds there comes silver lining i.e. sometimes a little of sunshine provides you little respite but it doesn't last long.
 Like two faces of a coin the life shows its other face to Ladakhis in winters when most of the shop remains closed as majority of traders are from Kashmir based who prefer to migrate to warmer place thus making the Bazaar wore a deserted look in winter.

The secluded mountains region remains cut off from the rest of the world for six month by road so no question of available of fresh consumable items here but one has to survive on dry vegetables and pulses. Most of these people prefer to stay indoors in the scatters houses covered with snow, emitting a thin layer of smoke from the traditional chullas and "Bhukhari" indicating a warm fire inside the house while the windows are covered with plastic sheets and door with heavy blanket to protect from freezing chilled.

To beat the harsh winter and isolation, people in the village makes special gathering to boost them psychologically that they can handle the crisis and celebrate winter celebrations on monthly basis in their Mohallas which is called "Tseschu" during which they drink "Chang" the local beer made from fermented barley while singing centuries old traditional folk songs.  Besides this during late evening there was a customs of storytelling especially the "Kesar" saga to the younger generation which still continuous in some remote villages but of late this tradition like others have paved way to modernization in urban Ladakh where people prefer to glued to the television.

There are some places in Ladakh where you cannot go to next house due to heavy snowfall while some places like Yulchung-Nyeraks in Sham region of Ladakh have sunshine only for two hour in day and inhabitant of places like Dat and Yagangs in Changthang region live at the 'mercy of Almighty' as this area remains cut off even from main Leh township, the capital of Ladakh during winter.

During winters locals in Ladakh prefer to prepares "Thukpa" just like a pasta made of variety of ingredient like dry cheese, meat, dry peas and vegetables and of course the popular "gurr gurr chai" or butter tea that provide the require water supplement to the body beside the butter which keeps the moisture level of the body balanced.  Mostly, the women folk get themselves engaged in weaving and kitting work while rural men are seen making local shoes "Thikma" and "Chali" a local blanket from yak and sheep wool.

Due to heavy snow on the high passes the Zanskar region remains cut off the rest of world for six month and people of Zanskar have to walk over the frozen sheet of ice formed on river to reach their destination. Since many centuries people of Zanskar have known the secret of crossing frozen landscape that they encounter in winter time and they have traded and survived by crossing the frozen sheet of water. These people carry everything on their back have to walk for four to five days making night halt in the caves with constant fear of avalanche and other natural calamities thus risking their precious lives. Recently Adventure enthusiast especially the foreign tourists also take these walk popularly known as winter Chadar trek.

In the recent past, a new trend developed amongst the local inhabitants to migrate to a warmer place during harsh winter season. Many Ladakhi prefers to go on a pilgrimage journey to Buddhist Holy places like Bihar, Nepal and South India during winter while some just simply spend the winter in Delhi, Jammu or Chandigarh but the soaring airfare is also cause for concern to the common public.

But amazingly some of locals braving all the odds prefer to stay here in Ladakh where everything gets frozen, the rivers, lakes and ponds which call the locals youths to take advantage of the golden opportunity who prefer to beat the chill by playing ice hockey and Ice skating. And with their initiative these winter sports are becoming very popular in Ladakh and even foreign tourist started visiting Ladakh to play this matches.
The author Morup Stanzin is a Journalist. He is presently working as the Bureau Chief Leh, Greater Jammu.