THE BHUTAN STORY
By
Sonam Wangchuk
Leh, Apr 07, 2014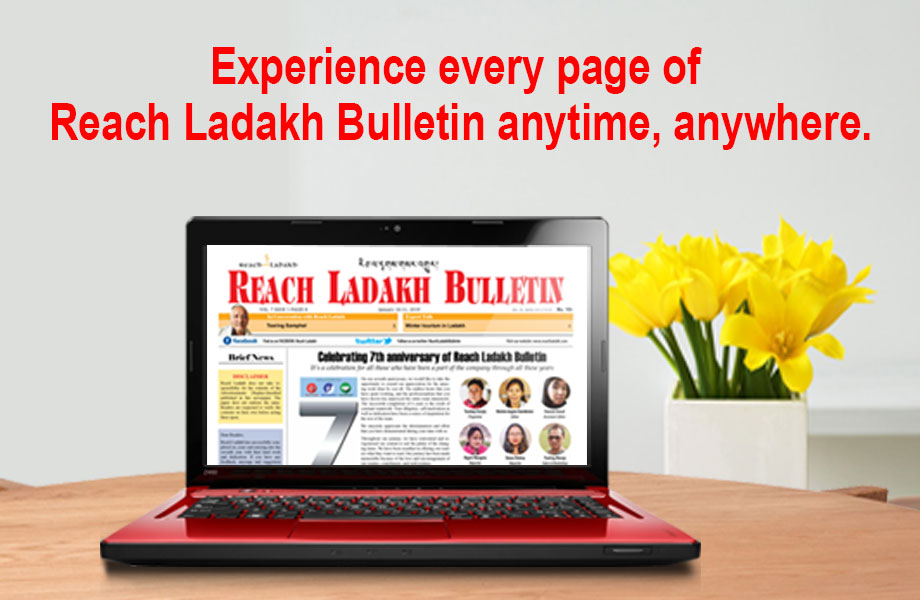 Leh :
Julay no nomogun,

After the Tibet story let's go a little further in the Himalayas to learn about the education system our Bhutanese cousins have established. You'll see that here again visionary leaders dared to choose a different path and changed the nation's destiny.

When it comes to modern education Bhutan is always considered a poor late comer, starting in 1960 with 11 schools and 440 students. What we don't often hear about is that in less than 50 years this country had overtaken all its neighbours and become the best country in whole of south Asia with regards to government school education. Their village schools are quite comparable to most private schools in India and needless to say that the matriculation results in these schools always stay above 90%.

You might ask if Bhutan has any private schools then. Yes only a handful, but only to serve students who do not get admission in the government schools. The cut off percentage for government higher secondary schools is 60%, so only those who don't get this go to such private schools.

While in India we are cutting teachers' salaries to a pittance using nice names like Rehbhar-e-Taleem, Shiksha-mitra etc., in Bhutan school teachers are given up to 40% extra salary compared to engineers or administrators. This is done to attract the best brains to this most important service.

Now you must be wondering how things could be so different and better right across the border from India! True, in the 1960s and 70s the Bhutanese government schools were no different from those in India, in fact they were started with Indian help, used Indian curriculum and textbooks and even Indian teachers. In those days the rich and powerful of Bhutanese society used to send their children to famous private missionary schools in neighbouring Darjeeling area, just as rich Indian/Ladakhi parents still do.

Then in the late-80s we see a quantum jump in the quality of government schools in Bhutan. Suddenly education became a national focus for the King, his cabinet and the whole government machinery. In 1986 they launched a path breaking programme called New Approach to Primary Education (NAPE) and the curriculum and textbooks were Bhutanised (contextualised), local teachers were trained en-mass and the administrative system was also overhauled, soon Bhutanese schools started shining and slowly became the best in the sub-continent.

But why did things change all of a sudden in the 80s ? I have been visiting Bhutan in various capacities since early nineties and based on this experience my theory is that it was not by sheer chance. By mid-80s prince Jigmet Khesar Namgyal (born 1980, currently the King) and his siblings were of school going age. In that period, the then King Jigme Singey Wangchuck took a very important decision about the prince's schooling, after which nothing remained the same in Bhutanese schooling system. He chose to send the crown prince and all siblings to a government school in Thimpu, although being a King he could easily afford schools in Darjeeling or Europe. This worked like magic and soon his ministers and bureaucrats followed suit and hence they all became seriously interested and invested in the education system as they now had real stake (read children) in the system.

The sense of responsibility, accountability and finally satisfaction among teachers and officers, transformed the school where the crown prince went. The school started shining and so did other schools that followed the example and soon schools in the whole country were shining, shining for the rich and the poor, shining for the urban and the rural. So you see, the education system can change when those who have a say have a stake in the system. If India adopts a system whereby all public representatives have to send their own children to the system they are supposed to run.

Can we in India dream of a time when all elected public representatives are obliged to send their own children into the government school system and thereby become invested in that system? Here lies the irony! The Bhutan story is a story of how a monarch decided to stand by his own people in their struggles. This is perhaps a good lesson for the leaders in the world's largest democracy, where governments are supposed to be… for the people, of the people, by the people.

No I did not say… FAR the people, OFF the people, BUY the people!