Tangtse Constituency
By
Kunzang Chorol
Leh, Sep 02, 2016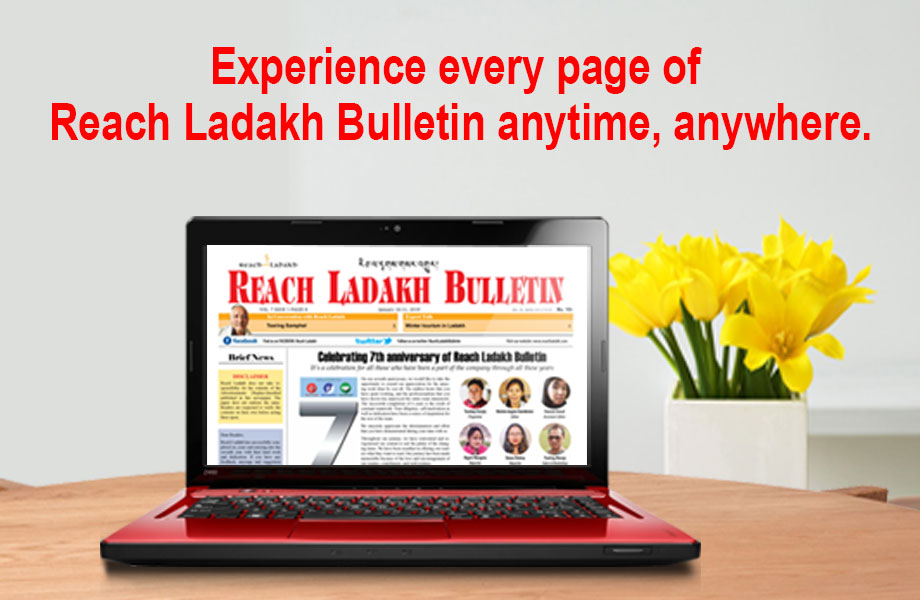 Leh :
In this issue, we have taken Tangtse constituency of Changthang region which cover ten villages namely, Tangtse, Durbuk, Shachukul, Tharuk, Chillam, Yerath, Pholonglay, Shayok, Rellay and Mukleb.
With the visit of His Holiness Chetsang Rinpoche, problems of Shachukul village have been somehow solved. Still, the village faces problem such as the proper widening of headwork which is shared for the plantation on common land as well as for irrigation. 
Shachukul being the largest and populous village in this constituency needs Primary health center. In Gonpa School itself, there are almost 80 students studying as well as most of the monks are staying in the monastery, people have to travel to Tangtse hospital in case of emergency.
People of the village are going to plant trees in the common land next to the village, they already have sertok canal which was built under irrigation Khul, but shared headwork for village leads to further shortage of water particularly in the summer season. 
The road from Shachukul to Yerath village was completed but material soiling was half done in the past three years. Due to lack of material soiling, the road becomes rough and bad, people are demanding for blacktopping of the road.
For drinking water, they already have hand pumps but there is a need for more hand pumps as the pipelines freeze up in the winter.    
People of Tharuk have the problems of drinking water, they have pipelines but due to the blockage and breakage of the pipes people residing in last of the village faces water shortage.
There is only two staff in Tharuk hospital but they stay in Tangtse, in the case of emergency during night time people have to travel to Tangtse for medication.
The poor radio connection is one of the problems in almost all the village of this constituency. There is a need of footpath in Yerath, Chillam and Pholonglay village.
Incomplete canal of Changla to Nyithrigang is the problem of Durbuk village and they demand the revival of Border Area Development Programme. In Shayok they have the shortage of irrigation water and need of a mobile tower.
Raley is the most backward area in this constituency which remains cut off, but this year it was connected through road but due to the incomplete bridge they face the problem. There is a need for soiling the bridge. The school and community hall requires compound walling and protection bandh for Nyib and Thib canal.
Tashi Namgyal Councilor:  There are many problems in my constituency, but I am going to work on the ground of priority and in phased manner. My priority is on education. There is a centralized residential school in my constituency, in which the whole students of Durbuk block studies, but there are many things which need to be improved in school. My plan is to build a library, laboratory, and hostel. 
Construction of girls hostel was sanctioned under RMSA (Rashtriya Madhyamik Shiksha Abhiyan) with a complete DPR of worth ₹ 2 crores 50 lakh, the work will be soon in progress.  Macadam for 2km roads was also sanctioned. 10 solar water heaters in the hostel was a proposal to bring from CCDF and hopefully, all these work will get done soon. 
Drinking water in Tangtse is a big problem because it is the main headquarter of this block. I have taken up this issue and DPR of worth ₹ 1 crore 30 lakh has been submitted to construct the headwork in Tharuk for drinking water. 
For drinking water in Tharuk village, earlier there were 11 water points among which only 4 points were functional. I have taken up with the headman and lineman and now among 11 points, 10 are functional. The headworks are good, but there is a need to repair the pipelines, I already have brought pipes so I am going to work on it after the teaching. Two submersible pumps have been installed and are in working condition in Tharuk. The canal of Zothak to the common land of Tangtse-Durbuk thang, I am going to repair the canal and have plans to plant trees in the common land.
Due to lack of drinking water and electricity supply in the medical aid center Tharuk, the staffs are not able to stay there, so I have made the pipeline functional and will manage the power also to make them stay there at night.
Sertok canal of Shachukul was under Border Area Development Program, but due to the removal of the BADP program in 2013 in our constituency, all the ongoing work under BADP is left incomplete. There are 12 incomplete works under it including road, community hall, irrigation etc.  Road from Shachukul to Yerath, canal from Changla to Nyithrigang etc are also under it. I have taken up this issue with DC and CEC and they have assured me to adjust the work in some other project to complete it.
The canal from Changla to Nyithrigang was completed but it is not connected to Durbuk. Recently DC has visited the site and assured that ₹ 20 lakh is going to be release to connect the canal.
The problem of irrigation water in Shayok has been taken up. They are demanding for lifting up of water from Shayok River but the cost is very high. For that LREDA has the plan to install 40 mega watt power projects, if this gets success it will be a blessing.
For the mobile tower, home department Govt. of India has proposed ITBP to install 28 towers in border area; if such follows they can be benefited otherwise for installation of the tower there is a need of 2000 population or more which is not in Shayok.
Ice hockey rink in Yerath will be the best ice hockey rink among all, 70 % of it is completed and by this coming winter I will make sure  complete it and functional. It is also under BADP.
For blacktopping of road in Pholonglay, I will keep under district plan; it will take two years to complete it. Footpath in Yerath, Chillam and Pholonglay and road from Tarlam to Gang will keep under convergence scheme and will work on it soon. 
However, taking the sheep center in every village is not possible but I have a plan to bring it in Chillam village because it is the center of the two villages and it will be beneficial for all.
In this seven month after I become a councilor, Relay and Eching was totally cut off. The road was in progress from the last 12 years but it is now connected and now only bridge needs to be completed with soling, for that I have set aside ₹20 lakh and in the winter it will be functional.  For Nyib and Thib canal and compound walling for school and community hall, I will take up soon through CCDF.
In seven month, my biggest achievements are the BSNL mobile tower in Shachukul, which covers Chillam, Yerath, Phalonglay, Shachukul, residential school etc. The road for Rallay road was also connected this year in April.
Before my tenure, there was a shortage of teaching staff and principal in residential school but now there is complete teaching staff. Because of attached teacher it causes a huge problem in academic session, so I have instructed to stop the salaries to those teachers who are working attached in Leh.
In Arong village there are only two households, but no electricity. I have brought LED solar home lighting to them through my CCDF.
For the electricity in Mukleb village I have been listed in Deen Dyal Upadhyay scheme, the moment it gets tendered the problem will be solved. But I have also talked with the NGO called Global Himalaya who is working for electricity in many parts of Ladakh to supply home lightening and they assured to visit the village. So hopefully we will get it soon.
Limited power supply for only 4 hours a day is the main problem in our constituency. There is one Diesel generator of 200kv which was working since from 1995, but it becomes old and in a bad condition which cannot take the load much.  I have taken up this for replacement of new DG and tried to replace the DG of another village of the sham region which is not in use but couldn't succeed. I am going to solve it on a priority basis.
Conclusion:
After talking with the village heads, they have high hope in their councilor, and in fact, in the past seven months, the councilor has solved many of the problems. Still, there are many problems that need to be considered. The councilor said that he is going to work on all the incomplete work under BADP which was removed by DC Simrandeep Singh on the ground of more than 15 km far from the border area.  He is going to take education on the priority basis and has worked for its development and has plans to improve it.