Reminiscences: Leh between 1975 and 1985
By
Stanzin Wangtak
Leh, May 13, 2015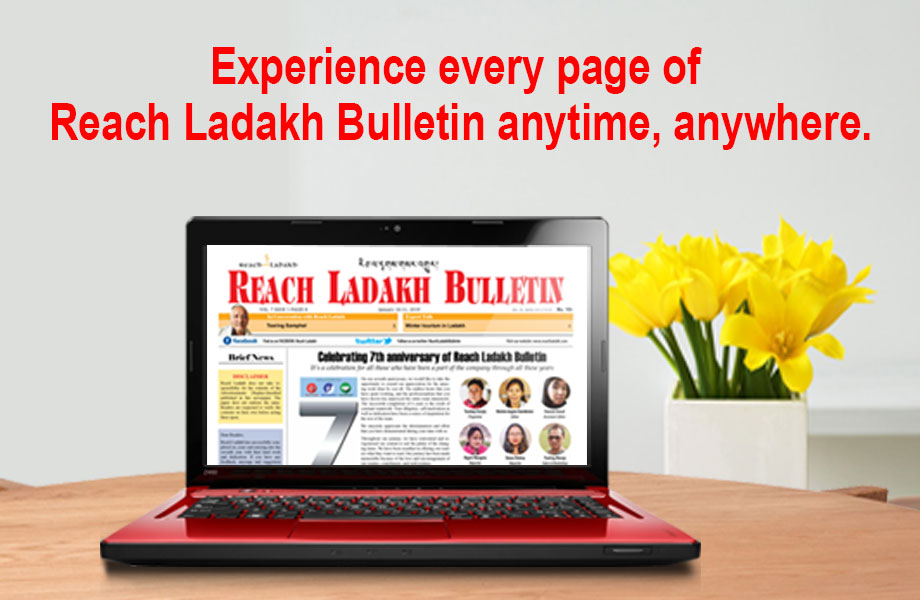 Leh :
I was born in 1969 and sent to boarding school in Dehra Dun in 1975. In those days, private airlines did not exist in India and Indian Airlines flew very few flights to Leh initially. I remember, I and my companions use to either travel by road to Srinagar and beyond or fly in the Indian Air-force AN-32 transport planes to Chandigarh. We sat on wooden benches in a small windowless compartment adjacent to the cockpit, parallel to the length of the aircraft. The pilots use to take us inside the cockpit while the aircraft was airborne, thus we had a wonderful view. The sadness of leaving our families behind was soon forgotten in the excitement of flying.
Due to logistical and other reasons I did not experience winter in Leh until 1982. But we returned every summer for our vacation of two months. Those days we did not have telephone or television in Leh. And there were very few motor vehicles in Leh, that too only in and around the town area. I distinctly remember walking from my village, 4 km from Leh town, every Sunday to watch Hindi movies at the Alijoo or Trishul theatre with my friends. There was usually a big rush for tickets, especially at the Alijoo theatre; blacking tickets was common.
My friends and I use to play many games like Hide and Seek, 'Lakdi-Lakdi', 'Santuliya', etc during the evenings, and gathered at a particular place at nights and gossiped until dinner time. I use to listen to the radio a lot. My favourite programmes were the weekend Hindi film songs countdown on Vividh Bharati, presented by Amin Sahani, western music on Saturdays from AIR, Leh and cricket test match commentary.
Back then, I remember, that even match-sticks were scarce. Villagers use to visit each others' houses to ask for embers to lit the fire. Many households kept sheep and goat in large numbers. Every morning they were all collected in one place, before being taken to graze in the nearby mountains. It was quite a scene. Each family bringing in their lot, marked with different strokes of colour on their backs. There was a lot of beating and fighting amongst them. And in the evening when they were brought back by the rotational group of members of different families of our village, everyone called out to their flocks and ran from place to place to make sure they had all assembled in their stalls. The shepherds would sometimes carry newly-born baby sheep or goat in their arms, with the anxious mother closely in tow.
After the crops and vegetables were sown and planted, each family had to take their cattle and donkeys to the village pasture to graze. Though someone else took my family's cattle for grazing, I accompanied occasionally. There it was like a picnic. Everyone brought their lunch and pooled it together. Then we all sat on the grass in a circle to eat. Sometimes, ingredients of sweet tea were also pooled in and tea prepared on a make-shift stove of three reasonably flat stones. The task of the cowherds was to make sure that their cattle etc did not wander into the fields, as that meant they would be caught by the 'Lorapa' and fined. Everyone lazed around for most of the time. Girls played 'Tulo' and sometimes knitted. Boys played cards, caught fish with their bare hands in the stream, which ran from the middle of our pasture, or swam in the nearby ponds. At the end of the day, everyone picked up their 'Tsepos' and ran to collect as much animal droppings as they could. It was the main source of fuel, as kerosene was scarce and LPG had not yet appeared in Leh.
Swimming in the village ponds was a wonderful experience. We all swam naked. Some boys displayed funny ways of swimming, with their bare bums popping out of the water after each stroke. The water was cold and we use to warm ourselves by lying down on our stomachs on the sand or boulders of stone. Nobody brought any soap or a towel; we dried ourselves in the sun and wore our clothes.
Those were the days when I was thrilled to have the occasionally cooked rice. I loved and sometimes stole sugar and powder milk from our kitchen. 'Chupchos Phemar' was another of my favourite dish. At night, we use to roast potatoes in the hot ashes of our traditional Ladakhi metal stove and have it with salt. Sometimes we roasted slices of mutton, liver or kidney on the stove.
My parents and grandparents gathered every night before dinner in our smoke-blackened kitchen and recited prayers in devout voices. Occasionally, I sat down with them and listened with amazement and wonder. The recitations were always a source of strength and peace to me.
The winter of 1982 was also a wonderful experience for me, in spite of the cold. I skated with my village friends, on home-made skates, and learnt how to catch a pigeon with a snare, from them. And, of course, I got to celebrate 'Losar'.
Today, thanks to the tourism industry, we have more money than before. There are so many more commodities, facilities, amenities and gadgets available to us. But, unfortunately, we have less time to enjoy them. The present busy life I am leading reminds me of a poem by William Henry Davies—Leisure: What is this life if, full of care, we have no time to stand and stare.