Remembering Sonam Norbu, a great son of the soil
Celebrating the 110th birth anniversary of Norbu, who saved Ladakh in 1948
By
P. Stobdan
Leh, May 25, 2019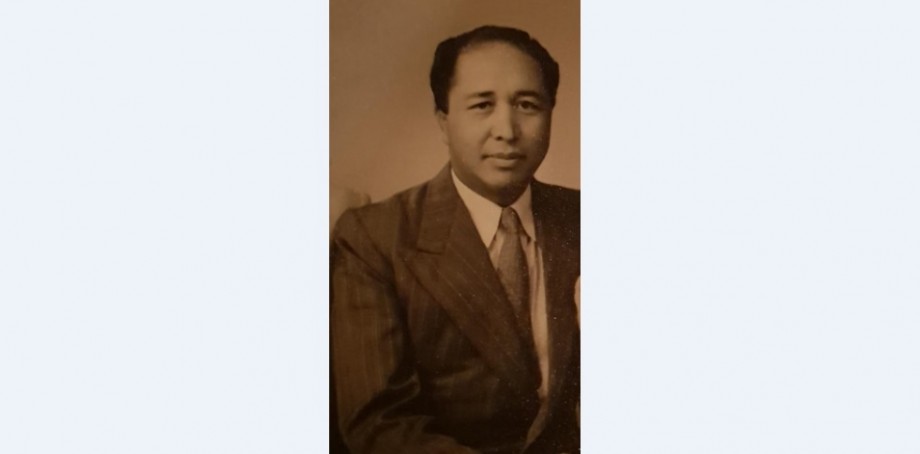 Leh :
Ladakh International Centre (LIC) makes it sure that India and the people of Ladakh do not forget the gems who have done a lot in nation-building.Sonam Norbu, a Padma Shri recipient (1961), was one such hero who had contributed immensely to the defence and development of the country.Norbu was born in Leh (in Nyachu family) on May 27, 1909. He passed away at the age of 70, on February 2, 1980. 
Sonam Norbu was a graduate of the University of Punjab, and later completed his engineering degree at the University of Sheffield (United Kingdom) in the 1930s.In 1947, when India got independence, Sonam Norbu had reached the peak of his engineering career, and started contributing to the defence of the nation.While in December 1947, Skardu had already fallen into Pakistani control, the advance of tribal raiders towards Leh was held back through the winter months by the State forces led by Lt Colonel Sher Jang Thapa. Ladakh was then vulnerable as the garrison in Leh was defended by only a platoon of 33 men.
The story of defending Ladakh began when a company of 2nd Battalion of Dogra Regiment crossed over Zojila on foot from Srinagar on February 16, 1948. They were accompanied by distinguished engineer Sonam Norbu.Norbu, along with the 2nd Dogra Company, arrived in Leh on March 8, 1948, and soon started the project of building an airstrip on March 4, 1948.And he took up the task of constructing a makeshift airstrip at Leh without any engineering and technological support. He came with just Rs 13,000/- to complete the task.
In an outstanding achievement, he completed the construction of a 2300-yard airstrip in three weeks, on April 6, 1948. The runway was built solely through manual labour with no help of mechanical tools. It seems, among others, Babu Dorji of Chute-Rantak, played a key role in mobilising local resources.
According to a write-up by Lt Gen NS Brar, Sonam Norbu (being a true honest Ladakhi) had spent Rs 10891/- for preparing the airport and the remaining balance of Rs 2109/- was deposited in the treasury. 
Following the run-way completion, Norbu immediately sent a wireless message requesting for a quick dispatch of aircraft and reinforcements. However, the Dakota transport aircraft, piloted by Air Commodore Mehar Singh, co-pilot Flight Lieutenant SD Singh along with General Thimayya on board, landed in Leh only on May 24, 1948. Therefore, May 24, 1948, therefore, marked a watershed in the history of modern Ladakh – the day when Sonam Norbu prepared the ground for plane landing in Ladakh, much before the local people had seen even a bicycle. Thanks to him, Ladakh bypassed the entire agrarian and industrial age and directly started enjoying the fruits of modernity. People then were so innocent that they flocked to the airport with 'choonpo'( fodder) for the 'flying horses'! 
Meanwhile, the Pakistani raiders had already reached up to Ladakh-Konka (near Nimu and Taru) by May 22, 1948. Since the entire route from Zojila, Kargil and Khaltsi and Nimu had been occupied by the raiders, Leh could be saved only by air reinforcements.Bad weather, however, prevented the reinforcement reaching Leh not before a week later when a flight of six Dakotas dropped a company of 2/4 Gurkha Rifles along with arms and ammunition at Leh airport on June 1, 1948. Subsequently, more reinforcement of troops reached Leh by road through Rohtang Pass as well. Leh was saved and the enemy forces were pushed back by July/August that year.
The Indian Forces regained Zojila and Kargil by November 1948 under the Operation Bison, and a cease-fire followed on January 1, 1949. Of course, the raising of 7 J&K Militia and heroic deeds Major Chewang Rinchen and others is a separate story which will be covered later. 
Clearly, the contribution of the first British-trained engineer from Ladakh cannot be forgotten. Among others who saved Ladakh from falling into Pakistan included Air Commodore Mehar Singh who was awarded with the Maha Vir Chakra. General Thimayya who planned the mission later became the Chief of the Army Staff. 
Lt Col Sher Jang Thapa, Major Hari Chand and Captain Khusal Chand were awarded the Maha Vir Chakra for their gallant actions in Skardu and for keeping Leh secured. Major Rinchen was also awarded the Maha Vir Chakra for saving the Shyok Valley.
Sonam Norbu later joined the J&K PWD and also became Chief Engineer with the Border Roads Organisation. He was instrumental in completing both the survey and construction of the Srinagar-Leh road through the Zojila Pass in the 1950s. For his distinguished service to the nation, he was awarded by the Indian government with the national civilian award the Padma Shri in 1961.
Sonam Norbu continued to play a pioneering role in the defence, development and administration of Ladakh. He had served as the Development Commissioner in Ladakh. Later, Norbu was appointed as the first Indian Ambassador to the Mongolian People's Republic, in 1971.
In 1975, Sonam Norbu was inducted as Minister of Works and Power as well as Ladakh Affairs in Sheikh Mohammad Abdullah's Cabinet. Sheikh Abdullah reposed so much trust in him that portfolios entrusted him had comprised over 70 per cent of State's budget. All the developmental works in Ladakh were undertaken during his tenure as Cabinet Minister. It was again Sonam Norbu who opened up Ladakh for international tourism and got Leh connected with air service in 1977. He continued to serve as Minister until his death in 1980.
A memorial Chorten (Stupa) is built in his memory, and is located near Sketsak in Leh. The main hospital in Leh, Sonam Norbu Memorial Hospital (SNMS), is dedicated to him.
Ladakh International Centre (LIC), in the last few years, has been trying to build up Ladakh's identity by resurrecting the past glories and achievements of our people. We are trying to be creative and exploratory in revitalising and reshaping the future destiny of Ladakh. In 2016, the LIC had conceptualised the idea of celebrating the 400th anniversary of King Singge Namgyal and Lama Staksang Raspa. 
The writer is the President of Ladakh International Centre.