Poor Reading Habits among Ladakhi: The Role of Libraries
By
Rinchen Angmo Chumikchan
Leh, Oct 18, 2013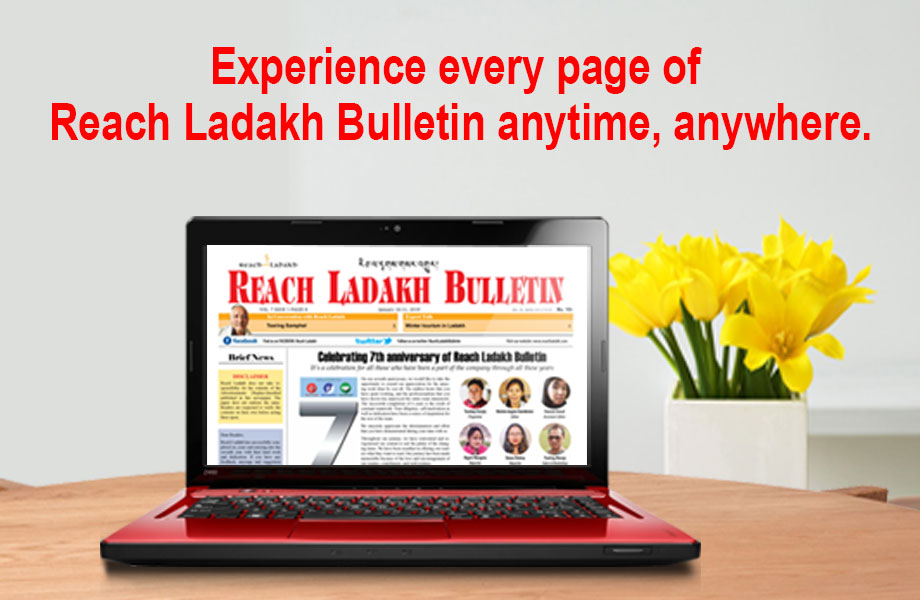 Leh :
Not only children and young people, even adults and teachers are seen to be devoting less and less time in reading books. This has resulted in a decline in reading habits among the people; and, as a result, a reduced understanding of the meaning of great texts and poor ability to analyse. The situation makes one wonder about the future, as only those who read and analyse are seen to lead; and they are open to better prospects in life. This could also mean that there is the risk of a chasm in society. From another perspective, one would like to ask: Would we like to have youngsters with poor analytical skills as leaders of tomorrow?

The reading habit in today's world is certainly under threat and this decline has to be addressed urgently before it is too late. Judging by the number of people who frequently visit libraries or who purchase books, it is clear that the reading habit is slowly dying. Nowadays, not many people spend their spare time reading. There is a gap between those who thrive in the information society and those who do not participate at all. Experiences in Ladakh describe deep structural changes in the market and readers. For example, most of the Ladakh's adult population never read books and there is a decline in the total number of books being sold.

Harbans Singh, owner of Book Worm shop said, "We deal 90% with foreigners as they have a good reading habit. I hardly see any local in my shop to buy books as the locals have no reading habits. Yes, we can say few youths go for fiction books of Indian writers."

Sonam Yarphel ,Lehling Book Shop owner also have the same views, "Local are hardly seen in the shop for book but yes young generation has still the preference for book to some extent. Most of the books are bought by the foreigners."

Librarian of District Library revealed that among all the visitors' students are the maximum that turn up. But still response from general public is not that encouraging. He says "The footfall is not up to the mark. We have got very good collection of books and want people to come forward and take advantage of it".

Lobzang Tsewang, Librarian, Libraries and research Department, Leh said, "Over the last few years, both Hindi and Urdu language readers are declining. Today there are hardly any users of both the language. Leisure readers are very few but researchers and students still come and use the library. He asserted, "Library is a growing organism. It's not a dead thing. It grows every year."

On the question of why there is not much of enthusiasm among readers to come and read, he asserted "Very few locals visit to this library. I also feel that still there is some lack of awareness about this library among locals. Apart from it people don't have reading habits over here". He viewed "People come to library only when they have some assignments or research work otherwise they hardly bother to come".

Same irony is being felt at CIBS Library. Though, in terms of membership this library is pretty better off. There are about 775 registered members where most of them are student and staff.

Library and information officer, CIBS Tsewang Dolma said, "When we were at the road side lots of readers used to come in our library but now may be because of distance few are coming. Ladakhi doesn't have any reading habits. Few locals visit but they are just for subject related studies like researchers, scholars and student for their assignment. Our Library attracts researchers from many parts of the world and India. But the irony is hardly any local visit to this library."

Jhangchuk Nyingpo, SOS, TCV, Senior Librarian also feels that reading habits are on decline among youths, he said, "Nowadays people do not have time to read books, mostly they go for TV and internet. But the school students are reading books. Students prefer books rather than internet and TV."

On the question of what will be the future of Library he said, "The future of Library will grow not only in India but throughout the world. It is one of the assets which is not going to change. For e.g. the information that we get from internet and television are short time information people cannot remember what they hear but when they read from books they can remember for longer time. So I think library is a place where people can get actual knowledge."

Unfortunately, not everyone knows that books are public property and once borrowed should be returned to the library.

One of the greatest benefits of reading, particularly to the young, is that it helps their vocabulary tremendously and creativity as well. It has also been found by educationists that children who are avid readers generally have higher IQs and do better in school than those who are not. So, the benefits of reading are overwhelming and what has to be done is to formulate policies, programmes and strategies to vigorously combat the decline in the reading habit. In this regard I would like to put forward my Idea which will help youths to an extent.

Having considered some of the factors responsible for poor reading culture in Ladakh, it is pertinent to suggest strategies that can be adopted to turn Ladakh to a reading nation and her citizens a reading people. Imbibing the culture of reading can assist in finding solutions to socio-economic and political problems. The need to promote effective reading habits among the general populace of Ladakh needs an attention. This is done as part of the strategies to ginger up the reading culture in Ladakh. The point is Libraries are open to public but is public open to them?

We've beautiful libraries here at Ladakh, and they can play an important role in increasing the reading culture among the people of Ladakh . Libraries are important to the culture at large they're places where anyone can enter and partake of knowledge they offer, where anyone can engage with history, literature and culture. And while we know it's the books that are important, everyone likes to read in a beautiful space, so I decided to take a look at the most beautiful school & public libraries in Leh. The resources provided by libraries inspire interests of all ages, which is why it is imperative that libraries not only continue to be preserved, but also continue to thrive and grow. I excluded some very beautiful libraries that are open to the public.


District Library: Libraries and research Department, Leh

District Library which was established in 1950' is the only Public Library where you can visit for leisure reading even if you are in market. It has a collection of 30,000 books on different subjects including books for competitive exams. Though it is small but you can find what you need. Presently the library has 700 regular members. Though chairs are little uncomfortable you can sit for few hours. Librarian said, people often complain about the uncomfortable and broken chairs. They have requested the govt. to extend the space and make it a two storey building.

If anyone is interested to become a member they can fill a form with two photographs. They are trying hard to encourage the people of Ladakh.

CIBS, Shesrab Gyasched Tsal Library, Choglamsar

CIBS Library which is known as Shesrab Gyasched Tsal Library has a collection of 32,300 Text Books. This library is established in 1959 when Gyalsras Bakula Rinpoche brought many books from Gangtok to established library.

There are two sections known as general section and Tibetan section. The two storey library has a lot to offer you. They subscribe about 20 journals and about 15 daily newspapers. Presently they have 775 users including staff and students. In this library outsiders are also allowed to come in the Library.
Any member can borrow books from the lending section. Nonmembers too can use the reference section. They are allowed to enter the section free of charge. They can takedown notes from the books.


Specialization: Buddhist Philosophy, Buddhism, Tibetalogy and they have books related to all subject. History, Economics, Political Science, Education. Sanskrit & Pali languages books are also there.

Tibetan Section: They have Kangyur and Stangyur in book form not in block printed.


SOS, TCV Library, Choglamsar

SOS, TCV Library, Choglamsar is one of those Libraries where you can feel the sense of traditional feeling with painting on the wall and pillars. It has a traditional touch. It was established in 1975.It has a collection of 15,573 Books related to all subjects including Hindi, English and Tibetan language. Maximum collection is in English.

Specialization: This library has 575 EBooks and using a digital catalogue known as book cat. They have a collection of Reference section. Refresher section offers comics for those students who do not like books they can go for this section. You can find comics and picture books.

Ladakh Buddhist Association Library

Ladakh Buddhist Association Library has a collection of books on Ladakh, Buddhism and many more, they also subscribe daily newspapers.

Conclusion

Reading among Ladakhis is in dramatic decline, and the libraries are a natural setting in which to combat this trend. To redress this anomaly, several organizations and institutions, including the library, should take steps to encourage and promote the reading habit among Ladakhis. Library been the nerve centre of any academic institution, is charged with the responsibility of acquiring and providing access to a variety of instructional and information-rich materials in different formats. The library continues to discharge this responsibility and employ other strategies that can promote reading culture. Other stakeholders - government at different level, communities, organizations, parents and individual proprietors have their roles to play. Thus, libraries are necessary if not sufficient prerequisites for a democratic knowledge society.

All hands joined together, would lift Ladakh from her present state to becoming a region consisting of people with very high reading culture.