Neglected and vandalized monuments of Ladakh
Need for a concrete step for Preservation of our heritage monuments
By
Tashi Ldawa
Leh, Mar 26, 2014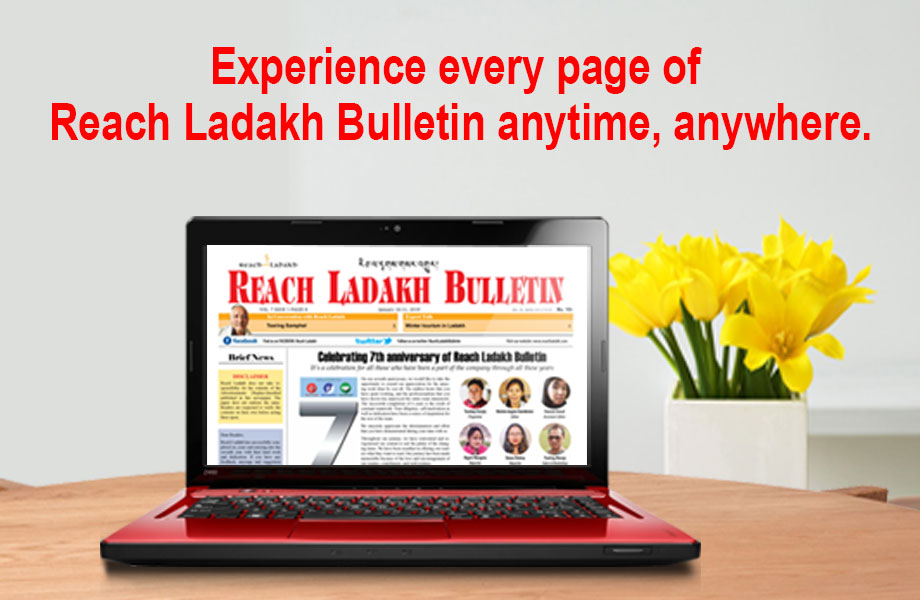 Leh :
Ladakh has innumerable historical heritage monuments or archaeological sites such as forts, castles, monasteries, chortens, bridges, rock art, petroglyphs etc. Many of these heritage monuments are in ruins, neglected and vandalized. More unfortunately in many instances, the locals are unaware of the significance of such remains of the past. The fort of the Sakti and Saboo, the remains of Nyarma, remnants of the fort at Tangyer, Balukhar of Khalatse, etc. have no caretakers and are in ruins. Actually, every village seems to have some old structure of historic significance which are abandoned or ruined. The famous and historically important Chiktan castle is a classic example of degradation mainly due to the apathy of the officials and as well as local stakeholders. The locals were unaware of the importance of the structure and they took off pieces in parts. The Stok Mon Khar is another example, where only ruins are left. There are no less than 100 forts and ruined settlement in Ladakh, leave alone other monuments, abandoned.

On the other hand, various monuments of historical significance are being protected under various schemes. But the preconditions are that they have to be declared/ recognized as monuments of historical importance under state or central schemes, which may be:

Monuments of National Importance (Centrally Protected Monuments) or
State Protected Monuments (By state govt.) or
World Heritage Monuments under UNESCO

All ancient and historical monuments which have been declared by the Ancient and Historical Monuments and Archaeological Sites and Remains (Declaration of National Importance) Act, 1951, or by section 126 of the States Reorganisation Act, 1956 to be of national importance shall also be deemed to be protected monuments for the purposes of this Act. Once declared as Protected Monuments in any of the above categories, there are certain rules governing for their protection, preservation, conservation, and renovation etc. by the Archaeological Survey of India (ASI) or other concerned organization. They can even acquire the endangered monuments under Land Acquisition Act, 1894. The J&K Ancient Monuments Preservation Act 1920 and the Jammu & Kashmir Heritage Conservation and Preservation Act, 2010 to has its own legislation and laws.

Some of the monuments of National Importance in Ladakh are Teisuru Chorten, Drass Carvings, Mulbek Meitreya, Leh Khar, monasteries of Hemis, Thiksey, Shey, Lamayuru, Alchi and Phyang which enjoys their protection. But this list is incomplete, for we have many more monuments that we as a Ladakhi feel important, but are not considered by the State or the Centre or by UNESCO. In this circumstance, as long as more monuments are not protected by other organizations of state, national or the world, we have to act on our own through Ladakh Autonomous Hill Development Council (LAHDC).

1. Ultimate authority for Conservation/Protection of Heritage monuments of Ladakh

LAHDC through its 'agency/committee' should enlist the heritage monuments or archaeological sites and bring them under one roof for protection, conservation and preservation: namely "Ladakh Protected Monuments" (or whatever alternate name) LAHDC through this 'agency/committee' should be 'responsible' for protecting the monuments included under the LPM schedule.

The agency (let us say) could be "Cultural Academy" or may even be an NGO or even a conglomeration of some organisations and individuals. The 'Agency' through the Council, should have a separate fund under the head "Heritage Conservation and Preservation Fund" earmarked for the identification, field trip, maintaining of records and other expenses, including funds (if any) for the conservation of any particular monument(s). LAHDC can even accept donations or undertake projects under the head, which may be outsourced for implementation.

The agency under the aegis of LAHDC (i.e. EC Culture) shall finally decide the heritage monuments or archaeological sites to be incorporated in the LPM and hence protected.

2. Who will identify the monuments to be included under LPM?

Survey for proposed monuments with the urgent need of protection and conservation can be done by experts in their respective field (by NGOs/students/individual researchers/stakeholders) or government departments or any other organization. Even a common lay villager could identify such monuments of importance from the point of view of the village, its history or cultural heritage.

3. How a monument will be identified to be included under LPM?

Any monuments to be included in the LPM shall have to go through a mandatory procedure. For example, a basic prescribed application form shall be filled and deposited with the 'agency/committee' or the 'Head' for every proposed monument to be included in the LPM.
In any case, once an application has been received by the 'agency', action has to be taken within three months from the date of receiving of the application.

The 'Agency' should have a prescribed list of experts or organization for consultation in various fields like archaeology, architecture, conservation, manuscripts, historians, rock art, etc. The appropriate expert/s may be called upon, as and when required, to decide whether the proposed monuments (that has come through the above application) are eligible/advisable to be included in the LPM.

4. Criteria for Monuments to be included under LPM:

•    It should be more than 100 years old and of historical/religious/social importance.

•    It is in danger from human or natural degradation and needs immediate protection/ restoration/conservation.

•    It is abandoned, un-owned and not protected under any other schemes.

•    The monuments should not be a matter of size but a measure of importance and cultural significance having a witness of past.

5. Bylaws for the monuments protected under LPM:

•    Any human interventions leading to alteration or degradation of the monument are liable to be prosecuted or fined.

•    The protected monuments cannot be dismantled/removed or relocated without prior permission of the Council.

•    These protected monuments shall beproperty of the LAHDC. In case of individual holders they cannot act independently on such structures for their modifications/dismantling/renovation.

•    Special care of the heritage precincts shall also be taken into consideration.

•    All these protected monuments should be well documented and proper signboard put up along the structure.

•    All the Protected monuments should undergo mandatory monitoring, at least once in 2/3/5 years and recorded for future use. All the monuments of all nature will be listed in a single inventory by the 'Agency'.

•    The objective of conservation and restoration will be to safeguard the monument(s), implyinga permanent care.

•    The principal objective of conservation is to perpetuate the historic testimony without the denaturalization of its cultural meaning.

•    To restore is not always the correct thing to do, hence to preserve it, our mission will be to use the appropriate methods to maintain the monument(s) insetu.

•    A plan should be put in place, appropriate and educational for the adjacent communities or stakeholders to identify themselves with their past.

•    A monument may be given back its function, for which it was made; henceoriginal function of monuments may be researched, if needed.

•    Councilors area development funds can also be utilized for protection of monuments enlisted under LPM.

6. How a monument is to be conserved or protected under LPM?

Recently the government of India set up the National Mission on Monuments and Antiquities which will offer advice on heritage matters, frame guidelines on the conservation of heritage monuments and sites and suggest appropriate amendments to the heritage laws. But that will take some time to implement. It has also suggested Member of Parliament Local Area Development Scheme (MPLADS) be allowed to spend part of the fund on conservation and preservation of monuments in their constituencies. Or even our own councilors too can spend on heritage conservation, from their allotted development funds, but only on monuments enlisted in the LPM.

Restoration or renovation of the heritage monuments enlisted under LPM can only be carried out by experts, whose proposal shall be forwarded to the LAHDC for approval by the 'Agency/Committee'.

Inclusion of this formulation in Vision Document will give further impetus to the task.

The experts or scholars may be engaged to inform the Agency of the status, steps for preservation or conservation etc. etc. There is already a dozen of researchers doing study and research in the fields of Archaeology, History, Monuments, Architecture, rock art etc. Their expertise in various fields will not only keep the cost of research and documentation down to nothing, but it will also add substantially to the academic record of the monument in question.
A final inventory of the protected monuments may be published from time to time.

P.S: In fact based on this proposal a series of meetings and workshop was held about two years ago and a Draft Plan for "Heritage Strategy for Ladakh: Proposal for 'Heritage Authority'" was submitted to the Hon'ble CEC, LAHDC, Leh. The meeting/workshop was attended by members from INTACH/LAMO/LEHO/HCFC/CNRS, TEDAHL/ASI Srg. Circle/TH Art & Culture/THF/LOTI/Forest/ few journalists, independent researchers, Interns and laymen.

The author is a freelance writer and has attended workshop/seminars at IGNCA, National Museum, Lalit Kala Akademi, etc.