Lhakhang serpo-the first Gelugpa School of Ladakh
By
Kunzang Dolma Stakmo
Leh, Mar 31, 2015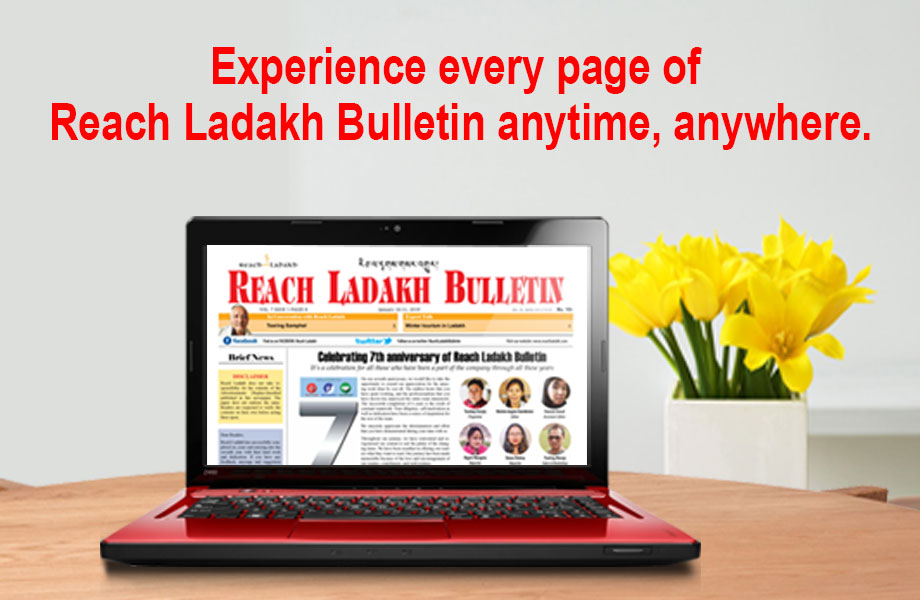 Leh :
The Lhakhang serpo is situated in the middle of Stakmo village which is about 25 km away at an elevated height of 12,675 feet. The upper highland part of the village is bestowed with various kinds of herbs, flora, fauna and hot springs which is believed for curing many diseases. Mountain shape appears to be like Eight auspicious symbols (Tashis Stag gyat).  Besides mountains has many self-created or natural evolved (Rangjon) like that of Lord Buddha, Chamsreng, Gonbo, Lamo, Sung bum and many more.
The name of the village is probably due to the reason that Gonbo is ridden on a tiger (stag). Some have also considered the view that the shape of the village is like that of a tiger (stag).
The beautiful and wonderful place is blessed by Arahat Nastan Zangpo. According to some historians the great Buddhist scholar Stot Changsem Shesrap Zangpo was born in Stakmo in 14th century A.D. A renowned scholar Kachen Lobzang Zotpa also mentioned in Sherap Zom of June 2005, that Sherap Zangpo was born in upper Thiksay village i.e Stakmo.
Since his childhood, Sherap Zangpo was very intelligent and had great interest in learning Buddhism and wanted to become a monk. That is why his parents, father Tashi and mother Palzom consulted an oracle and when they got positive prediction, they got immense joy. Then they sent their son to Tibet along with few traders from sham side of Ladakh. 
In Tibet, he became the disciple of Tsongkhapa Lobzang Takpa, the founder of Gelugpa sect. On whose birth and death anniversary we all celebrate Galdan Namchot. 
With the passage of time, he became one of the great scholars, included amongst top six i.e Taschen Tuk. After returning to his motherland, he spread the message of love and compassion to whole living being for few years. He also built many gonpas like Lhakhang serpo at Stakmo, Diskit Gonpa in Nubra, Chambaling Gonpa, Phuktal Gonpa, Gomochey etc in Zangskar and many other.
Lhakhang Serpo was built in 1427 A.D with sponsorship of the then king of Ladakh, Takpa Bumdey. It is a small prayer hall, colored outside with yellow and may be because of this reason, the Lhakhang is now popular as Lhakhang Serpo i.e yellow prayer hall. It is unique in the way that its shape is neither square nor rectangular but Rhombus.
In this holy and sacred academy, Lhakhang there is beautiful wall painting made of precious stone color. The painting is just opposite to the entrance, we can see the painting of Shakya Muni and his two disciples, surrounded by sixteen Arahats and on the right wall is eight medicine Buddhas. On left wall, Amitabha, Avaloketeshwara, Manjushri, Vajrapani, Tsongkhapa and his two disciple tara and more. And on the both side of the door there are tutelary and defender/ protectors of Dhamma.
The Lhakhang Serpo is the first Gelug pa the (yellow sect) school in Ladakh. But due to less population of the village, the monastic community was not established well. However JISUM i.e Sojong, Yarney and Gagya were introduced in the Gonpa and are still prevailing. Later his nephew Paldan Sherap builds Thiksay Tsultim Namdakling Gonpa in 1430 A.D.
In 20th century gradually villagers and devotees constructed few more sacred shrines and many precious objects sku (body), sung (speech), thuksten (symbol of thought) around Lhakhang serpo and named it as Galdan Zangpoling Gonpa. The Gonpa is also visited and blessed by H.H the 14th Dalai Lama during his first Kalachakra empowerments in 1976. Now the gonpa looks beautiful like golden box placed in the centre of silvery white surrounding.
Stot Sherap Zangpo then returned back to Tibet instead of request made by king and people of Ladakh to stay here. And in 1445A.D he demised at Galdan Gyutkhang in Tibet. His 9th successive reincarnation is the present Skyabje Khanpo Rinpochey, Shartul Nawang Jamyang Chamba Stanzin, present head lama of Thiksay monastery. Other former reincarnations are as follows.
Chosjey Jamyang Lotus, Tungpa Paldan Sherap, Chosjey Lobzang Chinba, Gyalsras Jigmet Namgyal, Gyalsras Nawang Namgial, Jey Chamba Tsognis, and Jey Chamba Chospel.
Sources:
-   Tunkar Tsigzot Chenmo by Tunkar Lobzang Thinlas
-   Thiksay Rinpochey Skutheng Gupey Logyus-Sritpa Thongwey Melong
-   Gonrab Kunsal Ninang published by Ladakh Gonpa Association by Jamyang Gyalson.son.