Ladakh : ephemeral beauty with mounting challenges.
By
Rinchen Tundup
Leh, Dec 30, 2014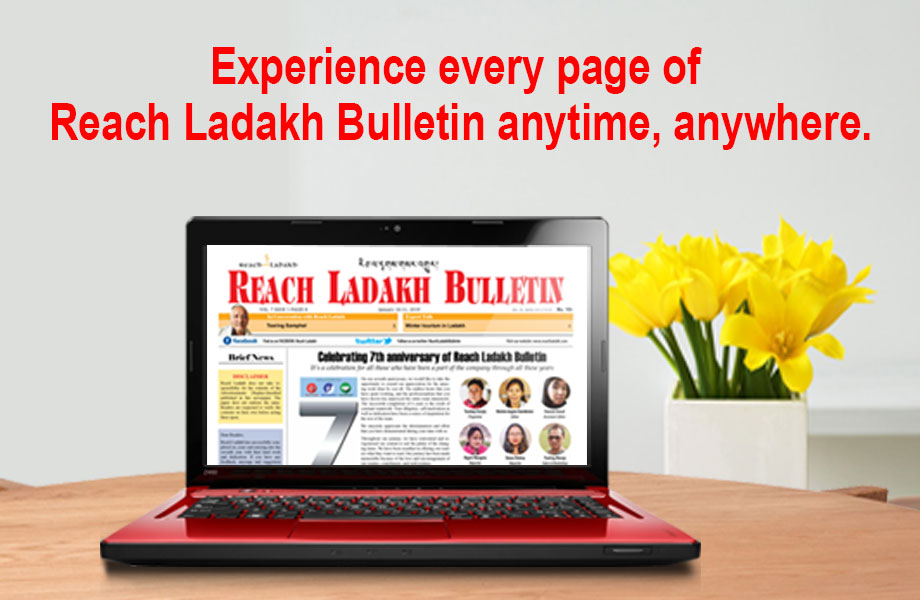 Leh :
Folk Lore of victimization
Deelip Padgaonkar, Chairman of group of interlocutors for Jammu and Kashmir had very rightly labeled the three regions playing the cards of "Competitive victimization". Though the report created only an ephemeral noise, it lies now in cold storage of north block. Ladakh has been playing this card since independence but using this card now would be naive as argument without any credible proof and statistic would be lost in air. Any sane advice would be if you are victim fight for it within the means and parameters. The report also spilled some beans, on the functioning of the autonomous district hill councils. It noted the two district hill councils never had single joint meeting. Perhaps this was the reason that now the two councils have started to talk and talk together with Srinagar.

Connectivity with mainland
It is geographical nightmare to connect Ladakh with rest of India, but nevertheless this is a very important aspect border development and military preparedness of border with cold skirmishes never a leader from Kashmir or Ladakh voiced for the Bilaspur–Mandi–Leh railway project although Himachel CM continuously demanded this from centre. Although planning commission has already termed this project as economically unviable and are not likely to allocate funds for this project, the leaders of Ladakh seems to be oblivious to this development. Connectivity is not just for goods to be transported to Ladakh but a greater vision would be to transport manufactured goods and services from Ladakh.

Indifferent attitude and cocoon of Article 370
It is sad to find no voices from Ladakh when important legislations or matters of public importance are discussed. No body from Ladakh felt that right to education act (which made education a fundamental right for children between 6 to 14 years old) should also be applicable to Jammu Kashmir. The recently passed Land acquisition bill in Lok Sabha is also out of the ambit of Jammu and Kashmir as the cocoon of Article 370 prevents it jurisdiction.  This legislation is pro land owner and provides four times market rate as compensation in rural areas.  Ladakh believes that a state subject which prevents outsiders to buy property is boon for safeguarding interests, although a greater degree of benefits is being lost by this cocoon. Any good thing legislated in parliament of India on state list is not applicable to J&K. This deprives the region of some landmark legislations. This cocoon is sufficient for potential investors ward off from Ladakh; else why Sheraton or Leela doesn't might not open a shop in Ladakh.  When Deleep Padaonkar in the interlocutors report clearly mentioned that budgetary allocations on population basis are biased when territory of Ladakh is large, why didn't there was noise in Kargil or Leh? Why Ladakh didn't press the issue with MHA to make Abdullah government accept that plan and non plan budgetary allocation should contain the area factor too?

The union territory cacophony
The story of union territory is presented as messiah to the masses, though conceptually it is well under the constitution of India. It has been debated umpteen number of times "Why" Ladakh should get a UT status, but no one seems to bother "How?" Given the context that Ladakh is not in any other state of India, but a special state J&K for which even parliament cannot make laws except for those in union list or the concurrent list. Making legislation for this even the constitutional experts will go into tizzy, not to mention the geo political ramification of touching the sensitive issue of Kashmir. This made sense why the interlocutors report rejected the idea of UT or statehood for Jammu. Moreover Ladakh sends only one MP to parliament, to command any say in era of coalition politics in the Centre. The idea of Union
territory looks very good when viewing from Ladakh but when tables are turned and viewer is from Delhi it seems to be a bad idea. The opponents of UT argue that you cannot divide India to have so many states and union territories as this would be lead to a complex Indian federal structure. The politician raises this cacophony only to serve electoral gains, else how would you explain their complete silence on this subject in the state assembly. A resolution could have been introduced if they were indeed serious about the issue.

The Leaping Dragon
China is increasingly becoming an important factor for Ladakh, It is reported that the Depsang incident threw tourism graph to rock bottom, although it can be debated that was the prime factor. High airfares shooed away the budget travelers.  Nevertheless the dragon is regularly leaping in the areas around LAC. India must solve the border dispute at the earliest. The border talks merely seem to be around the protocol for how the troops will engage in patrolling the LAC. The time has come to solve the issue even if it means making the current LAC the boundary. Only then trade and tourism across the border can be thought. The pilgrimage tours to Tibet or Mansarovar via Ladakh is not a new proposal, MHA constantly says that proposal has been sent to China, but no response is received.
Way forward

Ladakh needs to understand that for good or bad it is tied to umbilical cord of Srinagar. No political party would dare to cut this cord unless there is some political solution to the vexed Kashmir issue. Well no one is expecting any miracles on that and future of Kashmir is bound to have impact on Ladakh. But this doesn't mean that Ladakh waits for truce between Kashmir, Delhi and Islamabad. The main issue for which Ladakh needs a long term sustainable plan is infrastructure development and employment generation.

Ladakh desperately need capital investment from entrepreneurs and since the road goes through Srinagar, a nothing less than a red carpet will entice them.
More hydro power plant and connect them to national grid. Ladakh and whole of Jammu Kashmir has potential to sell electricity.

The mounting unemployment of young graduates has resulted a pool of workforce vying for the limited government jobs, the only savior could be if private entrepreneurs set up shop in Leh. The services outsourcing industry could well be established if a reliable IT network can be setup in Leh.
Rope in private sector for infra projects build commission and operate basis. People should understand that paying a toll to cross Zojila tunnel or Padum darcha road is acceptable.

Raise revenue by taxing the tourism and the services industry, already LAHDC act provides provision fees, taxes and tolls. Use them judiciously. An amendment in the act for this purpose should be initiated and most probably Srinagar should not have any issue with this.
Develop a master plan for the coming years, the areas around Leh cannot cater to more population, hence new areas should be developed. Regulation around land development, ground water management should get prime focus.

Tourism is the backbone of Ladakh, but when you earn yourself in one of notorious worst toilets in the world , it is matter of shame. It is not a rocket science to implement a sense of hygiene and to install clean toilets in some prominent locations.

The mantra for Ladakh is simple; anyone who addresses a two pronged strategy to cater infrastructure development and employment, my vote goes to him.