Importance and Preservation of Ladakhi Dishes
By
Padma Angmo
Leh, Apr 28, 2015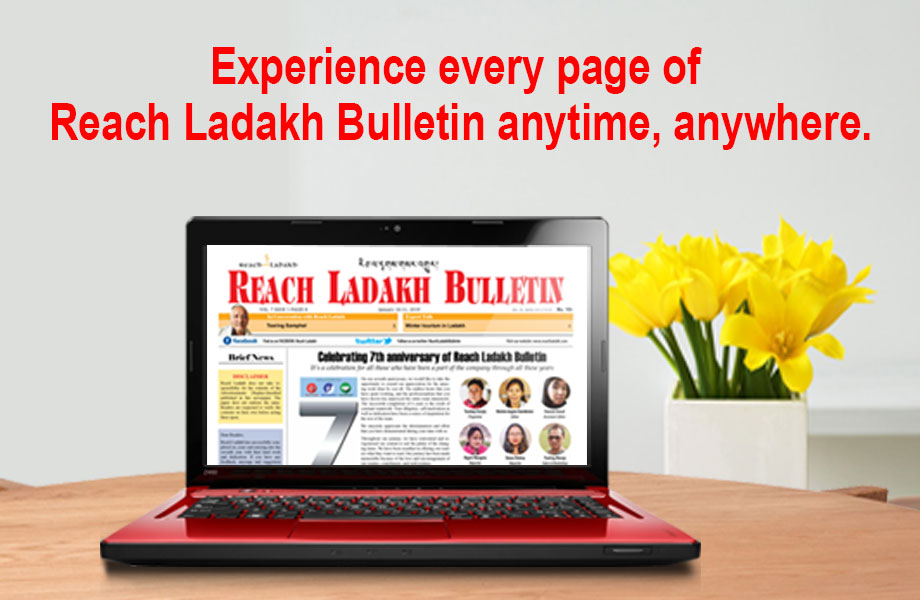 Leh :
Ladakh, which is described as high altitude cold arid desert is one of the eastern regions of J&K state. Due to unfavorable and hostile environment prevailing over the region, cultivation is limited to a very small scale. As what our ancestors cultivated are for the better health to live in such high altitude cold Himalayan region. The dishes like Paba, Thukpa, Tapu, Sku, Chu Tagi and Momos are highly nutritious and these dishes ingredients are mostly made of Ladakhi crop flour and vegetables which are grown by natural minerals received from pure manure.
Today the so called' modern Ladakhi' don't have enough time to do essential farming activities; instead they are busy in learning modern education. As these methods of farming are all in their academic studies but they failed to work on these theories at the time of field work. But our ancestors had the experience of working in the field and today's youth are not taking this opportunity to learn.
The decreasing value of our Ladakhi dishes is also due to modernization of today's parents as they do not have skills or techniques to teach their children which break a link to pass such knowledge from one generation to other. 
These are also affected by the domination of junk food like Pizza, Sandwich, Hot Dog, Burger which are liked by today's youngster but these food are not good for health.  
Ladakhi dishes are not only rich in nutrition but also they have refreshing qualities and used for treatments of many diseases. The Himalayan wild plants found in Leh Ladakh are also used as vegetables such as Zha-tsot, Skotsey, Dayat and Kabra. These plants are used to make Ayurvedic medicine. 
Ladakh which is not only famous for its scenic beauty, but also for the traditional food  they serve which are most mesmerizing and can make anyone mouth water. These popular and nutritious Ladakhi dishes need to be preserved for generation to come.
THUKPA
The origin of Thukpa was in the eastern part of Tibet, gradually the dish became popular in Bhutan, Sikkim, Arunachal Pradesh, Ladakh and other regions of India. Thukpa is actually prepared from local wheat flour which contain Protein, Carbohydrates and  mixed with vegetables, local pea, meat and sufficient amount of water is pour in it, it is made in every house of Ladakh. But most of the restaurant in Leh serves noodles thukpa which is ready made but it has to be mixed with vegetables, meat, and other ingredients. Thukpas is also in different varieties.
CHHU TAGI
 Chhu Tagi is one of the important dishes which is served on special occasions. This dish originally has been very simple with a little salt and perhaps onion to flavor the tagi. These days, vegetables are added to it. The dough can be made into different shapes. Potato and carrot are the common combinations, although it can be taken with green leafy vegetables. Adding meat to it is also common. In Zanskar valley, this dish is known as Chubtse.
KHAMBIR & BUTTER TEA 
Khambir is the vernacular name of Ladakhi bread which is mostly taken with Butter tea and Khambir is a pan shaped, most common local bread, brown in colour with a thick crust, made from local whole wheat. It is available almost everywhere in Ladakh. Butter tea is made by adding butter and salt to the tea and stirring it. Khambir and butter tea are generally the appetizers in any Ladakhi function.
SKU
It is the most favorite food, made of wheat flour cut into small pieces and prepared with a sufficient quantity of water and mixed with meat and vegetables. This is one of the traditional foods of Ladakh, which beats the cold and keep the body warm.
TAPU
This food is more common in apricot growing areas, such as Sham. Tapu is a very nutritious dish, particularly after grinding of apricot seed; it is mixed with local dried wheat flour which is boiled in water before.
PABA TANGTHUR
It is very nutritious. Paba is prepared with a mixture of roasted flours of barley, wheat, and black Ladakhi pea. Manganese, Vitamin B1, and Vitamin B3 are present in it. It is one of the staple foods of Ladakh. Paba is mostly consumed with Tangtur and Zathuk. Tanghtur is buttermilk which is mixed with local vegetables.
MOK MOK
Mokmok is a dish that originated from Tibet, probably with Chinese influence, which is very popular throughout the region. It is prepared with white flour, water and minced meat, vegetables or cheese. Mok Mok is cooked by steaming it over a soup. The steamed mok mok may be further fried in a thick base frying pan and served as another version that's called 'Kothey'.